I didn't realize how expensive gluten-free graham crackers were until a couple of weeks ago when I needed some for a gluten-free pie crust. I probably should have bought them for the sake of taste testing, but instead I began a search for gluten-free graham cracker recipes. As of now, this one is my favorite!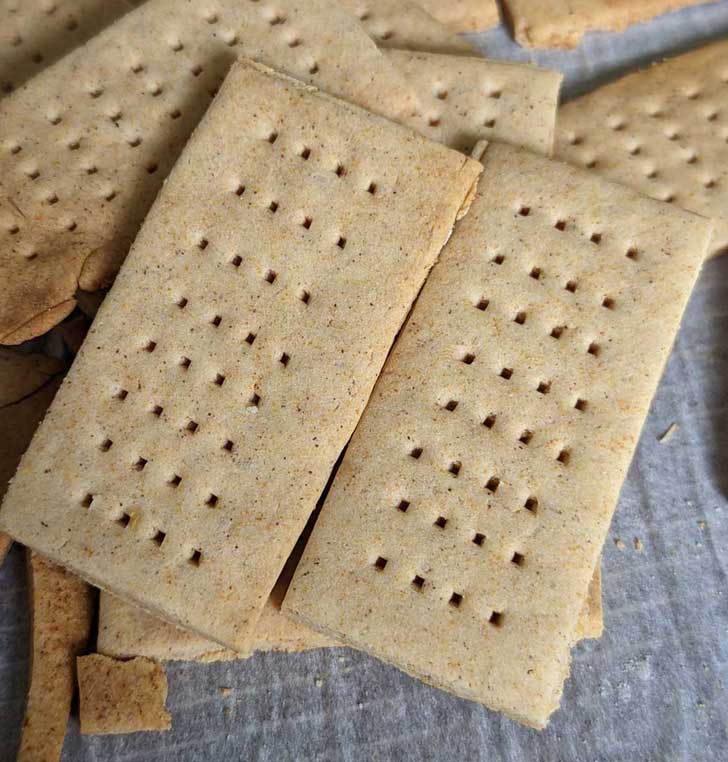 Gluten-Free Graham Crackers Flavor and Texture
These gluten-free graham crackers don't have the same taste and texture as Honey Maids, but they are good in their own way. They're not super sweet, but they get a lot of flavor from the mix of cinnamon, honey, vanilla (and maple, if you use it). As for the texture, they are crispy, but not as airy as regular graham crackers. I wouldn't call the texture shortbread-like, but it's richer than graham crackers.
Gluten-Free 1:1 or Homemade Blend
A lot of older gluten-free graham cracker recipes call for a mixture of gluten-free flours including sorghum, which is great because it tastes a bit like wheat. Maybe that's why King Arthur's Measure for Measure works so well in this recipe. The third ingredient in their blend is sorghum, and the flavor comes through a tiny bit in the graham crackers. So I recommend using King Arthur's Measure for Measure, which is a good all-purpose flour substitute. I've also had success with a brand called Measure for Measure, which is an interesting brands, as their key selling point is pre-measured flour packets. I've only seen it at Publix. Update: Recently tested with Cup4Cup and it works too! Just be sure to use the same weight.
Weight of 1 Cup Gluten-Free Flour
The weight of 1 cup of gluten-free flour varies between brands, and even 1 cup of the same brand can be different depending on how it's scooped. For me, 1 cup of King Arthur Measure for Measure weighs about 135 grams, so in this case the total amount should be a scant 1 ¾ cup. But I recommend weighing out 230 grams.
Shortening
I use shortening because it helps give the cookies a snappy texture and it does not contain dairy. So far I've tested with two different brands -- Star Fine Foods Agreena and Spectrum, which is widely available. Coconut oil might work as well, as it seems to work in my other graham cracker recipe. Update: Have also tested with Nutiva. Update 2: Made the last batch with ¼ cup of coconut oil and it worked.
Honey, Maple Syrup, Cinnamon and Vanilla
If you are really into the flavor of honey, you can make them with 100% honey. I use a combination of honey and maple syrup to lower the fodmaps a bit and because I like the mix of flavors. As for cinnamon, you can definitely taste it in the crackers and they don't really need the cinnamon sprinkle. But that's subjective! If you love cinnamon and want the crackers a little sweeter, then definitely sprinkle the cinnamon sugar over them before baking.
Rolling and Shaping
I really love rolling and cutting these even though I'm not very good at it. To make the process a little easier, I divide the dough in half and work with 1 half at a time rather than roll one giant rectangle of dough and cut it. My other favorite part of this recipe is that the uneven edges (trimmings) get baked up into long, skinny, scraps for tasting! After scoring, I bake the crackers, trimmings and all, then separate while warm.
Recipe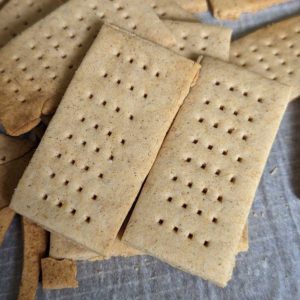 Gluten-Free Graham Crackers
Gluten free graham crackers with honey and a touch of cinnamon
Ingredients 
1 ½

cups

plus 3 tablespoons King Arthur Measure for Measure or Cup4Cup

(230 grams) -- Weigh if possible

1

teaspoon

baking powder

1

teaspoon

cinnamon

½

teaspoon

salt

1

large

egg

4

tablespoons

honey ( or 2 T. honey and 2 T. maple syrup)

(85 grams)

¼

cup

coconut oil

(56 grams)

¾

teaspoon

vanilla extract

1-2

tablespoons

Optional: almond milk or oat milk or milk
Optional Cinnamon Sugar Sprinkle
2

tablespoons

sugar

1

teaspoon

cinnamon
Instructions 
Preheat oven to 300 degrees F. Have ready two large baking sheets. You'll also need 2 large sheets of parchment paper.

In the bowl of a stand mixer, combine the gluten-free flour, baking powder, cinnamon and salt. Stir well.

Weigh the coconut oil (or shortening) and drop it in chunks over the dry mixture. Using the paddle attachment, mix until shortening evenly coats the dry mixture.

Add the egg, honey and vanilla. Mix with the paddle to make a smooth dough. If dough is dry (it shouldn't be, but you never know), add 1 tablespoon of almond milk, milk or water. If still dry, add another. This will really depend on how you've measured the flour or what brand you are using.

Divide the dough in half.

Working one half at a time, press the dough down flat on a sheet of parchment paper, then using another sheet of parchment paper on top (or a sheet of plastic wrap) and roll dough to about 1/16 inches thick. I recommend shooting for around 8x8, 7x10 or 7x9 or somewhere around there so that when you trim, you can trim into 7 ½ by 7 ½ inch square and score into 9 2 ½ inch squares.

With a pizza cutter or a knife, score rectangle to make 9 squares, then score the 9 squares in half to make 18 small rectangles. Score edges to straighten. Do not separate, just score. Using a fork, poke holes down each square.

Put the parchment with the scored dough on a baking sheet.

Repeat with second half of dough and put it on a second baking sheet.

Bake at 300 degrees F for about 20 minutes. Turn off the oven and allow the crackers to sit in the closed "off" oven for another 10 minutes.

Remove from the oven. While the crackers are still warm, use the knife to cut down the scored areas, trimming the edges so you have some cookie scraps.
Notes
Baking Time: In my oven, I get perfectly crisp and crunchy crackers by baking for 20 minutes at 300, then leaving them in the "off" oven with the door shut for another 10 minutes, then removing and cooling. You may need to experiment with the bake times depending on your own oven, but start with 20 minutes at 300. Alternative to Gluten Free Blend: If you are already a gluten-free baker and have a collection of flours, you can omit the 1:1 flour and use 75 grams sorghum, 80 grams brown rice flour, 80 grams arrowroot and 1 teaspoon of xanthan gum.