All Brown Sugar Chocolate Chip Cookies is a recipe I first tried many years ago and which has become one of the most popular recipes on Cookie Madness. Or at least it was for a while. There's been a proliferation of chocolate chip cookie recipes without granulated sugar, so this "brown sugar only" recipe has more competition these days. But honestly, I still like it the best! The cookies are huge, thick, chewy, and very pretty.
The photo above is from the first batch I ever made, which I took to my hairdresser back in the day when I let other people touch my head. It turned out she wasn't a fan of sweets, but she shared them with the others in the salon and the co-workers gave them a thumbs up. I think they even asked me to bring more cookies, but now it's all a blur. All I really remember is I discovered All Brown Sugar Chocolate Chip Cookies.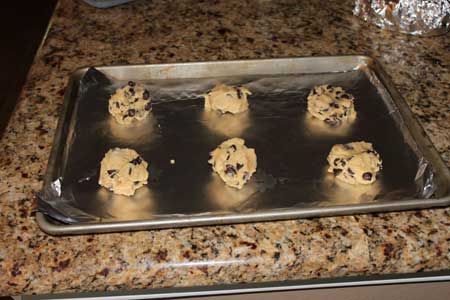 Once Upon a Tart
The recipe is adapted from Once Upon a Tart, a once popular bakery in New York City. Sadly, Once Upon a Tart is no more. I don't know the full story behind its closure, but New York City rents are steep, and I suspect the talented bakers had better prospects elsewhere. Lucky for us, their cookbook is sitll around. If you collect cookbooks and bake, you need this one. Trust me. All the recipes I've tried from the book have been winners, and there are more than just sweets.
All Brown Sugar Chocolate Chip Cookies
But back to the cookies. These have less sugar than most chocolate chip cookies which means they don't spread nearly as much. They're also not as chewy as some sweeter cookies, but rather kind of sandy — not hard, but soft textured with the kind of a sandiness you feel in the bite. The edges are definitely crispy.
Here's an old photo of how big they are in relation to the baking sheet.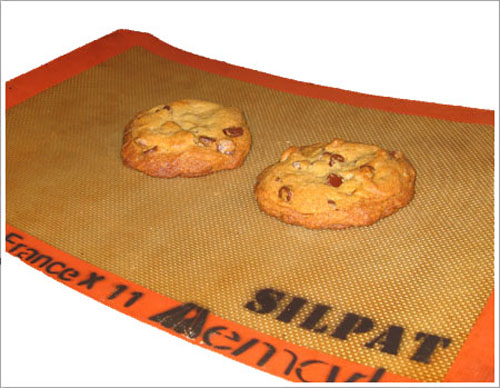 Here are some in a bucket. I need to add a few more photos to keep up with the times.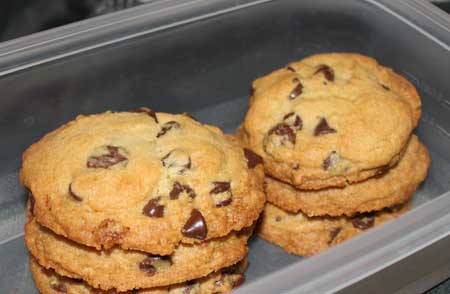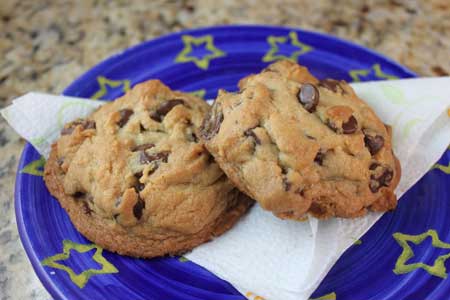 All Brown Sugar Chocolate Chip Cookies
A chocolate chip cookie made with brown sugar.
Ingredients 
2 1/2

sticks unsalted butter

10 oz – room temperature

1 1/2

cups

packed light brown sugar

2

large eggs

room temperature

1

teaspoon

vanilla extract

1 1/2

teaspoon

baking soda

1 1/2

teaspoons

salt

3 ¼

cups

all-purpose flour

15 oz

2 ½

cups

bittersweet chocolate chips
Instructions 
In bowl of a stand mixer, beat the butter with the paddle attachment until creamy. Add the brown sugar and beat butter and sugar for about 3 minutes. Reduce speed to medium low and add eggs one at a time beating just until combined. Beat in the vanilla, baking soda and salt (scrape sides of bowl often), then add the flour and continue mixing on low speed until it's blended. Mix in the chocolate chips.

Using a 1/4 cup measure, scoop up about 20 mounds of dough and lay them on a non-stick foil lined cookie sheets. Chill for 2 or more hours.

Preheat oven to 350 degrees F. Line 2 cookie sheets with non-stick foil or parchment paper. Arrange cookies 6 to a sheet and bake one sheet at a time on center rack for about 18 minutes or until cookies are nicely browned.

Makes 20 cookies