I had the urge to bake cookies for my hair dresser this morning, but at the last minute I discovered I was out of granulated sugar. What to do? Use all brown sugar. I hadn't made these cookies in a long time, but the dough was so perfect and the cookies so handsome I had to wonder why I didn't pull out this recipe more often.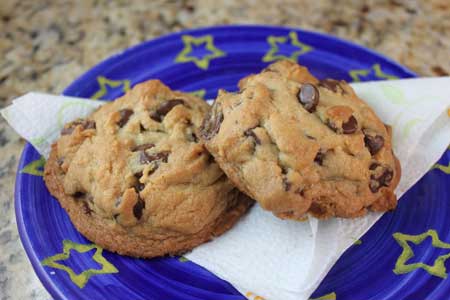 In the end, handing them off to my hair dresser was awkward. She didn't seem that excited (she likes savory things better anyway) but was gracious and put them in the back.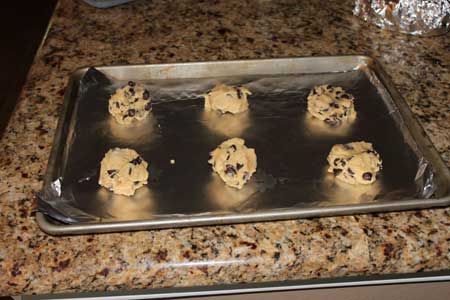 Sad story aside, this is a good recipe. It's adapted from The Once Upon a Tart Bakeshop book where they say cookies made with the all brown sugar dough sell out every single day. They're not fancy cookies, but they are definitely bakery quality, fat, rich, and just very good all around. Plus you only have to use brown sugar, so if you find yourself out of granulated sugar and dying to make cookies, this recipe is a winner.
TEXTURE NOTES — These have less sugar than most chocolate chip chip cookies which means they don't spread nearly as much. They're also not as chewy as some sweeter cookies, but rather kind of sandy — not hard, but soft textured with kind of a sandiness you feel in the bite. The edges are definitely crispy.
Here's an old photo of how big they are in relation to the baking sheet.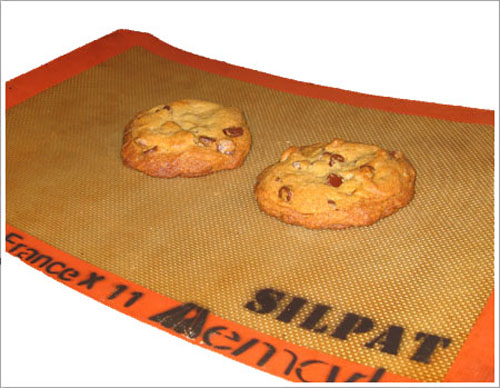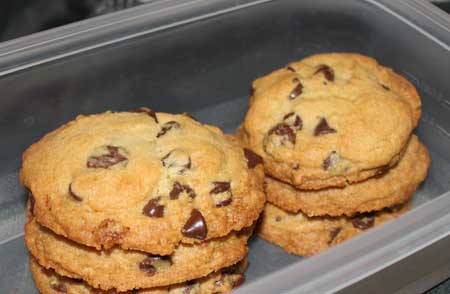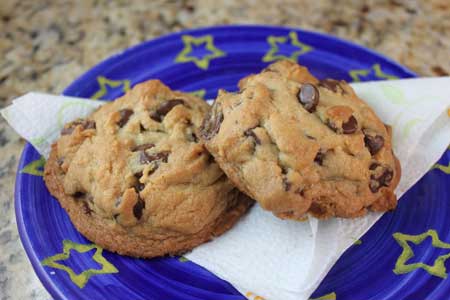 All Brown Sugar Chocolate Chip Cookies
A chocolate chip cookie made with brown sugar.
Ingredients 
2 1/2

sticks unsalted butter

10 oz – room temperature

1 1/2

cups

packed light brown sugar

2

large eggs

room temperature

1

teaspoon

vanilla extract

1 1/2

teaspoon

baking soda

1 1/2

teaspoons

salt

3 ¼

cups

all-purpose flour

15 oz

2 ½

cups

bittersweet chocolate chips
Instructions 
In bowl of a stand mixer, beat the butter with the paddle attachment until creamy. Add the brown sugar and beat butter and sugar for about 3 minutes. Reduce speed to medium low and add eggs one at a time beating just until combined. Beat in the vanilla, baking soda and salt (scrape sides of bowl often), then add the flour and continue mixing on low speed until it's blended. Mix in the chocolate chips.

Using a 1/4 cup measure, scoop up about 20 mounds of dough and lay them on a non-stick foil lined cookie sheets. Chill for 2 or more hours.

Preheat oven to 350 degrees F. Line 2 cookie sheets with non-stick foil or parchment paper. Arrange cookies 6 to a sheet and bake one sheet at a time on center rack for about 18 minutes or until cookies are nicely browned.

Makes 20 cookies