Ever since we returned from a trip to the beach, I've been thinking about coconut layer cake. A few days ago I reworked our old Southern Living cake mix coconut sheet cake, then over the weekend I made a scratch 6-inch coconut layer cake. And here's the recipe! You can make it as a gluten-free coconut layer cake by using 1:1 gluten-free flour, or make it as written with all-purpose. And don't forget the secret ingredient -- Coco Lopez!
Jump to Recipe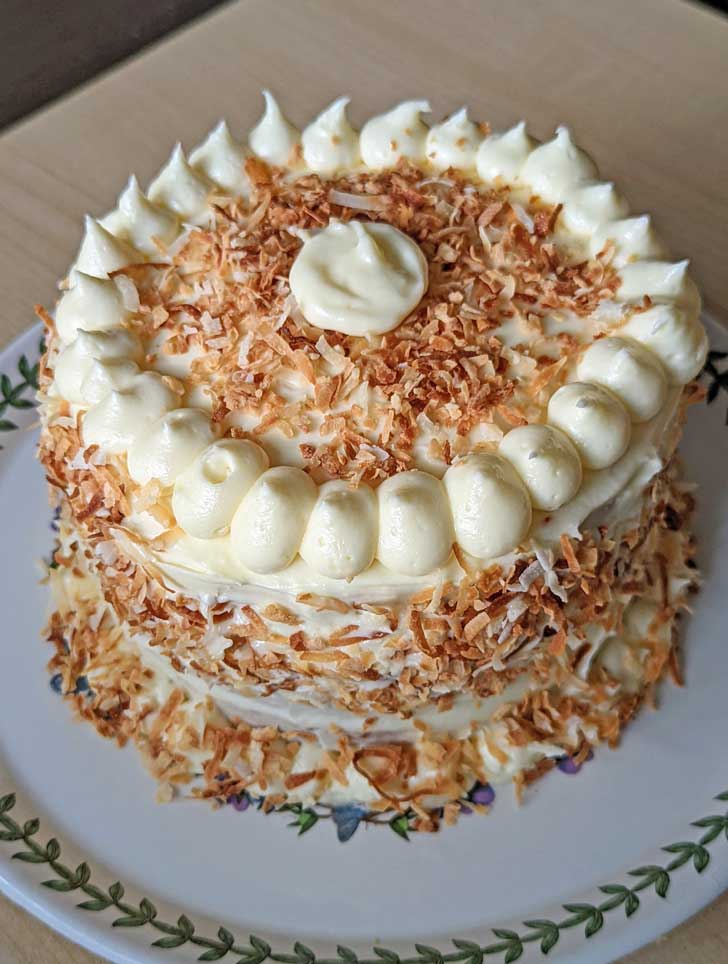 Coco Lopez & Coco Real Cream of Coconut
Also known as cream of coconut, Coco Lopez and Coco Real are generally mixed with rum and frozen pineapple to make Pina Coladas. Coco Lopez used to come in 6.5 oz cans, but these days it's in 15 oz cans, while Coco Real comes in a big squeeze bottle. Whichever brand you choose, you'll have some left over for Pina Coladas.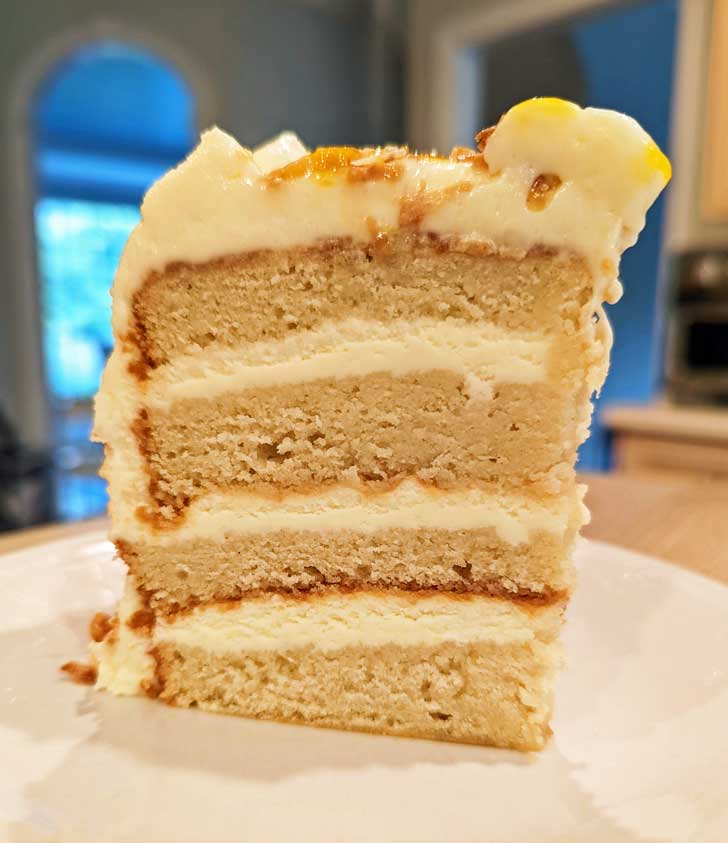 6-Inch Pans
Since there are only 3 of us, I typically make smaller layer cakes using 6-inch pans. Every time I make a 6-inch cake I'm surprised at how much larger it is than I expected. So even though it's a smaller cake, it will feed a larger family without a lot of leftovers. 6-inch pans are so handy. Here's a link to the ones I use. As I was adding the link, I noticed Fat Daddio also makes some nice 4-inch round cake pans, so you could probably halve this recipe and make a 4-inch layer cake. I may try this when Fuzz heads back to school.
Mango Passion Fruit Sauce
One thing we loved about the coconut cake we had on vacation was the passion fruit drizzle, which added a hit of tartness to the sweet coconut flavored cake. I wanted to make a passion fruit drizzle for my cake, but since passion fruit is hard to find around here, I pureed frozen mango with passsion fruit nectar and poured it over each piece. It looked much better poured over individual pieces than poured over the whole cake. The sauce is optional, but if you want to give it a try, the ingredients are in the recipe card notes.
6-Inch Coconut Layer Cake Ingredient Notes
Here's the ingredient rundown. Hopefully this will answer any questions, but feel free to leave a comment!
Eggs -- This recipe calls for 2 eggs which are separated. The yolks go into the creamed butter and sugar mixture and the whites are whipped and folded in later. I like to whip the whites first to get that step out of the way, but you can whip them right before folding them in if you prefer.
Butter -- Unsalted Land o' Lakes was on sale, so that's what I used.
Sugar -- Weighed it. Used 160 grams
Vanilla Extract -- I didn't use any coconut extract, just the vanilla. If you want more coconut flavor you can add about ½ teaspoon coconut extract in addition to the vanilla.
Coco Lopez -- When you open the can you'll have big blocks of fatty coconut chunks in liquid. Pour them into a container, warm gently (50 power in the microwave or over the stove) and stir until smooth. I measured by volume and took a quick glance at the weight which was about 138 grams
Flour -- Any brand of all-purpose or the same weight of King Arthur Measure for Measure. I haven't tested with Cup4Cup or Bob's yet.
Baking Powder
Salt
Whole Milk -- I think you could get away with using low fat or almond milk.
Shredded Sweetened Coconut -- I accidentally left it out of the cake and only put it on the outside. Whoops! Still had a lot of coconut flavor.
Heavy Whipping Cream or Heavy Cream -- You can use either one for this recipe.
Cream Cheese -- Any brand. Make sure to soften. You are going to have plenty of frosting.
Mango Passion Fruit Sauce -- Optional, but really good. I used store brand frozen mango and Ceres passion fruit nectar.
Recipe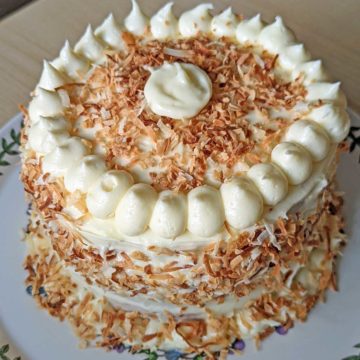 6-Inch Coconut Layer Cake
A scratch coconut cake made with cream of coconut. You can use Coco Real or Coco Lopez.
Ingredients 
2

large

eggs

(105 grams)

1

stick

unsalted butter, softened

(114 grams)

¾

cup

plus 1 tablespoon granulated sugar

(160 grams)

1

teaspoon

vanilla extract

½

cup

plus 2 tablespoons cream of coconut

Coco Lopez or Coco Real

1 ½

cups

all-purpose flour

(190 grams)

¾

teaspoon

baking powder

¼

teaspoon

salt

½

cup

milk, room temperature

⅓

cup

sweetened shredded coconut or angel flake type
Cream Cheese Icing
1

cup

heavy whipping cream

8

ounces

cream cheese

softened

4

tablespoons

unsalted butter

softened

2

cup

confectioners' sugar

2

teaspoon

vanilla

1

cup

sweetened shredded or angel flake

lightly toasted
Instructions 
Preheat oven to 350 degrees F.

Thoroughly grease and flour two 6-inch round cake pans.

Crack the eggs and separate the yolks from the whites. Put the whites in metal mixing bowl and beat until soft peaks form. Set aside.

In a mixing bowl, beat the butter and sugar until creamy. Beat in the egg yolks and the vanilla, then beat in the cream of coconut.

In a separate bowl, stir together the flour, baking powder and salt.

Add the flour mixture and the milk to the batter alternately, stirring by hand just until flour is incorporated. Stir in the coconut.

Fold in the beaten egg whites.

Pour the batter into the pans. Set pans on a rimmed baking sheet and bake on center rack for about 40 minutes or until cakes appears set and springs back when touched. Let cool completely on a rack.

Split each cake into two layers, then frost and stack to make a 4 layer cake.
Frosting -- You'll Have A Lot!
To make the frosting, beat the cream until stiff peaks form and set aside. In a mixing bowl, beat cream cheese and butter until smooth and creamy. Gradually add the confectioner's sugar. Beat in the vanilla, then fold in the whipped cream.
Notes
To toast the coconut, lay it on a foil lined baking sheet and bake for about 5 minutes or until the edges of the coconut are brown (the coconut in the center should still be white). Toss it all together (toasted edges and less toasted center).
Optional Mango Passion Fruit Sauce: Puree 6 oz (one heaping cup) of frozen mango chunks with about 4 oz (½ cup) of mango nectar.  Chill and serve with the cake.