I've never had problems with on-line shopping, but lately I've been making the same mistake when ordering gluten-free flour. I keep accidentally ordering the whole grain instead of flour. I'm not sure how this happens, but I recently ended up with 2 bags of Bob's whole grain buckwheat groats, a grain I've only used in flour form. The good news is that buckwheat (unlike teff, argh) is easy to grind into flour, so I was able to make Dark And Spicy Pumpkin Loaf with my "freshly milled" buckwheat flour.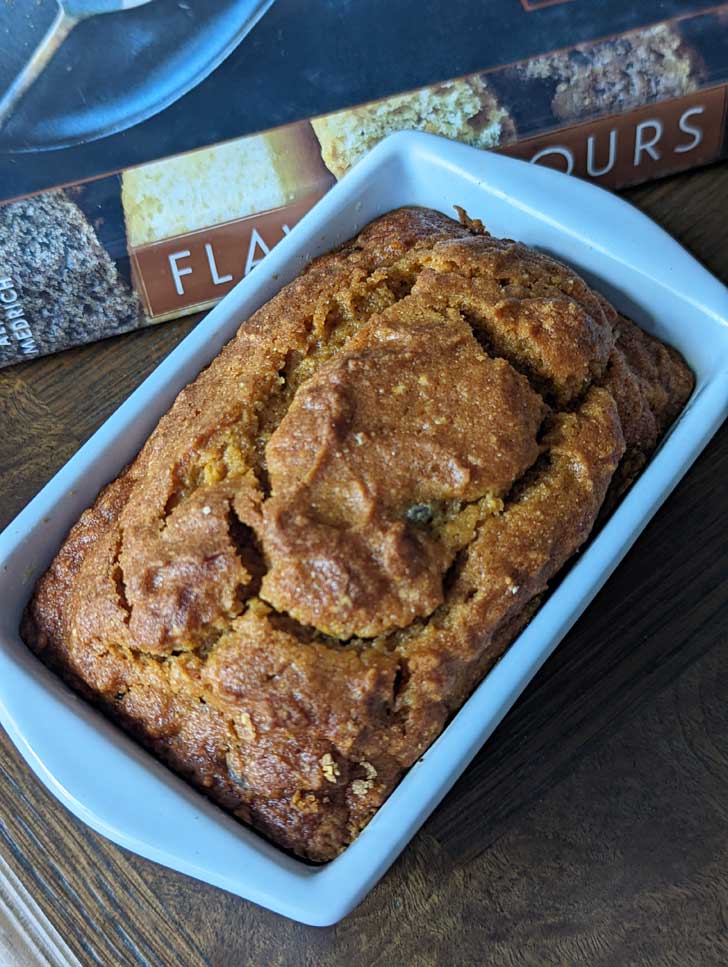 Flavor Flours
This recipe is from Gluten-Free Flavor Flours, by Alice Medrich. Baking with gluten-free grains is on the rise, and this is one of several new-ish cookbooks that teaches you how to do it. Whether you dive into gluten-free baking for health reasons or just out of curiosity, once you start you may begin wondering why we haven't been using these different grains all along. Maybe it's due to political, economical and cultural reasons. I don't know, but what I can tell you is so many non-gluten flour recipes taste even better than their wheat flour counterparts.
Dark and Spicy Pumpkin Loaf
Flavor Flours has plenty of recipes that are more interesting than a spicy pumpkin bread, but seeing as how Fall literally starts tomorrow (September 22), it seemed perfect. That, and I needed to do something with the buckwheat flour. This recipes calls for ⅓ cup of it along with ¾ cup of rice flour. All of the other ingredients are pumpkin bread's usual cast of characters including cinnamon, nutmeg, etc. which come together to make a bread that is traditional but with a bit of a flavor twist from the buckwheat flour. Alice Medrich describes it as "almost woodsy".
Flavor and Texture
I was looking forward to tasting some "woodsy" notes, but I didn't. Dark and Spicy Pumpkin Loaf tasted like pumpkin and spices. The book describes it as not-too-sweet, but I found it plenty sweet. Now I did add chocolate chips, so obviously those add sweetness too, but even without chocolate chips it's sweet. And a good sweet. Around here, we eat it for dessert or a sweet snack. It's basically cake in loaf form.
If you like less sweet baked goods, I don't recommend cutting the sugar right away because sugar holds in moisture and it will affect the wonderful moist and dense texture. However, after making it once as written you might want to experiment with lower amounts of sugar or maple syrup. I'll post an update if I successfully cut the sugar without ruining the texture.
Dark and Spicy Loaf Size
This recipe makes one 8 ½ by 4 ½ inch loaf or two or three mini loaves. I used some little Autumn themed ceramic loaf pans from Dollar Tree. They work perfectly, but be sure to use some parchment or a lot of grease and flour because they don't seem to have any non-stick properties. They do seem to conduct heat well and the bread rose quite nicely, as quick breads tend to do in ceramic loaf pans.
Types of Buckwheat for Spicy Pumpkin Loaf
I used home ground Bob's Red Mill brand whole grain buckwheat groats and didn't notice any bitter flavor, but some brands of buckwheat flour can be a little stronger in flavor. In fact, the first time I ever tried buckwheat (years ago, back in Texas) I thought I didn't like it. This was probably due to the brand. Check reviews before you buy, but if you are new to buckwheat and want a flour that is very mild I recommend Bouchard Family Farms light Acadian buckwheat. It's pricey, but extremely versatile.
Meanwhile, if you accidentally order buckwheat groats rather than flour, no worries! It's as easy to cook as rice or quinoa and the flavor is pretty good. I made my first batch yesterday using the bowl-in-bowl method from Piping Pot Curry, and Todd and I both liked it. So did HAL. I may start ordering it in grain form on purpose now.
Recipe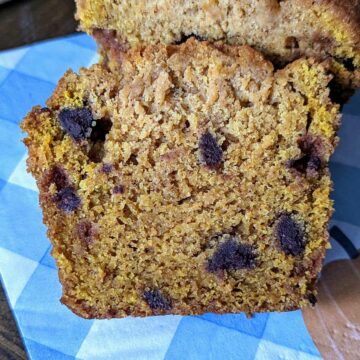 Dark and Spicy Pumpkin Loaf or Loaves
Gluten-free pumpkin bread made with rice and buckwheat flour. Chocolate chips are optional.
Ingredients 
8

tablespoons

unsalted butter, softened

(114 grams)

1

cup

sugar

(200 grams)

2

large

eggs

¾

cup

white rice flour

(120 grams)

⅓

cup

buckwheat flour

(40 grams)

½

teaspoon

baking soda

1

teaspoon

baking powder

1

teaspoon

ground cinnamon

½

teaspoon

ground nutmeg

¼

teaspoon

kosher salt

¾

cup

pumpkin puree

(170 grams)

½

cup

of chocolate chips

optional
Instructions 
Preheat the oven to 350 F. Line the bottom and sides of an 8 ½ by 4 ½ inch loaf pan or 2 small ceramic pans with parchment paper.

Beat the butter, sugar, and eggs with the paddle attachment of a stand mixer on medium for about 2 minutes or use a handheld mixer and beat for beat for 3-4 minutes.

Add the rice and buckwheat flours, baking soda, baking powder, cinnamon, nutmeg, salt, pumpkin puree and beat on low speed until smooth.

If using chocolate chips, fold them in as well.

Scrape the mixture into the prepared pan (or pans). If using small loaf pans, set them ona rimmed baking sheet.

Bake for for 45 -50 minutes, or until a toothpick inserted into the center comes out clean. If making 2 small (3x5 inch) loaves, the bread will most likely take at least 45 minutes. If you are making even smaller loaves, check at 35 minutes.