I've been in a biscotti baking mood, and these Apple Spice Biscotti Thins are the latest creation. They're a spinoff of Biscotti Thins. I originally tried making this apple version with all egg whites (like the other ones), but ended up adding a yolk and making more changes. These have lots of spices -- a little of everything including cardamom, which is optional. Or maybe not. I used to find cardamom overpowering, but I'm starting to crave it in things. Emma loves it too. Todd is indifferent to cardamom, but he liked the biscotti.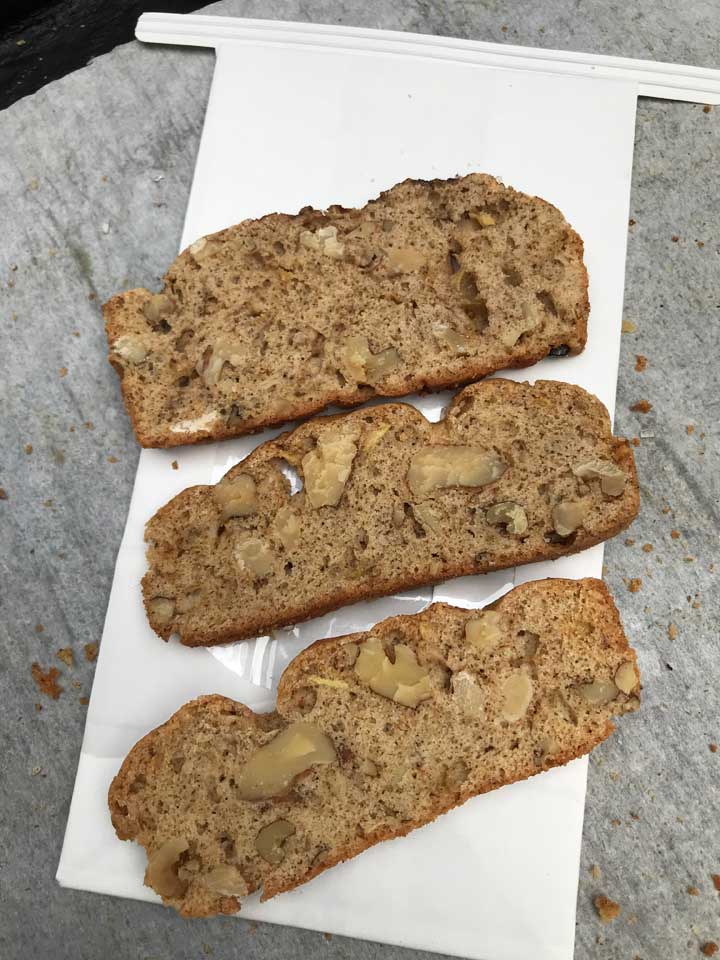 How to Make Very Thin Biscotti
As you can tell, these are super thin biscotti. To make such thin slices of biscotti, you'll need to chill the once-baked log (or loaf, in this case) so that it is cold and firm. Once it's really cold, the biscotti slices perfectly with barely a crumble. Or at least it should. Here's a picture of the biscotti loaf right after the first bake. Unlike most recipes where you form the dough into a log, this type of biscotti gets baked in a loaf pan.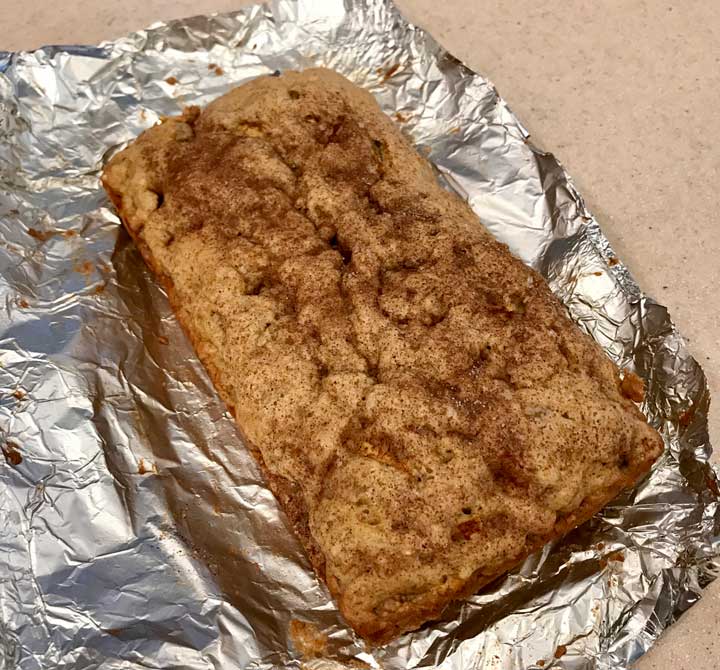 And here it is sliced up and ready for the second bake. My supervisor approves.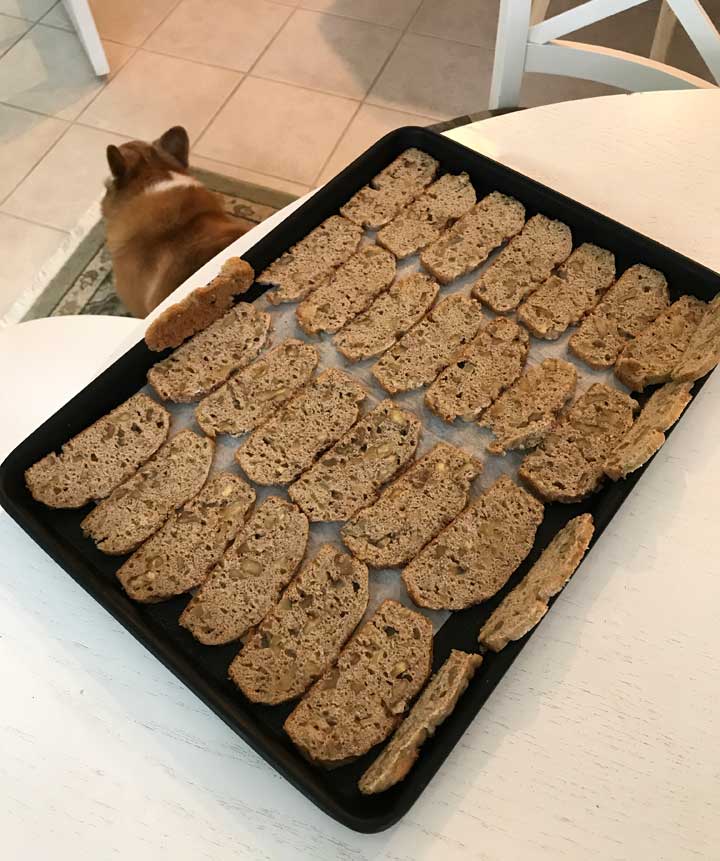 I've been testing with walnuts, but pecans would be great. And I also think if you are in a maple mood you could swap out the spices for some maple extract and maybe throw in some caramel chips or something of that nature? Now that I've made this flavor a couple of times I want to make so many variations on it. But the apple is good!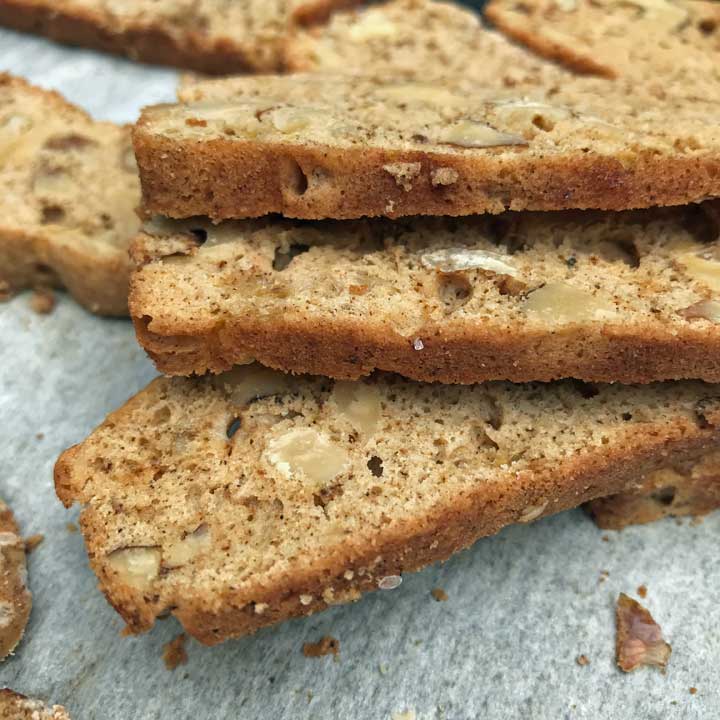 Speaking of the apple, I've been making Apple Spice Biscotti Thins with fresh apple but I think apple chips (store bought or maybe air fryer apple chips) would be awesome. Now I can't stop thinking of alternate ideas so here's a list.
Some Other Flavoring Ideas
Make with apple chips instead of fresh apple
Add cinnamon chips
Use 6 tablespoons coconut sugar and omit granulated and brown
Flax maybe? Throw in some oats?
Omit the all-purpose flour completely and just use white whole wheat
Take out all the spices, substitute maple extract for vanilla, use pecans instead of walnuts and add Hershey's Sea Salt Flavored Caramel Chips.
Make a peanut butter version (no apples, no spice) with PB2
Use Brazil nuts and maple extract
The list above includes things I'll be trying in the future, so I'll update when that happens. For now, here's the delicious apple spice version. Just so you know, these are very hard and crunchy (no oil, no butter) and not too sweet. They need the walnuts, for sure, as nuts make up the bulk of the cookie. You could even add slightly more nuts.
Recipe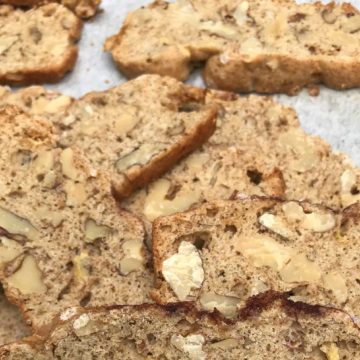 Apple Spice Biscotti Thins
Extremely thin cut biscotti with apple pie spices and lots of walnuts.
Ingredients 
⅔

cup

all-purpose flour 90 grams

⅓

cup

white whole wheat flour 45 grams

¾

teaspoon

baking powder

¼

teaspoon

salt

½

teaspoon

cinnamon

¼

teaspoon

cloves

⅛

teaspoon

each

allspice and nutmeg

¼

teaspoon

cardamom

optional

1

whole egg

1

egg white

¼

cup

sugar 50 grams

2

tablespoons

brown sugar 25 grams

¾

teaspoon

vanilla extract

1

cup

chopped walnuts

¼

cup

very finely chopped apple

drained on a paper towel

Cinnamon Sugar

optional
Instructions 
Preheat oven to 350° F. Line the inside of an 8 ½ by 4 ½ inch loaf pan with nonstick foil or line with regular foil and grease with butter/coconut oil or nonstick spray.

In a medium bowl, whisk together flour, baking powder, spices, and salt. Set aside.

In a mixing bowl, using an electric mixer, beat the whole egg and the white for a minute. With the mixer on high speed, gradually add sugars and beat for another 2 minutes or until pale and bubbly. Beat in the vanilla.

Add the flour mixture to the egg mixture and stir with a heavy-duty scraper until blended, then fold in the walnuts and apple.

Spread apple mixture in the loaf pan. Dampen fingers with a little water and press lightly to even out the top. Sprinkle with cinnamon sugar if desired. Bake for 30 minutes.

Remove from oven and let cool, then remove from loaf pan and refrigerate until very firm. You can also freeze, but if you freeze it don't freeze it solid or it will be too hard. The goal is to get it very firm so that you can make thin slices.

When the loaf is cold and firm, cut very thin slices of the apple loaf (you can use a serrated knife or a very sharp chef's knife) and lay them on a baking sheet. Bake at 250 for about 30-40 minutes or until edges are brown and crisp. I recommend checking after 30 minutes, then removing any super thin ones that seem done and letting the remaining bake for another 10. You should get about 30 total.