If you need a pie to brighten up the week after Christmas, here's a good one. It's called Elegant Raspberry Chocolate Pie and it's from The New Joys of Jell-O. It's perfect for the new year because it's retro. You can think about olden days as you ponder the future.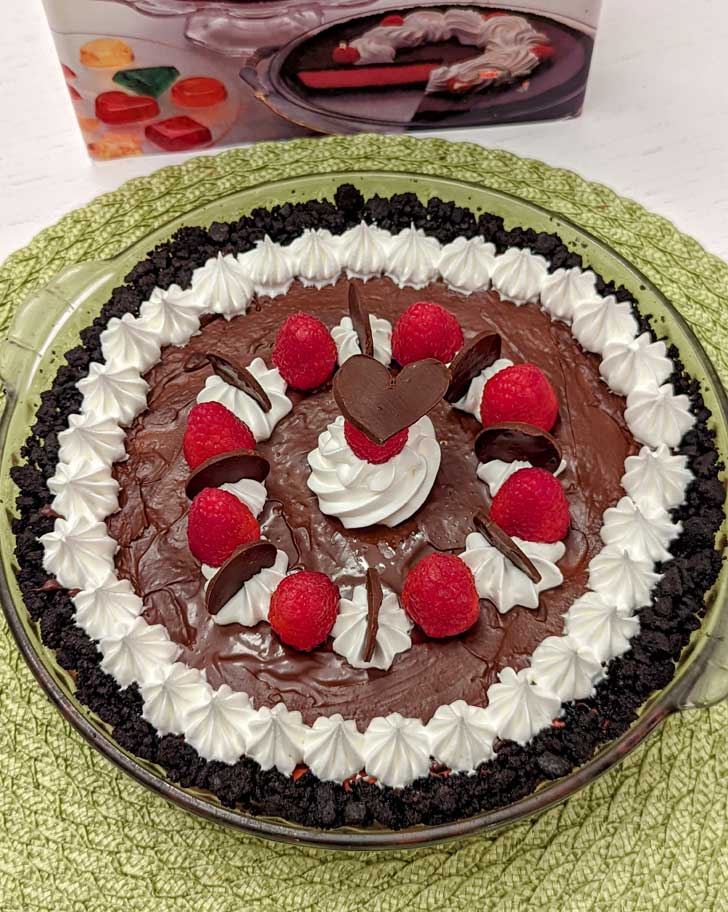 Fuzz made the pie for the family yesterday. She'd never had a gelatin based pie and was curious as to how the texture would be. I think it was also her first time to ever fold soft ice cream into warm Jell-O juice, so having folded plenty of things into gelatin, I had to assure her everything would be okay. And it was! The filling set up in two hours just like the recipe promised.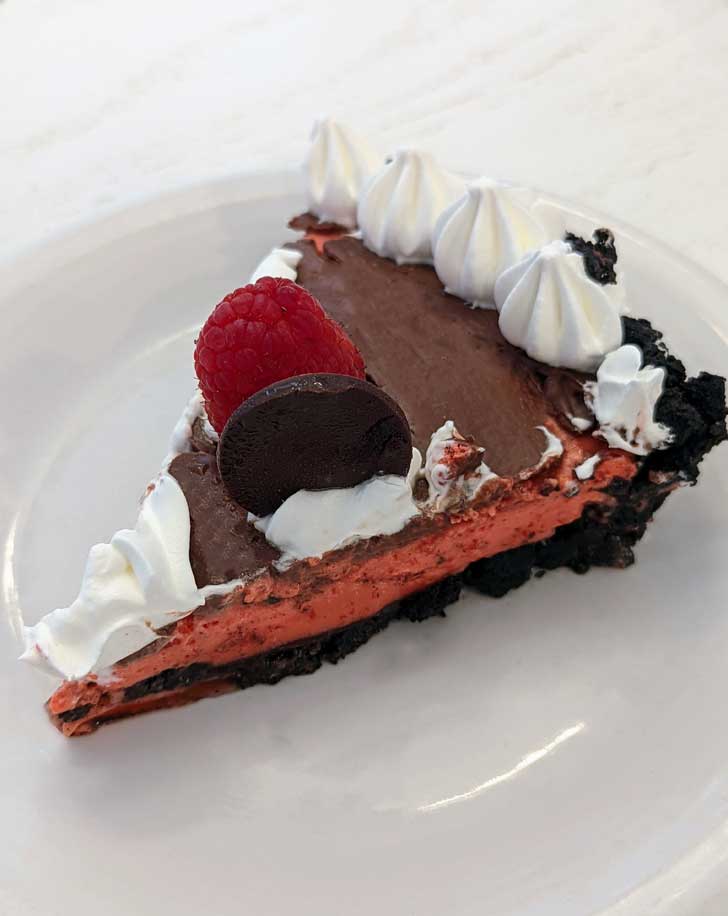 Once the filling set, a ganache was spread over the top of it and garnishing ensued. Fuzz is already better at decorating pies than I am and was pleased that her Elegant Chocolate Raspberry Pie was prettier than the one on the cover of the book. Or at least we thought so.
A Few More Notes
Our pie was a little thinner than the original since the recipe calls for a packaged crust (they're usually a little smaller) and ours was a full 9 inch made with crushed Famous Wafers. We weren't sure if if we'd like the texture of the Jell-O filling, but it was pretty good! You can tell there's Jell-O, but the ice cream softens it somewhat and it doesn't jiggle or feel overly gelatinous in your mouth. The original recipe says to top the pie with a mixture of melted margarine and chocolate. We went with a 1 to 1 ratio of cream and chocolate, so basically a ganache. For the whipped cream garnishing, we used Cool Whip. All in all it was a fun pie! Not sure I'd call it "elegant" but definitely fun.
Recipe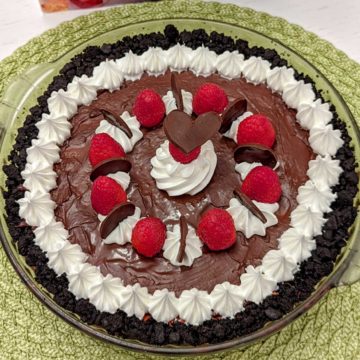 Elegant Raspberry Chocolate Pie
A good pie for raspberry & chocolate fans.
Ingredients 
1

pkg chocolate crumb crust

1

package

raspberry flavored Jell-O

4 serving raspberry Jell-O

1 ¼

cup

boiling water

1

pint

vanilla ice cream softened
Ganache Topping
¼

cup

heavy cream OR 3 T. margarine**

56

grams

semisweet chocolate, chopped
Garnish
Cool Whip, enough for piping

Chocolate pieces or Cookie pieces

optional

raspberries

optional
Instructions 
In a mixing bowl, dissolve Jell-O in boiling water.

Spoon in softened ice cream into the Jell-O and stir until melted and smooth.,

Chill until slightly thickened, about 10 minutes.

Pour into crust and chill until firm (2 hours).

Make the chocolate topping. You can choose from a chocolate ganache topping made with cream and chocolate or a mixture of melted margarine and chocolate. To make the ganache, heat the cream in the microwave or over the stove. Add chocolate to hot cream. Let stand for 2 minutes, then stir until smooth. If using margarine, melt margarine with chocolate by heating in the microwave and stirring at 30 second intervals.

Spread whichever chocolate mixture you've chosen over pie and allow it to chill until the chocolate hardens.

Garnish with whipped topping, chocolate pieces and fresh raspberries.
Notes
For a homemade crumb crust, mix 1 ½ cups of chocolate cookie crumbs (Nabisco Famous Wafers) with 6 tablespoons of melted butter.  Press into a 9 inch pie dish and bake at 350 for 6 minutes.  Let cool completely before using.
For the chocolate topping, you can make a ganache using 56 grams of whipping cream and 56 grams of chocolate or you can melt 3 tablespoons of margarine with 2 oz of chocolate.  I'm sure butter would work as well.  We were glad we used the ganache topping because it was easy to fork into.