Boston Cream Pie is a family favorite, but I don't make it nearly enough because it involves a lot of steps. It's not difficult, it's just time consuming to make a scratch sponge cake, pastry cream and glaze. A doctored mix Boston Cream Pie was the obvious solution, so I came up with this Cake Mix Chocolate Boston Cream Pie. It has relatively short ingredient list and can be made pretty quickly.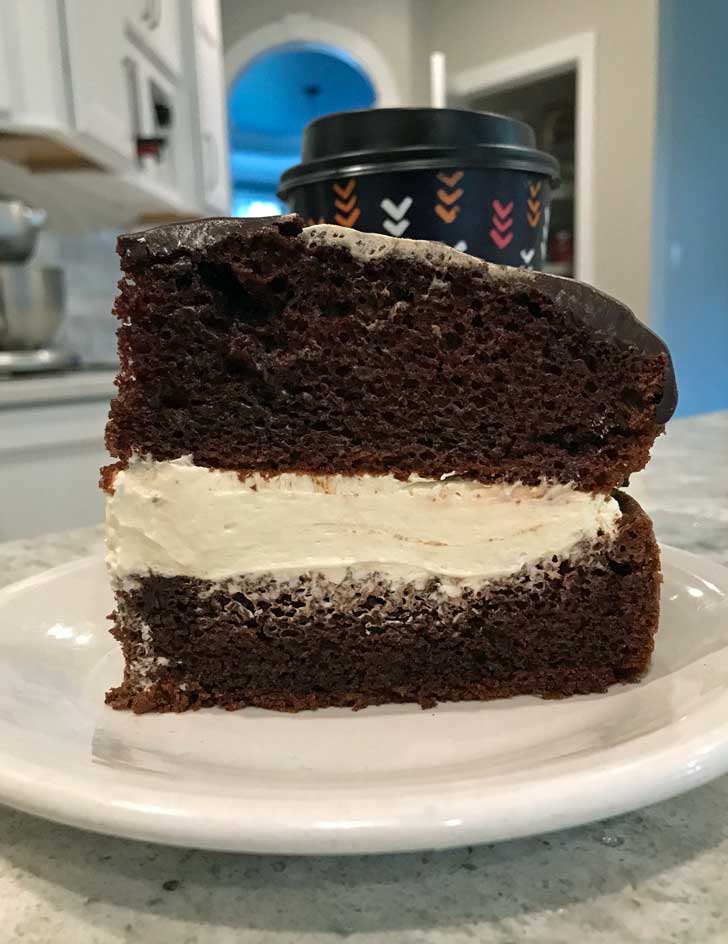 Portillo's Chocolate Cake Recipe
The chocolate cake for this recipe is the Portillo's Chocolate copycat which calls for just cake mix, mayonnaise, eggs and ice water. In less than an hour, you can have a light and fluffy chocolate cake that's a perfect match for the Bavarian cream. I've only ever tested the Portillo's copycat with Betty Crocker brand cake mix, so use that if possible. I'll update when I test with another brand. Next time I'd like to try a gluten-free mix.
Bavarian Cream Filling
If you already know how to make true Bavarian cream, you can certainly do that. However, this convenient pudding mix version goes well with the cake mix. It reminds me of the filling from the Rich's brand eclairs I ate as a kid. All you need is half a box of pudding mix, some milk and whipped topping. As much as I love fresh whipped cream, the whipped topping (Cool Whip) holds up well and makes sense for this convenience dessert. This filling, even with the convenience ingredients, is always a crowd pleaser. Here it is on the first layer of cake.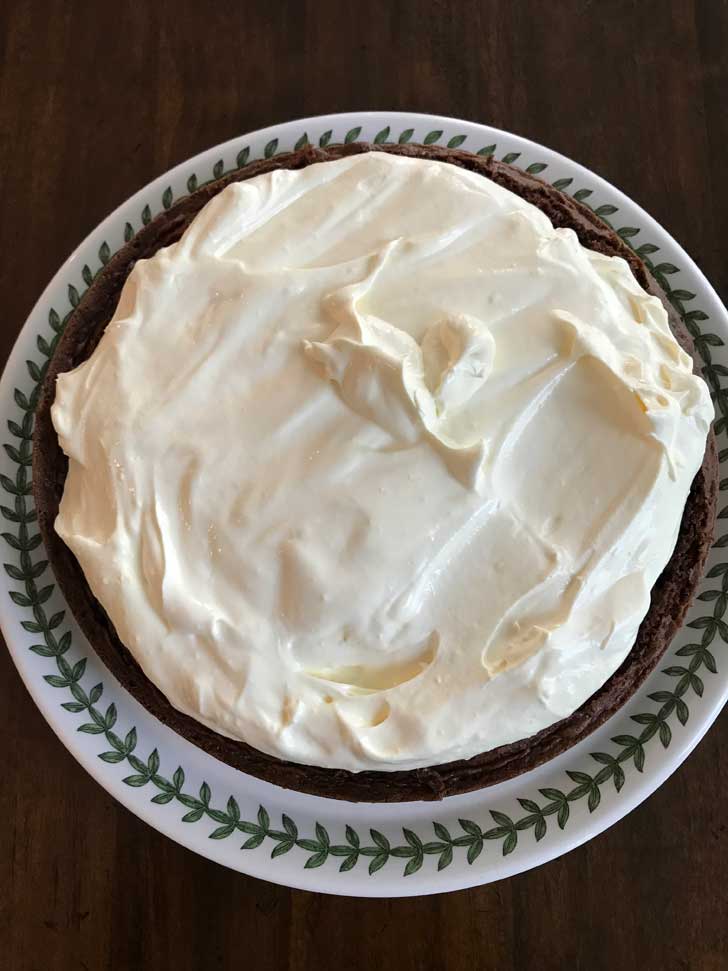 And here it is capped and ready to go in the refrigerator. You don't need a lot of ingredients for this, but you will need some refrigerator space.
Ganache Glaze
This is the one I love most for Boston Cream Pie. It's just cream, Karo corn syrup (not the same as high fructose corn syrup) and chopped dark chocolate. I've been loading up on Trader Joe's Dark lately, but any brand of dark will do. It flows pretty easily and stays fairly soft when refrigerated.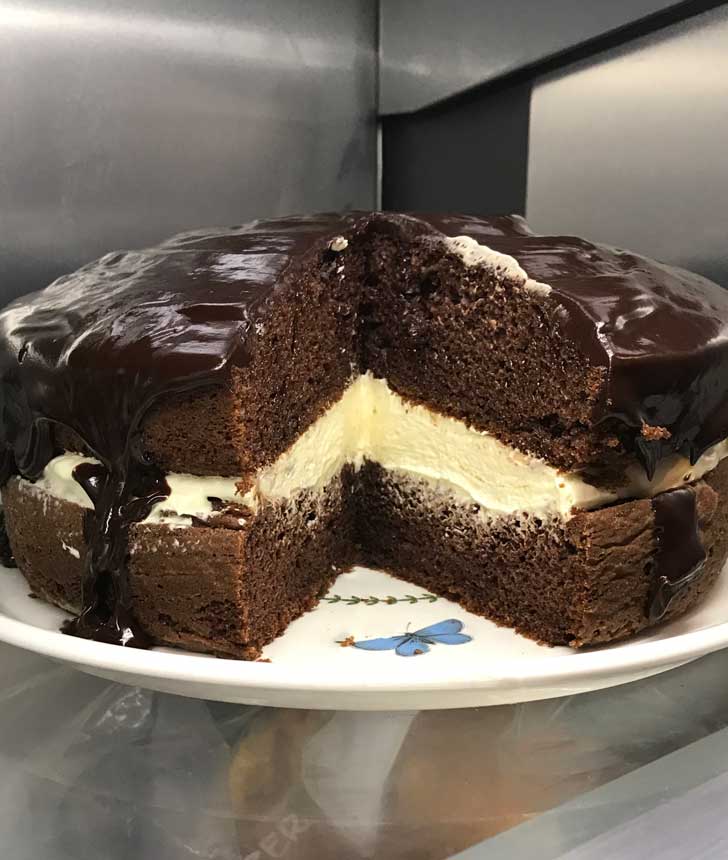 This was a fun one to bake and serve. I think I'm going to make a second one using the Dolly Parton coconut cake mix and coconut pudding mix. For new flavors, it's probably best to use the recipe from the back of whatever box you use rather than the mayonnaise version. As far as I know, the mayonnaise (Portillo's) version only works with the Betty Crocker brand.
Recipe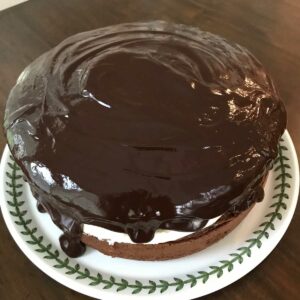 Cake Mix Chocolate Boston Cream Pie
An easy Boston Cream Pie made with cake mix.
Ingredients 
1

box

Betty Crocker Super Moist chocolate cake mix

Devils Food or Butter Recipe Chocolate

1

cup

Hellmann's mayonnaise (the only brand I've tested with)

1

cup

ice cold water

3

large

eggs
Filling
½

box

vanilla instant pudding mix (4 tablespoons)

half of a 3.4 oz 4 serving size box.

¾

cup

whole milk

½

tub

Cool Whip (eyeball half of an 8 oz tub or weigh 4 oz)
Ganache
⅓

cup

heavy cream

1

tablespoon

light corn syrup

(20 grams)

4

oz

semisweet or dark chocolate, chopped

(114 grams)
Instructions 
Preheat oven to 350°. Grease and flour two 9x2-inch round cake pans.

Beat cake mix, mayonnaise, water, and eggs until mixed, then beat with an electric mixer for 4 minutes. Pour into the pans, dividing evenly.

Bake 25-30 minutes or until toothpick inserted in centers comes out clean.

Let cool on a wire rack 10 minutes. Remove cakes from pans and cool completely.

Pick the cake with the least attractive top and trim it so that you have a flat surface to put the cream on. You'll have some scraps for sampling, decorating or making cake balls. Are they still a thing?

Spread Bavarian Cream on the trimmed surface and cap with the other layer. Chill for about an hour or until cake is cold, then cover with the chocolate ganache.
Bavarian Cream Filling
The filling needs some time to thicken, so you may want to start making it when you take the cake out of the oven. It can sit in the bowl and thicken while the cake cools.

Whisk together pudding mix and milk. I usually just throw it in the stand mixer bowl and let the whisk attachment handle it. Mixture will start out thin and thicken just slightly. Fold in whipped topping. Put the bowl in the refrigerator and chill for about 30 minutes before putting it on the cooled cake. It tends to thicken even more as it sits.
Ganache
Put the cream and corn syrup in a 2 cup measure and heat in the microwave just until it begins to boil (that's less than a minute in my microwave). Add the chocolate and let stand for 5 minutes to soften. Stir until smooth. Let stand until you feel it is thick enough to pour over the cake (it might be thick immediately), then pour over cold cake. You may need to use a spoon to gently spread in a circular motion to coax chocolate down the side.