Originally made with almond milk, this is the oat milk counterpart of a vegan dairy-free peanut butter ice cream. I love this recipe because we always have the ingredients on hand -- if not oat milk, then almond milk. Both work. Also, compared to other peanut butter flavored ice creams, this is creamy but not over-the-top rich. All of the fat comes straight from the peanut butter and the low calorie vegan milk balances out the richness. For a slightly richer version, you can use half oat milk and half coconut milk.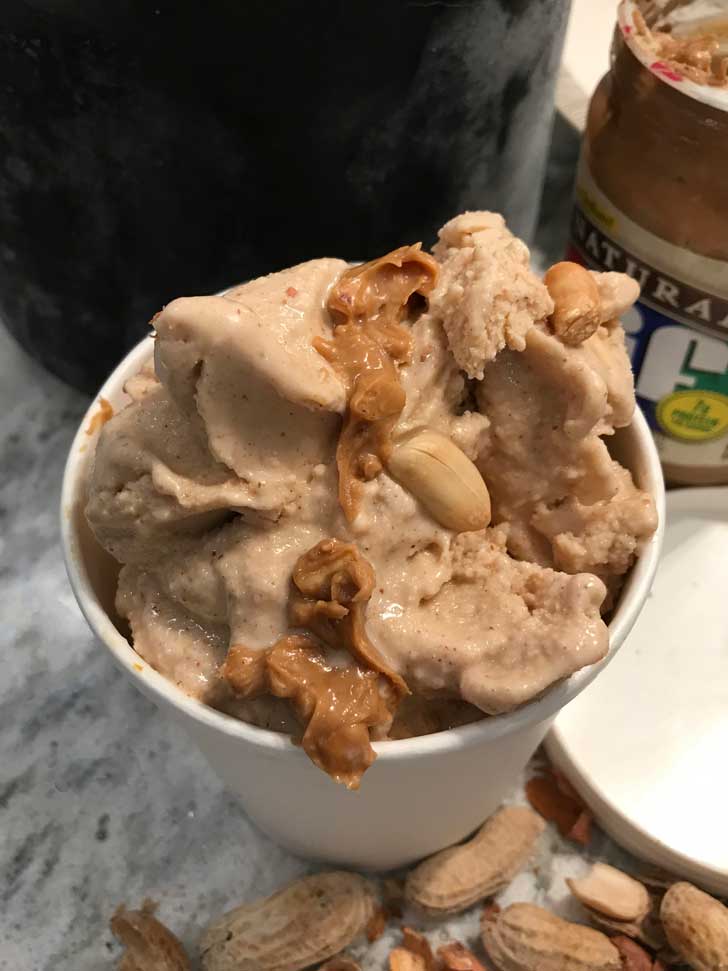 Pint Containers from Amazon
For some reason I've found a lot more joy in ice cream making when I have these little containers on hand. I always think I'm going to make cute labels and never quite get around to it, but with or without cute labels, they are perfect for holding small batches of ice cream. I've also used them for leftover soup.
Oat Milk Peanut Butter Ice Cream Ingredients
Oat Milk or Almond Milk -- Any brand should work.
Unsweetened Peanut Butter -- Whole Foods, Wegmans Just Peanuts or Trader Joe's Unsweeetened are my go-tos, but I've also tested with Smuckers Natural.
Vanilla
Maple Syrup-- Adds sweetness and creaminess. Agave syrup works really well too.
Salt -- Just to counteract the sweetness
Peanut Butter Powder -- You don't have to go out and buy PB2 for this, but if you happen to have some peanut butter powder in the house, it's a nice addtion
Sweetened Peanut Butter Swirling -- Unsweetened peanut butter works best for the base, but a little swirl of mainstream sweetened peanut butter like Jif or Skippy or any other brands makes this more of a treat.
Extra Peanuts -- Not crucial, but a nice addition!
Recipe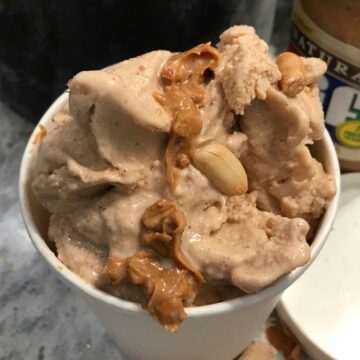 Oat Milk or Almond Milk Peanut Butter Ice Cream
Peanut butter ice cream recipe made with oat milk or almond milk. This should make about 1 ⅓ pints.
Equipment
1 ice cream maker

1 blender
Ingredients 
2

cups

oat milk or almond milk

(460 grams/16 oz)

⅔

cup

unsweetened creamy peanut butter (measure by weight for best results)

(200 grams)**

1

teaspoon

vanilla

6

tablespoons

maple syrup or golden agave

(120 grams)

1

pinch

salt

1

teaspoon

peanut butter powder (optional)

Handful of salted cocktail peanuts

Peanut butter for swirling (preferably sweetened) plus a tiny bit of olive oil or another oil

optional
Instructions 
Put the oat or almond milk, peanut butter, vanilla, syrup and peanut butter powder (if using) in the blender. Puree until smooth and creamy.

Pour into ice cream maker and process as directed by manufacturer. I use a Cuisinart ice cream maker and this is done in about 20 minutes.

Scrape into a small container and freeze until firm.

For peanut butter swirled throughout, soften two tablespoons of peanut butter in the microwave and stir in about ½ to 1 teaspoon of olive oil, flax oil or whatever oil you like. Drizzle the mixture in as you spoon the ice cream into its carton. Alternatively, just spoon in straight peanut butter without adding the oil. I've done it both ways. The oil makes it a little softer and smoother once frozen, whereas the frozen straight peanut butter chunks are a little harder.
Notes
I've made this with crunchy, but don't recommend it because the ground peanuts take a way from the creamy smooth texture.  However, if you have all the ingredients and only have crunchy peanut butter, it's still good.