It took me a while to master gluten-free yeast bread, and after many bricks and weird textured baguettes, I have a handful of good recipes. Easy Gluten-Free Dutch Oven Bread is one of them. It's modeled after Jim Lahey's No-Knead Bread in that it's a round chewy loaf (boule) you bake in a Dutch oven and dip in olive oil. The bonuses are it's gluten-free and needs only about 40 minutes to rise!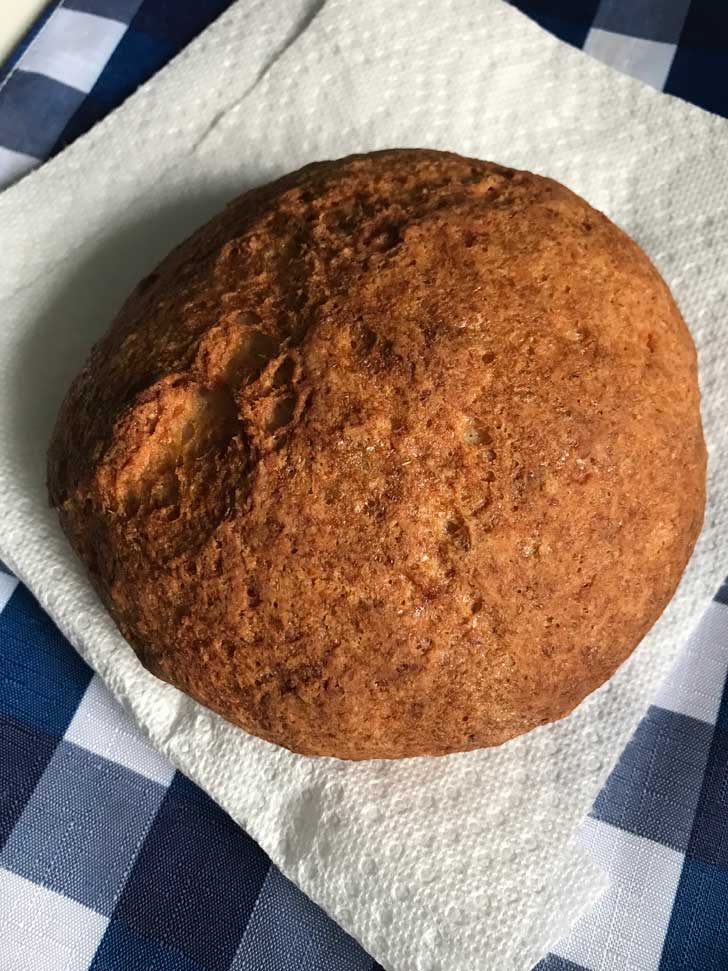 Because it's gluten-free, the texture is different and you do have to keep your expectations in check. But if you generally like breads without wheat flour, I think you'll love this one for its chewiness.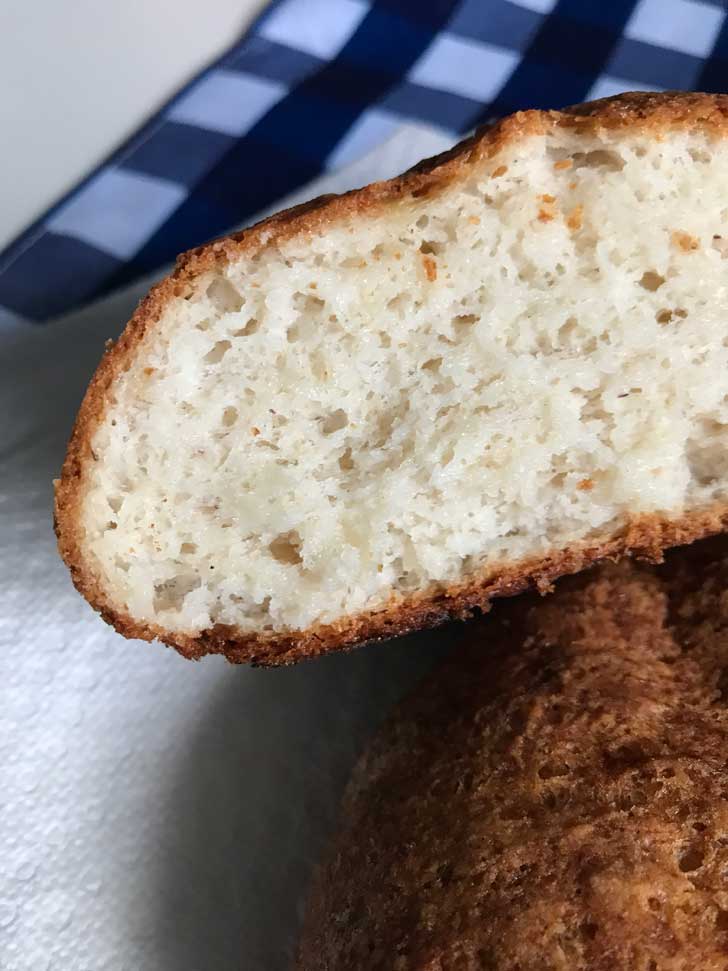 Pillsbury Gluten-Free Flour Blend
The catch here is that you have to use Pillsbury's gluten-free flour blend. Pillsbury gluten-free blend comes in a greenish bag. I think the pea fiber or the protein from the pea fiber is what makes it work for this bread. My next experiment is to try another blend and throw in a little protein powder or just make my own blend, but right now all I can tell you is the Pillsbury blend is what I use. King Arthur has a new blend called King Arthur Gluten-Free Bread Flour which might work, but if you are going to spend the money on the KAF you might as well make the recipe on the back of their bag which doesn't require psyllium.
Psyllium
If you are new to gluten-free baking and not yet familiar with psyllium, it's a key ingredient in some gluten-free yeast breads and helps make them chewy. I use whole psyllium husks -- specifically Now brand, Sprouts or Whole Foods, because they don't turn the bread purple and are not prone to clumping like the powder does. If you want purple bread, try Yerba Prima. I have a canister gathering dust because of this.
Picture of the Dough in a Bowl
I don't have much to see about this but am really looking forward to hearing from someone else out there who tries the bread. The ingredients are atypical for a lot of people, but I know my gluten-free baking buddies use psyllium and various blends all the time, so if anyone out there wants to give this one a shot please tell me what you think. I wasn't sure I'd even post it, but I keep making it because the family likes it as much as the Jim Lahey bread. It's just different. And relatively quick! No all day rise.
Recipe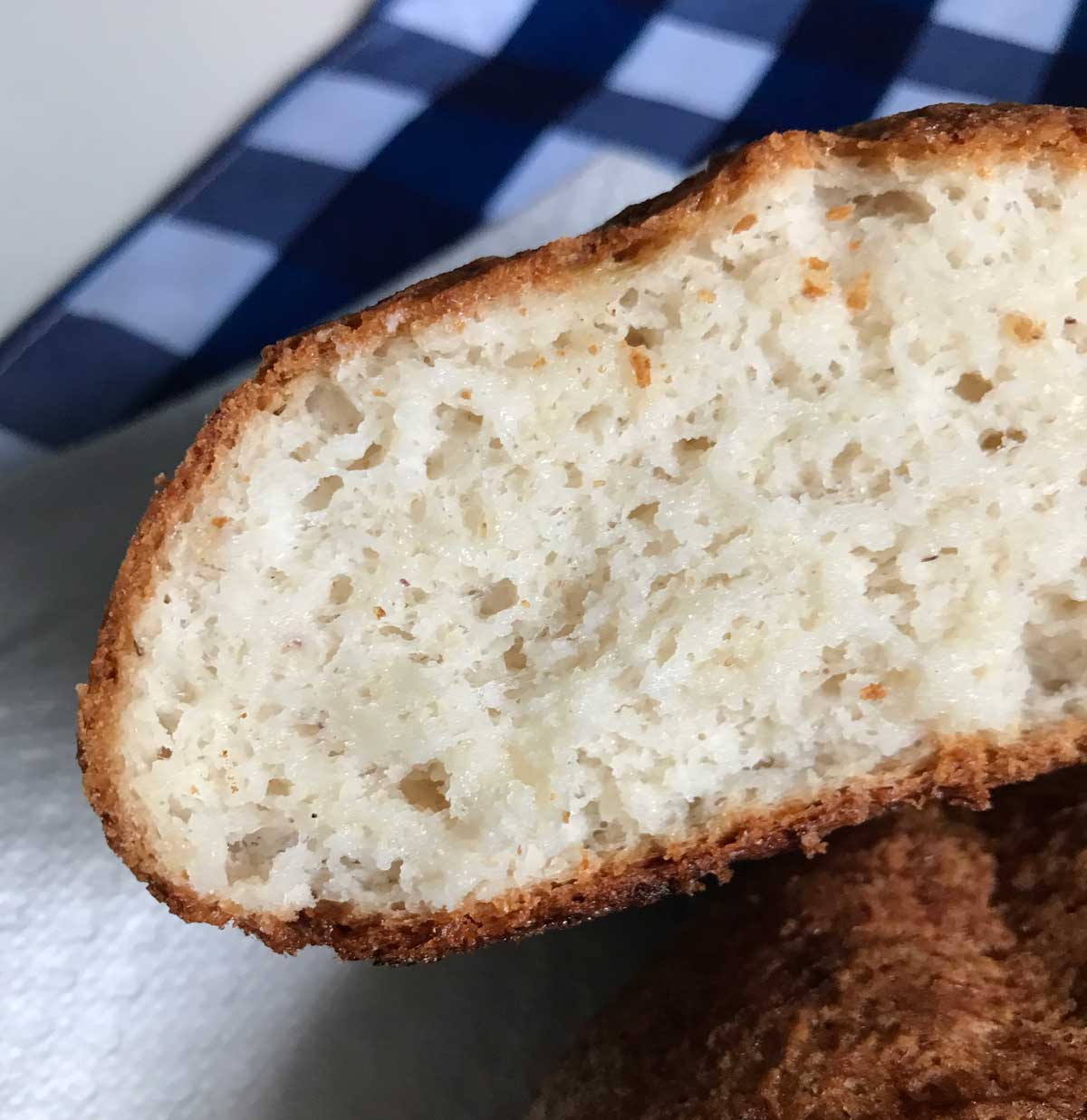 Gluten-Free Dutch Oven Bread
A fairly small artisan style crusty Boule you can customize with different add-ins and flavorings.
Ingredients 
160

grams

Pillsbury Gluten-Free Blend (a little over a cup)

(160 grams, weigh for best results)

1

tablespoon

sugar

(12 grams)

⅜

teaspoon

salt

1 ¼

teaspoons

quick rising yeast

1

teaspoon

vinegar (I sometimes use 1 ½ teaspoons)

2

tablespoons

psyllium husks (not powder, but whole husks)

(12 grams)

1

large

egg white

(35 grams)

¾

cup

water plus 1 tablespoon (water will be divided in two parts)

(182 grams)
Instructions 
In a mixing bowl, combine the Pillsbury gluten-free flour, sugar, salt, and yeast.

Heat water in the microwave to about 130 degrees F. Pour only ½ cup of the water (114 grams) into a separate bowl and add the psyllium powder. Stir and allow it to form a gel. For this, I recommend using a 1 ½ liter bowl or one that you can rinse out and use for the dough (pictured on blog).

Make a well in the center of the flour mixture. Add the psyllium gel, vinegar and egg white. Begin stirring. At this point it will be very dry, so continue adding the remaining warm water (¼ cup plus 1 tablespoons), stirring with a heavy duty rubber scraper, until you have a squishy odd textured dough that holds together in a ball. Mash it over on itself a few times with the heavy duty scraper. You're basically kneading it a little, but in the bowl. It should clump up in a ball and not stick to the sides or feel dry (pictured on blog).

Press a square of damp parchment paper into the bottom of a bowl. I use a 1 ½ liter glass bowl (whish I also use to hold the psyllium gel) but you could probably find something a similar size or use a small pan. You just need something for the loaf to dough ball to fit snug in while it rises. Pour about a half teaspoon of olive oil in and set the loaf on it then turn to slick the sides. Cover and let rise for about 40 minutes. It will not double but it will rise.

While the dough is rising, place a Dutch oven and its lid in the lower third of the oven and preheat the oven to 450 degrees F.

After the 40 minute rising period, remove the hot pot from the oven and carefully, using hot pads, remove the lid. Lift the parchment with the round of dough on it and set it in the pot (parchment an all), then carefully cover the pot and put it back in the oven.

Close oven door and set timer for 25 minutes. After 25 minutes at 450, remove lid from the pot and bake for another 15 to 20 minutes or until bread is golden brown. Check its internal temperature to make sure it is between 205 and 210, at which point it will be done.

Let it cool somewhat before slicing, but it's okay if it's still a little warm.