Here's a new cornbread recipe to add to your collection. Creamed Corn Cornbread calls for a can of creamed corn, sour cream eggs, cornmeal and a few other things you'd expect in a typical cornbread recipe. Like most cornbread recipes, it's very easy. So easy you could probably make it with one hand, which I literally did because I injured my arm. This recipe gave me a sense of accomplishment after not being able to do anything for a couple of days.
I've made this cornbread several times through the years and consider it fun. it calls for quite a few ingredients, but they are all basic and you just dump them in. The creamed corn amuses me for some reason, which is maybe that as a child, I found it revolting. I'm not sure I would eat it straight out of the can these days, but I'll bet the homemade kind is good. But canned is what this recipe uses, and it adds some personality to cornbread. Not only is the bread very moist, it has little chunks of corn in it!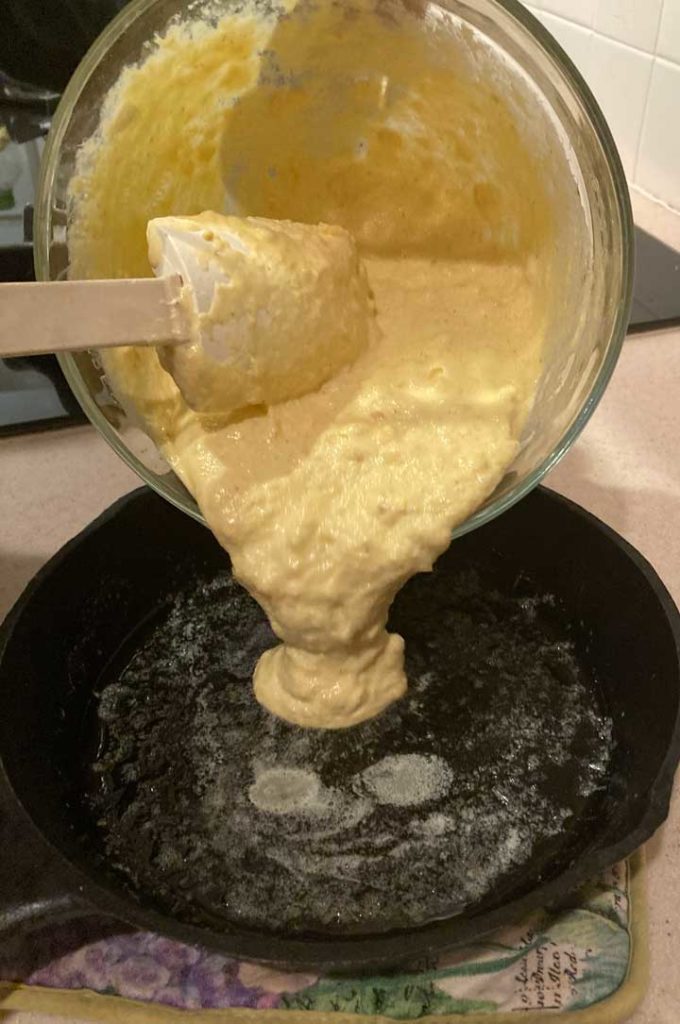 Pan Size
You can make the cornbread in a cast iron skillet (you'll need two functioning arms for this) or an 8-inch square pan or baking dish. This should feed 6 to 8. It also doubles well, so if you are feeding a crowd just double everything and bake in a 9x13 inch baking dish. You can serve it all at once or save some and toast it later. It is very good reheated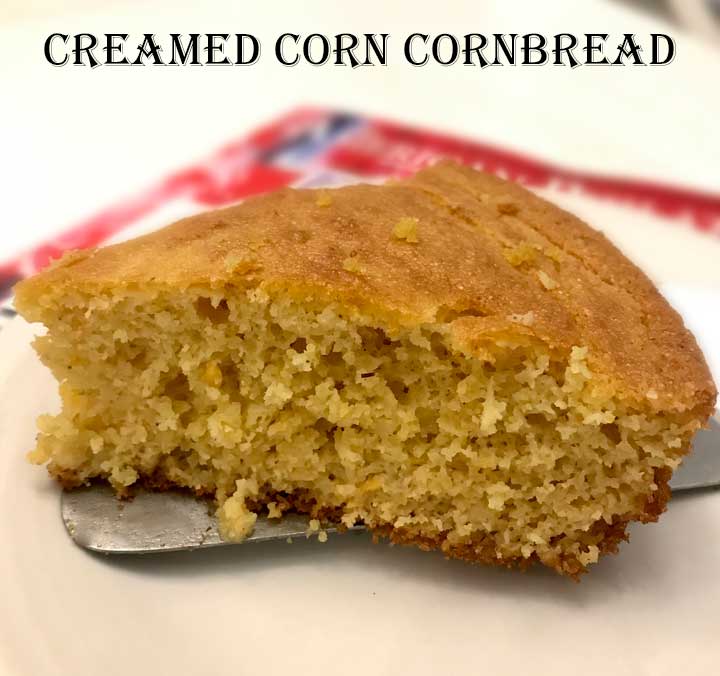 Recipe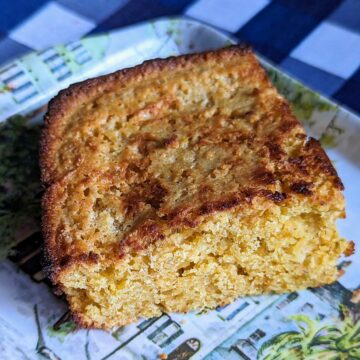 Creamed Corn Cornbread
Moist cornbread made with creamed corn and sour cream.
Ingredients 
butter for greasing pan

1 ½

cups

cornmeal

1

tablespoon

baking powder

¾

teaspoon

baking soda

¾

teaspoon

salt

3

tablespoons

granulated sugar

1

can

creamed corn

(14 to 15 oz)

8

oz

sour cream

3

large

eggs

4

tablespoons

vegetable oil, olive or canola
Instructions 
Preheat oven to 350 degrees F. Grease an 8 inch square baking pan with lots of butter. Alternatively, have ready a large (at least 9 inches) cast iron skillet.

In a mixing bowl, combine all dry ingredients (cornmeal through sugar) and stir to blend.

Put the creamed corn, sour cream, eggs and oil over the cornmeal mixture, then stir everything together until evenly blended.

Pour the batter into the pan and bake for about 40-45 minutes or until cornbread bounces back when touched. .