This No-Bake Cottage Cheese Cheesecake recipe is from a vintage Knox gelatin ad. I made it on a whim because I happened to have all the ingredients. Then because I had so much fun the first time, I made it again and again! The original recipe had a lot of steps, but was pretty easy. Or maybe the jaunty font and bright colors of the old ad just tricked me into thinking that. Either way, it was an adventure. And I finally tried the technique of pasteurizing an egg over the stove.
Jump to Recipe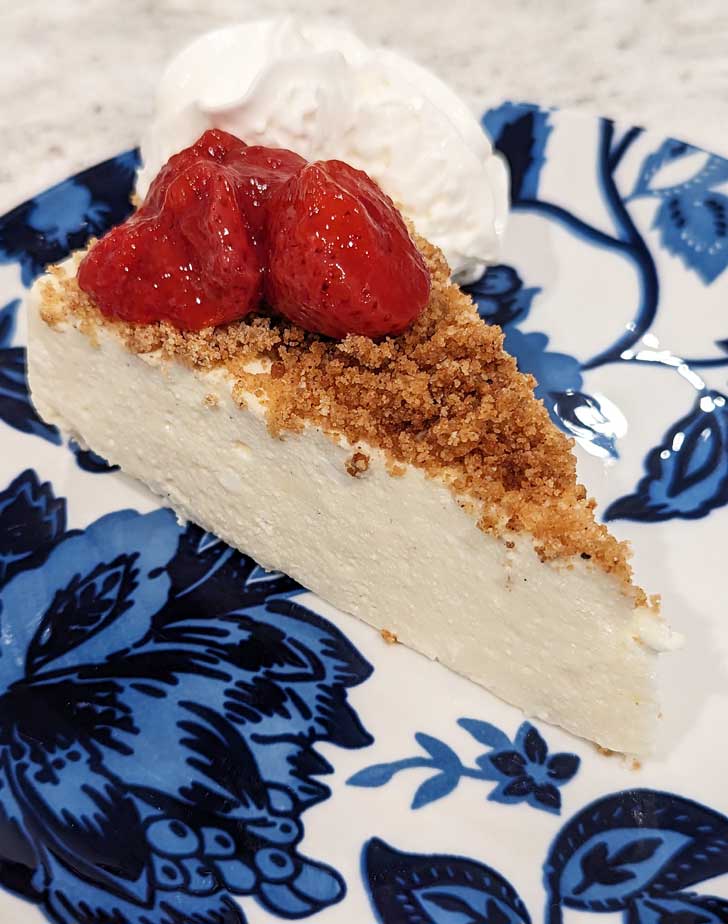 Texture and Flavor
This was a pleasant change and fun end-of-summer dessert. Texture of the original version was a little gelatinous for my tastes, but when I cut out a teaspoon of gelatin it was perfect. More on that later. Flavor was slightly lemony with a little vanilla, as you would expect a cheesecake made with lemon zest, lemon juice and vanilla to be. And then there was the crust issue.
Crust or Topping
The old recipe includes a topping of graham cracker crumbs, butter, and spice rather than a crust. The flavor of the buttery crust mixture was outstanding, and I think I am now going to put cinnamon and nutmeg in all of my graham cracker crusts. It didn't make the crust taste too spice-like, it just enhanced the overall flavor. But the reality was that this light little cheesecake didn't need such a rich crumb topping. It was perfect with a base of just crumbs and a few more sprinkled on the top at the end.
Cottage Cheese
Cottage cheese is having its day, but for some of us it's always been a staple. It has protein, is rich in calcium, and is quite versatile for cooking and baking. Lately, my favorite way to use it is in cottage cheese bread. It adds flavor and helps support the loaf's structure. For this cheesecake, you drain it then puree it. After draining it you'll also have about a half cup of the cream/whey from the cottage cheese which you can use in bread or maybe as a buttermilk substitute. I've been using it in gluten-free bread, but there are tons of other ways to use it. It's like super buttermilk!
Knox Gelatine vs. Gelatin
The recipe calls for plain gelatin, or "gelatine" if you want to spell it like Knox does. I finally looked up the reason for the "e" and learned that gelatine is the European spelling and gelatin is the USA and Australia spelling. There was more to it than that including how it's processed, but all you need to remember for this is that you can spell it with or without an "e".
How Much Gelatin in an Envelope?
Each Knox envelope contains 2 ½ teaspoons of gelatin. Some older recipes refer to one envelope of gelatin as being equal to a tablespoon, which is 3 teaspoons, but there are only 2 ½ teaspoons in the envelope. On the Knox company website, they say if a recipe calls for a tablespoon of gelatin, just use 1 envelope (2 ½ teaspoons). You don't have to break open another envelope.
Generally, I try to use as little gelatin as it takes to do the job. This cheesecake is a good example. The original recipe calls for 2 envelopes (5 teaspoons) and gives you a stiff cheesecake with some 1950s bounce to it. I like a softer texture that still stands up straight, so I use 4 teaspoons (or 2 if halving). Below is a shot of my preferred texture -- a half batch made with 2.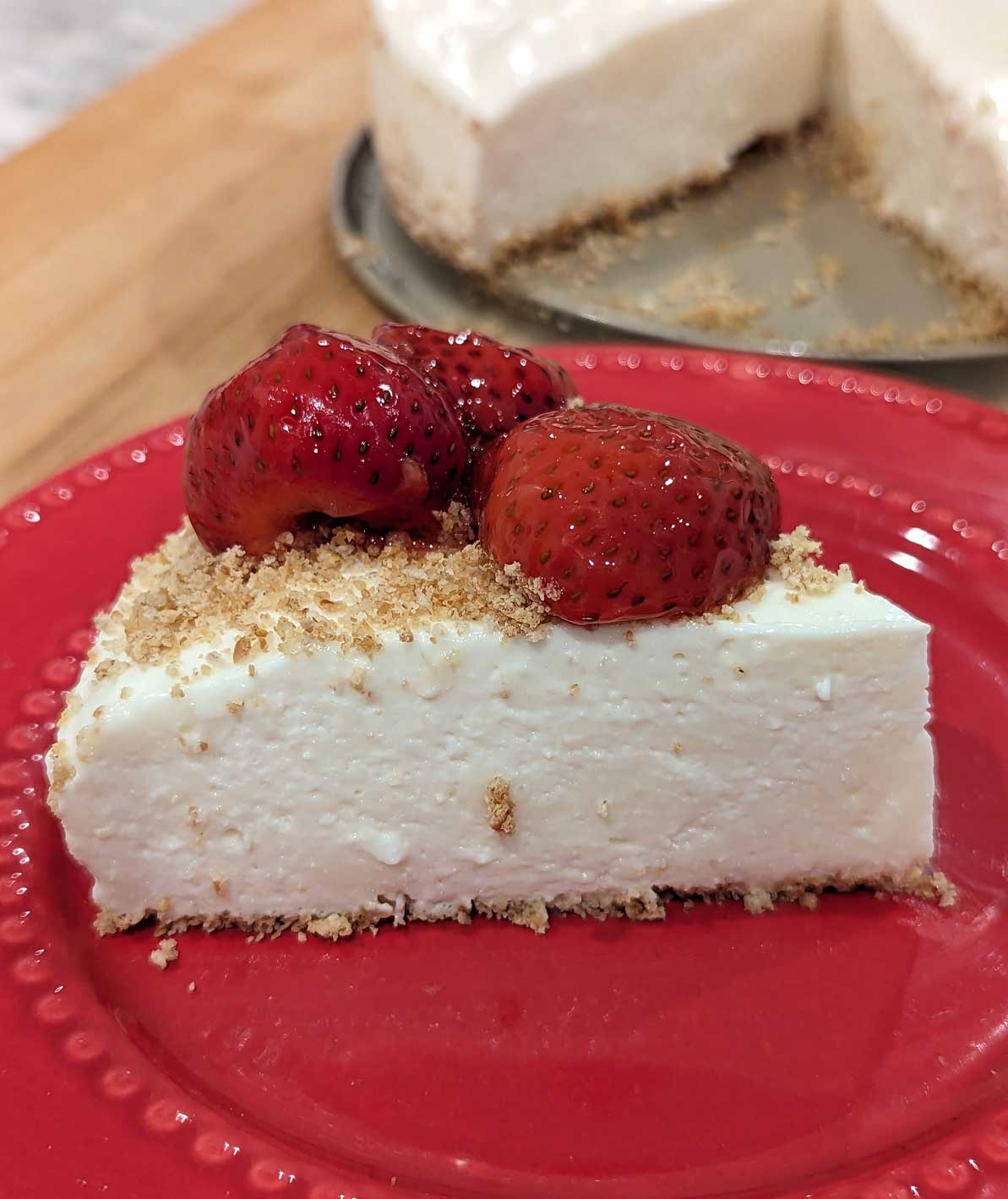 And here's what the texture looks like when made with the full 5 teaspoons (2 envelopes) of gelatin. I thought it was too much.
Can You Whip Egg Whites From a Carton?
The first couple of times I made this I used raw egg whites. The risk of getting salmonella from raw egg whites is low, but it's still there, and no one wants to make people sick. So I bought the ingredients again, including a big carton of raw egg whites, and found they worked okay. The egg white carton says not to use the pasteurized egg whites for meringues and such, as they won't whip. Well, they do whip, just not really well. So next I tried pasteurizing my own eggs.
Pasteurize Eggs Yourself
This was so easy! Here's how to do it. Put the cold eggs in a saucepan. Add very warm or hot tap water so that it comes an inch over the eggs. Let sit for 5 minutes to bring the eggs to room temperature, then remove them. Meanwhile, prepare a bowl of ice water. Bring water to 140 degrees F. and adjust the heat so that it's a steady 140. Mine wanted to stay at 145, so I let it. I also had to remove my saucepan from the heat to keep it from rising and found that the saucepan held the temp at 145 for the whole 3 minutes, making this process easier. Time to crack! After 3 minutes at at 145 degrees, there were some milky white seemingly cooked parts of the white, but they they whipped up just fine. Next time I do this I'll shoot for 142 or 143, but the point is you don't have to stick to 140F. If you a little over it should be okay.
Food Processor
You really do need a food processor for this recipe. The processor will puree the cottage cheese, grind the graham crackers into crumbs and whip the cream. Did you know you can whip cream in the food processor? It does the job a lot quicker than an electric mixer. If making a half batch, you can use a mini food processor.
Knox Cottage Cheese Cheesecake Pan Size
If you make the recipe as written you'll need an 8 or 9-inch springform. I recommend the 8-inch so the cheesecake will be taller. For a small but tall cheesecake, you can halve the filling and use a 6-inch springform or a small loaf pan. I tested both sizes and prefer the half because it's more practical for our family, and this is something I'd make as a home dessert rather than for company The recipe below is the full version based on what was in the old ad. For the small batch, just make half. And if you want to skip the buttery topping and just use graham crackers, that's fine too.
Recipe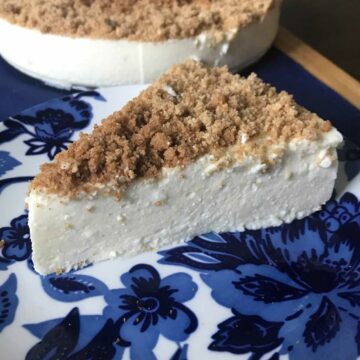 Old Knox Cottage Cheese Cheesecake Recipe
Originally called No-Bake Cheese Cake (two words), this is a recipe from 1954 that calls for cottage cheese rather than cream cheese. Being an old recipe, it also calls for uncooked whipped egg whites. If this is a concern you can substitute pasteurized egg whites.
Ingredients 
4-5

teaspoons

powdered gelatin (almost 2 envelopes)**

I recommended 4 for the full batch and 2 if halving rather than 5 and 2 ½.

1

cup

sugar

(200 grams)

⅛

teaspoon

salt

2

large

egg yolks

1

cup

milk, whole

1

teaspoon

lemon zest or ¼ teaspoon lemon oil

24

oz

4% fat cottage cheese, drained through a sieve and pureed**

1

tablespoon

lemon juice

1

teaspoon

vanilla extract or vanilla bean paste

2

large

egg whites or pasteurized egg whites (about 70 grams of pasteurized)

See note

1

cup

heavy cream
Crumb Topping
½

cup

graham cracker crumbs

1

tablespoon

sugar

¼

teaspoon

cinnamon

¼

teaspoon

nutmeg

2

tablespoons

butter, melted
Instructions 
Put the cottage cheese through a sieve and let liquid drain out. You should get between ⅓ and ½ cup of liquid, but don't be too concerned about how much drains out. Brands seem to vary. Save the liquid for another use and puree the cottage cheese in a food processor. Keep the processor handy for making graham cracker crumbs and whipping the cream.

Mix gelatin (I prefer 4 teaspoons, but the original recipe says 2 packets or 5 teaspoons), 1 cup sugar, and ⅛ scant teaspoon salt in the top of a double boiler, off heat.

Whisk together 2 egg yolks and cold milk, then whisk into the gelatin mixture. Set over boiling water, stirring constantly until gelatin is dissolved and mixture thickens just slightly. About 10 minutes.

Remove from heat, add the lemon zest, and let cool.

Pour gelatin mixture into a bowl and stir in the pureed cottage cheese, lemon juice, and vanilla. Chill, stirring occasionally until mixture mounds slightly when dropped from a spoon (this should about an hour).

While mixture is chilling, make crumb topping (as written below) if you plan on using it.

When gelatin mixture has thickened slightly and forms mounds when spooned, beat the egg whites until stiff peaks form and fold them into the gelatin mixture. Fold in the whipped cream.

Turn into an 8 or 9-inch spring form pan and sprinkle top with crumb mixture. Chill until firm (6 to 8 hours).
Crumb Topping
Mix ½ cup graham cracker crumbs, 1 tablespoon sugar, ¼ teaspoon cinnamon, and ¼ teaspoon nutmeg. Pour in 2 tablespoons melted butter and mix well.
Notes
If you don't have a springform pan you can make the Cottage Cheese Cheesecake in an 8-inch square pan and serve it straight out of the pan.
For a smaller size cheesecake, halve all of the ingredients except for the topping and use a 6-inch springform. 
After draining a 24 oz container of Friendly Farms 4%, I had about 19 oz of curds and 5 oz of the cottage cheese cream.
Being an old recipe, it does call for whipped, uncooked egg whites, so in some cases it may be best to use pasteurized egg whites. If using pasteurized egg whites, use about 60 grams.