Easy to work with! The dough for these Cream Cheese Sugar Cookie Cut-Outs is just perfect. Not only is rolling and cutting this dough pleasant, but the taste and mildly tart flavor of the baked cookies is good.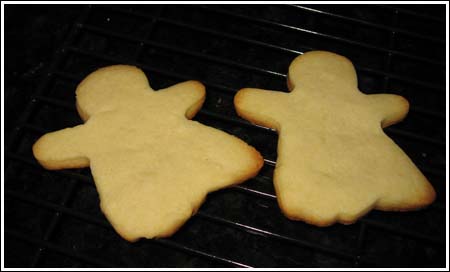 Cream Cheese Sugar Cookie Cut-Outs
2 sticks unsalted butter, room temp
3 ounces cream cheese, slightly soft
1/4 teaspoon salt (omit if using salted butter)
1 cup granulated sugar
1 egg yolk
1 teaspoon vanilla
2 1/2 cups all-purpose flour
In a large mixing bowl, beat the butter, cream cheese and salt until fluffy. Scrape sides of bowl and beat in the sugar. Beat for about 2 minutes, then add the egg yolk and vanilla and beat just until mixed. By hand, stir in the flour to make a thick dough – it should be moist, but not too sticky. Divide it in half and shape into two balls. Press the balls into discs. And chill for a few hours.
When ready to cook, press or roll about 3/8 inch thick and bake directly on cookie sheets for 10 minutes in a pre-heated 350 degree oven. The cookies do not spread or puff and they taste great!
Note: For convenience, I divided the dough into two parts (as stated above) then set each part on a big sheet of non-stick foil and pressed each part into a big 3/8 inch thick circle. I covered the circles with another sheet of non-stick foil and chilled the big circles for a few hours. When I was ready to do the cutting, the dough was firm and the cut-outs popped right out with the cutters.
Related posts: