I've had my eye on the French butter cookies at Wegmans. They're called "Butter Boy" and they look so good! I haven't tried them yet, but they were the inspiration behind these round, buttery, cookies. They go by the name of Sables, which translates to "sandy" or "sanded", a description that applies to their texture. They're light and crumbly and melt in your mouth. The key ingredient is a cooked egg yolk.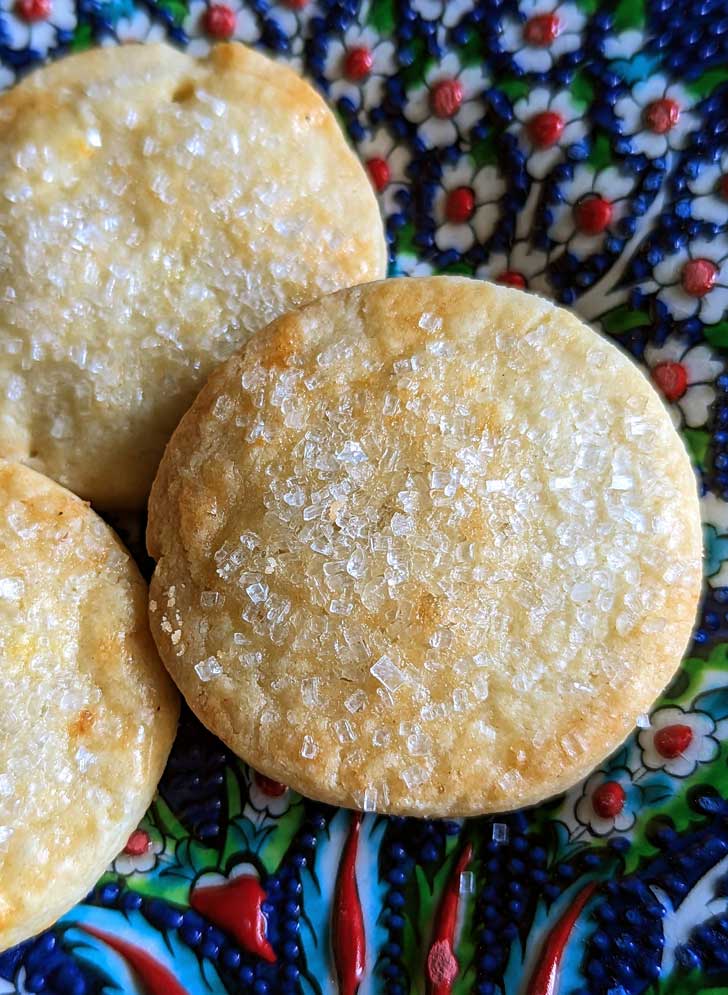 Hard Boiled Egg Yolk
One interesting characteristic of this particular recipe for French butter cookies is that it calls for a cooked egg yolk. Remember the old Hard Boiled Egg Chocolate Chip Chip Cookies recipe? It was inspired by European cookies like this one where the cooked egg contributes to the sandy texture. Because it's cooked, the egg yolk contributes less moisture to the dough. Less moisture means more undissolved sugar which means more sandiness.
European Style Butter
In addition to the cooked egg yolk, I took this a step further and used European style butter. Plugrá and Président are my go-to brands, and for this recipe I used salted Plugra. If you can't find it, just use your favorite brand premium salted butter. Unsalted is fine too, but you'll probably want to add a little salt.
Small Batch French Butter Cookies
This recipe makes a small batch. The yield will vary depending on the size of your cutters, but you should get around 20 to 24. The original version, adapted from an old issue of Cook's Illustrated, has you cut the cookies off a chilled log. That's a great method if you don't have cutters, but I always make these with round cutters. If you are looking for gift for yourself or another baker, here is a good set of graduated cutters (they are the ones I use).
By the way, I did not include directions for boiling an egg because I haven't boiled an egg in 10 years. I always steam the eggs or use the Instant Pot.
Recipe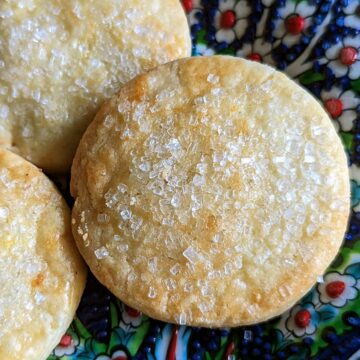 French Butter Cookies
Also known as Sables, these butter cookies are made with European style butter and cooked egg yolk.
Ingredients 
1

large

hard boiled egg yolk

10

tablespoons

salted European style butter, softe ed

⅓

cup

plus 1 tablespoon granulated sugar

1

pinch

salt or use ¼ if butter is unsalted

1

teaspoon

vanilla

1 ½

cups

all-purpose flour

(220 grams)

1

large

egg white, lightly beaten and mixed with 1 teaspoon of water

Crystal sugar or coarse sugar for garnish

(optional)
Instructions 
Separate the cooked egg yolk from the egg white and mash it up. Save the white for something else.

Beat together butter, sugar, and vanilla with an electric mixer until well blended. Stir in mashed egg yolk and salt. Add flour and stir to make a soft dough.

Halve dough and roll out 1 half between 2 sheets of wax paper or parchment to about ¼ to ⅓ of an inch thick. Chill the rolled out slabs of dough until ready to bake or for at least one hour.

Preheat oven to 350°F.  Line a baking sheet with parchment paper.

Cut out as many 2-inch rounds as possible with a cookie cutter and arrange about 2 inches apart on baking sheet. Roll out scraps and cut remaining dough in same manner.

Beat egg white until frothy, then brush tops of rounds lightly with egg white. If you have some, you can sprinkle the tops with crystal sugar.

Bake cookies in middle of oven until tops are pale golden, 15 to 20 minutes. Let cool on sheets on racks 2 minutes, then transfer to racks to cool completely.