Pulling a sheet of cut-out  cookies from the oven and having to tell a couple of seven year old girls "Sorry ladies, your cookies did not turn out" is no fun, and I know because I had to do it this morning after trying out a new sugar cookie recipe – one recommended as melting tender and thin and crisp. Well, that's all well and good, but if the cookies spread like crazy and all your carefully cut Christmas trees come out looking like scorched shmoos, then light and tender doesn't matter. I suppose if we'd cut the cookie dough in a big pool of flour we'd have had better luck, but I hate getting flour everywhere and losing track of how much gets absorbed into the cookies. So that brings me to today's recipe which is fool-proof.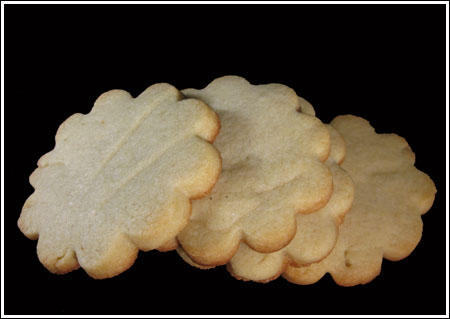 These cut-out cookies hold their shape beautifully and are sturdy enough to put on sticks.  The exact yield will vary depending on the size you make your cookies. For the icing, I used Amy Sedaris's recipe which is really just the recipe on the side of the Domino powdered sugar box but more interesting when you call it Amy Sedaris's. What happened with me was I pulled out Amy's book to get her icing recipe then started making it and realized the recipe on the box was almost the same. So it's a trusted formula. (Update:  I changed it a bit! I now use two sticks of butter, which is more like a buttercream).
About the lemon extract, you can leave it out if you don't have any, but I find it adds a mysterious undertone. It certainly doesn't make the cookies taste lemony, but it's a good "Oooooh. What's that flavor?" ingredient. Almond works too, but some people really hate anything with almond extract so use with caution.
Recipe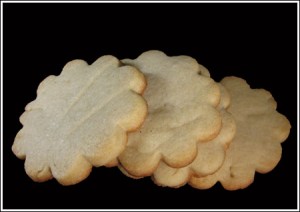 No-Fail Cut Out Sugar Cookies with No-Fail Icing
No-Fail Cut Out Sugar Cookies with No-Fail Icing
Ingredients 
3

cups

all purpose flour

380 grams/13.5 oz

1

teaspoon

baking powder

5 ml

2

sticks butter

unsalted, cool room temperature (230 grams/ 8oz)

1

cup

granulated sugar

7.5 oz/210 grams

½

teaspoon

salt

2.5 ml -- Use up to a teaspoon if you like sweet/salty

1

teaspoon

vanilla extract

5 ml

⅛

teaspoon

lemon extract

or almond (dash)

1

large egg
Icing:
2

sticks unsalted butter

8 oz/230 grams

1

box confectioner's sugar

1 pound

1

teaspoon

vanilla extract

Whole milk as needed
Instructions 
Thoroughly stir together the flour and baking powder; set aside.

Beat the butter and sugar with an electric mixer until light and fluffy. Beat in the salt and extracts. Scrape sides of bowl and beat in egg, beating only until egg is blended in.

Add the flour mixture gradually (1 cup at a time) and stir until incorporated

Form the dough into a disc and wrap in plastic wrap. Refrigerate for at least 1 hour.

Preheat oven to 375 degrees F. Roll the dough onto a lightly floured surface to approximately ⅝" thick. Cut the cookies into shapes and place the cut cookie shape on a parchment lined cookie.

Bake the cookies for approximately 10 minutes or until the edges begin to turn golden brown in color. Remove cookies from the oven and allow to cool on a wire rack for 5 minutes.

Yield will vary depending on how big you make the cookies

Mix the softened butter and confectioner's sugar together in a bowl, then add in the vanilla extract. Beat with an electric mixer until it all comes together. Slowly add the milk or half & half and beat, beat, beat until creamy.
Notes
If you are making really large cookies, reduce the baking temperature to 350 and bake for a longer period of time or until edges are lightly browned.