Wondra Flour Sugar Cookies are very thick sugar cookie cut-outs made with Wondra brand flour. They were a bit of an experiment, but at the time I was happy with the results. I'd hoped to see a difference in the texture, and I did!
Wondra Flour
If you are reading this and wondering what the heck Wondra flour is, it's a quick dissolving flour often used for lump-free gravies and sauces. Also known as "instantized flour", Wondra has traditionally and might still come in a canister, but our local HEB sells it in a 2 pound blue box with recipes on the side.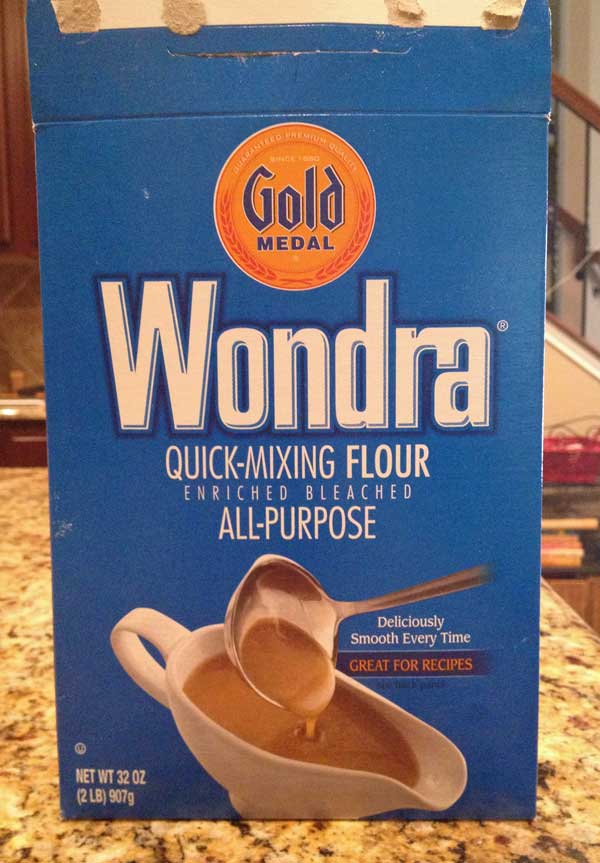 Wondra Recipes
One of the recipes on the box is a chocolate chip cookie recipe. I tried it months ago and the cookies were fine, but not so great that I'd run out and buy Wondra just to make them. They weren't bumpy, scraggly and chewy chocolate chip cookies, but rather homogeneous throughout. And while I didn't care for that texture in chocolate chip cookies, it occurred to me that it might be great for making even textured, thick, fine-crumbed cut-outs. After more than a few trials, this recipe was the end result.
Wondra Flour Sugar Cookies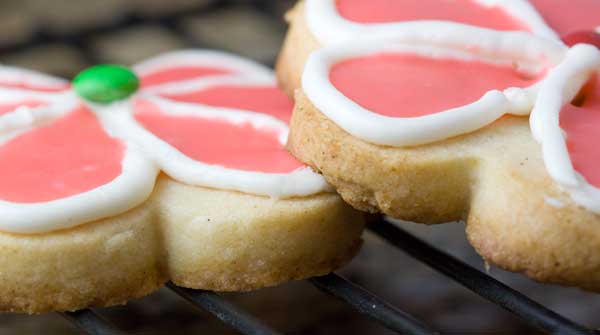 The cookies have a dense, tight crumbed and sandy texture, but are softer and not as rich as shortbread. Like Lofthouse cookies, they are a perfect canvas for frosting, whereas actual shortbread kind of clashes with frosting. The Wondra flour plus the finely ground sugar made all the difference. I tried a few variations -- using cake flour, not grinding the sugar and experimenting with different brands of butter. This version beat he others, though a variation (found in the notes) using confectioners' sugar and a little evaporated milk came really close.

The dough is impossible to roll because it is so dry and crumbly. You have to pat it out onto parchment paper, chill and cut, which in my opinion is even simpler than rolling. You do have to allow for at least an hour of chill time -- preferably more, as the cookies taste better when made with dough that's chilled overnight.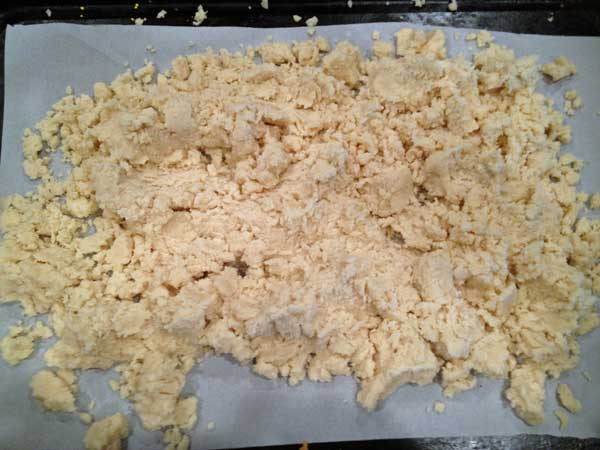 I've made this recipe about 6 times in the past week, and Beth in New Jersey was nice enough to test it too. We both loved the results, as did all our tasters.  My only complaint is that the dough is dry and doesn't behave the way typical roll-out cut-outs should behave.  But that's what I have for now, and the end result is a very crumbly but uniform, light, cookie. If you try the recipe, let me know what you think!
Recipe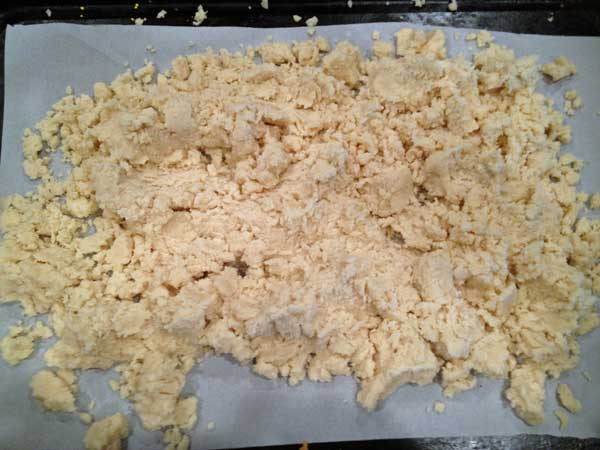 Thick Cut-Out Cookies with Wondra Flour
Thick Sugar Cut-Out Cookies with Wondra. The flour and ground sugar give these and interesting dense yet crumbly texture that goes well with icing. If you don't have a coffee grinder or processor or if the idea of working with a super dry dough bothers you, read my notes and go with the variation.
Ingredients 
2 ⅔

cups

Wondra Flour

365 grams -- Weigh or spoon into the cup carefully

1 ½

teaspoon

Rumford baking powder

non-aluminum tastes better

¾

teaspoon

plus a pinch of kosher salt

omit if using salted butter

2

sticks

8 oz unsalted Land o' Lakes butter, softened to cool room temp.

1

cup

7 oz granulated sugar, ground in a coffee grinder after measuring

2

teaspoons

of vanilla extract

1

large or extra-large egg at room temperature
Frosting:
2

sticks

230 grams butter, unsalted, softened

¼

teaspoon

salt

omit if using salted butter

3-4

cups

powdered sugar

sifted

1

teaspoon

of great quality vanilla extract
Instructions 
Line a large baking sheet with nonstick foil or parchment paper. This will not be the tray you bake on, but the tray that holds the dough while it chills.

In a large bowl, thoroughly mix together the flour, baking powder and salt. Set aside.

In a mixing bowl, beat butter until creamy. Add ground sugar and beat on high for two minutes or until mixture is creamy and smooth. Beat in the vanilla, scraping sides of the bowl. Add the egg and beat until mixed.

Gradually add flour mixture and stir to form a very stiff, dry dough. If you are using a handheld mixer, put the mixer down and use your hands to form the dough. If you are using a stand mixer with a paddle, you can let the paddle do the work. Dough might be more like crumbs, but they should hold together when you press them down.

Empty the flour mixture out onto the lined tray and pat it down into a slab that's about ½ inch thick. You won't be able to cut it at this point because it's too crumbly. Using your hands, mash it inward and make it a tight slab. Cover with a sheet of nonstick foil or parchment and chill for at least an hour (preferably longer) or until the slab is very firm and holds together.

You will not need any extra flour when cutting shapes. Using a 2 inch to 2 ½ cookie cutter, punch shapes out of the dough slab and carefully (they are delicate) arrange them on baking sheets.

Bake in a 350 degree F. oven for about 12 to 15 minutes or until edges are very lightly browned. Let cool on baking sheets for about 5 minutes, then carefully transfer to a cooling rack. They will become sturdier as they cool.

To make the frosting, beat the butter until creamy. Beat in the salt (omit if using salted butter), then add the sugar gradually and beat until smooth. Beat in vanilla. If necessary, add a little whole milk to get the consistency you want. Decorate with this frosting or if transporting, use a royal frosting. This one crusts over, but will not get hard.
Notes
Variation: This variation makes a slightly easier to work with dough and you don't have to bother with grinding the sugar. The cookies puff a tiny bit more and are softer textured, but still hold their shape. Follow recipe above but use 1 ½ cups ( 7 ounces weight) of confectioners sugar instead of granulated and add 3 tablespoons of evaporated milk to the recipe.
Another variation that works well and tastes great is to use European style butter (Plugra, unsalted) in place of butter. The European style butter has less moisture and will give you a dryer dough, so add a tablespoon or two of evaporated milk (cream might work, too). On the other hand, grocery store brand butter has a bit more moisture. The reason I recommend Land o' Lakes is because it's a good all-purpose butter, but I felt like the cookies made with European style were a tad bitter better if you can suffer through the dry dough or cheat and add the evaporated milk.
For a durable icing that dries hard, use a royal icing. For flavor, the buttercream I included with this recipe wins. It's a toss-up because buttercream tastes so good, but royal is so pretty.
I don't recommend margarine, but if it's all you have, omit the salt. If you use salted butter, omit the salt.
To measure the flour, your best bet is always to weigh it. If you don't have a scale, spoon a heaping cup and level off with a knife.
About the salt, I started off using a full teaspoon and loved the sweet & salty taste. If you are a sweet & salty fan, use the full teaspoon. I cut it down to ¾ teaspoon plus a pinch just to be more conservative for those who don't like a bit of salt with the sweet.