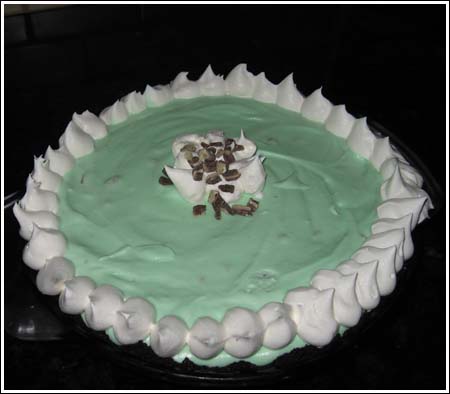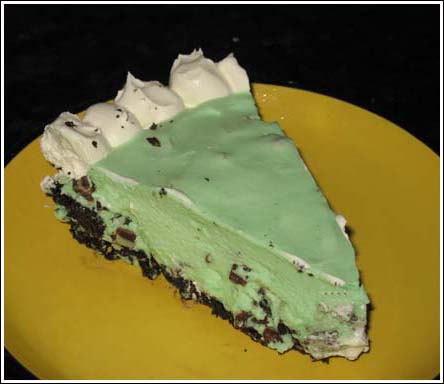 Grasshopper Pie
1 1/4 cups chocolate cookie crumbs (32 Famous Wafers)
1/3 cup butter, melted
4 cups mini marshmallows
1/4 cup granulated sugar
2 tablespoons butter
1/3 cup crème de menthe (green type)
1/8 teaspoon vanilla extract
1 1/2 cups whipping cream
2/3 cup Andes Mint Chunks –or- 6 ounces of Andes Mints
Stir together crumbs and butter. Press mixture into the bottom and up sides of a GENEROUSLY greased 9 inch glass pie plate. Bake at 350 degree for 6-8 minutes. Let cool completely.
In top of a double boiler, combine marshmallows, sugar and 2 tablespoons of butter. Melt over simmering water, stirring often. Alternatively, you may melt the mixture in the microwave using 50% power. Combine ingredients in a bowl, set power to 50% and stir every 60 seconds. This should only take about 2 minutes.
After melting the mixture, either in double boiler or microwave, remove from heat and stir in the crème de menthe and vanilla. Let mixture cool to room temperature.
When completely cool, whip the cream until stiff peaks form. You should have about 3 cups total. Fold the whipped cream into the mint mixture, then fold in the mint chips. Pour into the cooled pie crust and freeze until firm.  The pie will be firm, but not icy.  Let it sit out for about 10 minutes before cutting it or the crust will be too hard to cut.
Makes about 8 servings
Related posts: