Frozen Grasshopper Pie is an easy version of the classic. The recipe calls for marshmallows, which keep the frozen pie from becoming rock hard. In addition to the marshmallows, it uses Creme de Menthe, Andes Mints, cream, sugar and a little butter.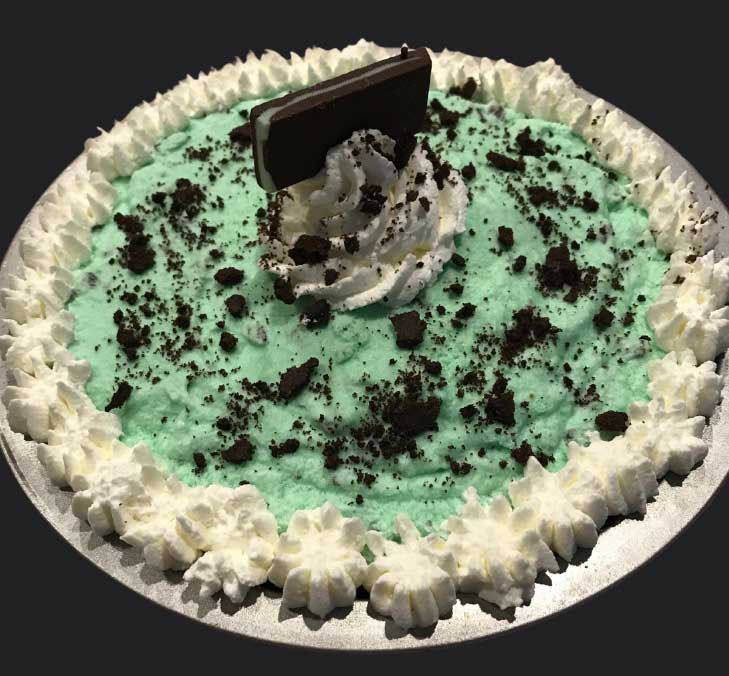 I like this recipe because it reminds me of the first Grasshopper Pie I had back in the '70s. We went to some friends' house for dinner and the hostess served it for dessert. I still remember it quite vividly, so I guess I didn't get drunk from the Creme de Menthe.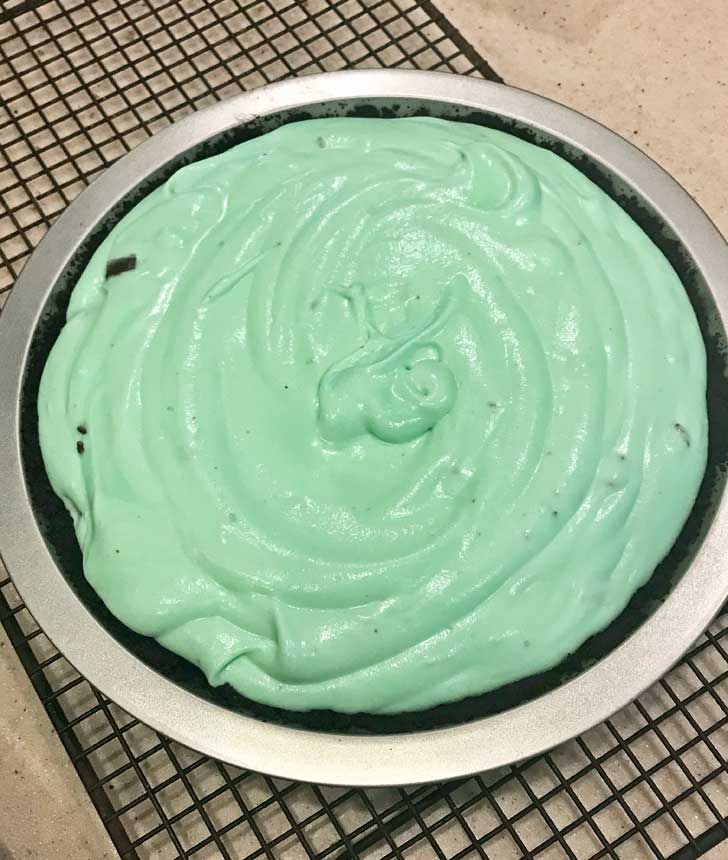 I recently took some better photos of the pie and have added hints and tips for success. The recipe is pretty much the same as it was when I first posted it.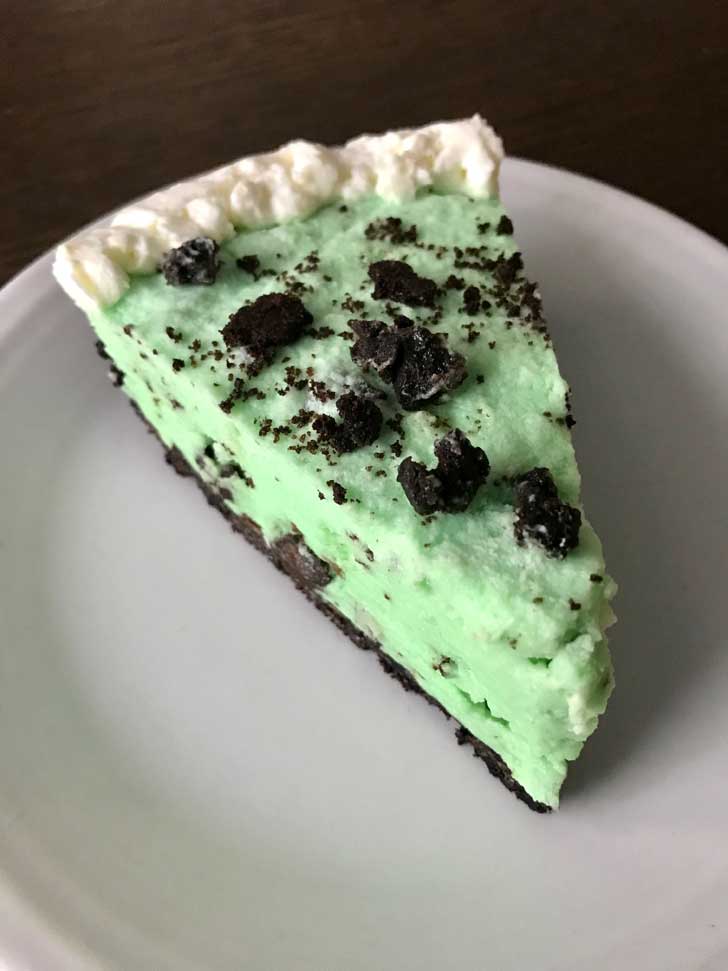 Grasshopper Pie Ingredient Notes
Pie Plate -- In the past I always used glass pie plates, but I've become a big fan of shallower metal pie pans, so that's what I recommend. My new favorites are the USA Pans.
Nabisco Famous Wafers -- You will need 1 ½ cups crumbs, which is slightly less than a full pack of wafers. The best way to crush them is in the food processor, unless you are my daughter who insists on doing it with a rolling pin. I can never get them all crushed that way, so I use the food processor.
Butter -- You can use salted or unsalted. If you process the wafers in the food processor you can add the butter directly to them and just process until it's all evenly mixed.
Mini Marshmallows -- Recipe only needs 4 cups. The weight of 4 cups of marshmallows is about 220 grams, so if you only have large marshmallows you can weigh out the equivalent.
Crème de menthe -- I use DeKuyper brand because that's what the ABC store sells. Any brand should work, though I'm not sure how many different brands there are.
Andes Mints -- You can buy the pre-chopped ones that sometimes appear in the baking aisle or buy regular size Andes Mints and chop them yourself.
Whipping Cream -- The filling itself needs 1 ½ cups of unsweetened whipping cream (which is a little over 3 cups). For garnishing, you'll need even more freshly whipped cream or you can leave it off completely. Since you'll have to buy a pint of heavy cream to get the 12 oz, the best thing to do is just reserve 4 oz (½ cup) of heavy cream, whip separately, sweeten and spread over the top. It's best to do this shortly before serving, as the cream (unlike the filling) will get hard in the freezer.
Recipe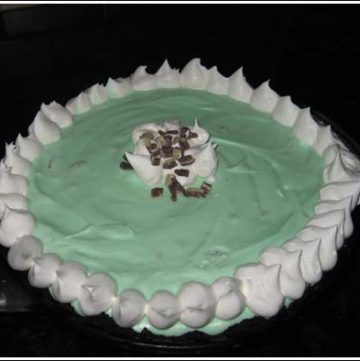 Frozen Grasshopper Pie
An easy frozen mint pie made with melted marshmallows and Creme de Menthe.
Ingredients 
1 ½

cups

chocolate cookie crumbs (Famous Wafers)

⅓

cup

butter, melted

4

cups

mini marshmallows

¼

cup

granulated sugar

2

tablespoons

butter

⅓

cup

Crème de Menthe

green type

⅛

teaspoon

vanilla extract

1 ½

cups

whipping cream

⅔

cup

Andes Mint Chunks –or- 6 ounces of Andes Mints
Optional Whipped Cream Topping
4

oz

heavy whipping cream

1

tablespoon

powdered sugar

Andes Mints (chopped)
Instructions 
Stir together crumbs and butter. Press mixture into the bottom and up sides of a generously greased 9 inch pie dish. Bake at 350 degree for 6 minutes. Let cool completely.

In top of a double boiler, combine marshmallows, sugar and 2 tablespoons of butter. Melt over simmering water, stirring often. Alternatively, you may melt the mixture in the microwave using 50% power. Combine ingredients in a bowl, set power to 50% and stir every 60 seconds. This should only take about 2 minutes.

After melting the mixture, either in double boiler or microwave, remove from heat and stir in the crème de menthe and vanilla. Let mixture cool to room temperature.

When completely cool, whip the cream until stiff peaks form. You should have about 3 cups total. Fold the whipped cream into the mint mixture, then fold in the mint chips. Pour into the cooled pie crust and freeze until firm.

Optional Whipped Cream Topping: Whip the 4 oz (½ cup) of whipping cream and sweeten with the sugar. Spread whipped cream over top of the pie about 20 minutes before serving and garnish with chopped mints.

The pie will be firm, but not icy. Let it sit out for about 10 minutes before cutting it or the crust will be too hard to cut.