The recipe for Grasshopper Brownie Cookies is adapted  from The Southern Living Cook-Off Cookbook, a collection of winning recipes from the many cook-offs held at Southern Living magazine over the years.   Created by Karen Hildreth of Sarasota, FL, these cookies are among my all-time favorites, which is interesting because I'm not a huge fan of chocolate mint.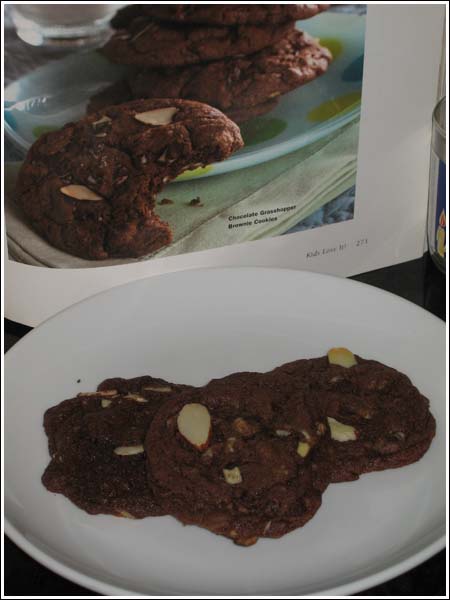 Like Girl Scout Thin Mints, Grasshopper Brownie Cookies have a nice balance of chocolate and mint. There's no mint extract in the dough. Instead, the mint flavor comes from the chips, which in this case are Andes Baking Chips. If you can't find them, use a combination of dark chocolate chips and chopped Andes mints.
For best results, weigh out 10 oz of flour. If you don't have scale and are measuring by volume, be sure to fluff the flour up and aerate it before measuring.
Chocolate Grasshopper Brownie Cookies
2 ¼ cups all purpose flour (10 oz)
1 teaspoon baking soda
½ teaspoon salt
½ cup natural unsweetened cocoa powder (Dutch not recommended)
2 sticks (8 oz) unsalted butter
¾ cup packed brown sugar
¾ cup granulated sugar
1 teaspoon vanilla
2 large eggs
10 oz bag Andes mint chocolate pieces
½ cup sliced almonds, lightly toasted and cooled
Preheat oven to 350 degrees F.
Stir together flour, baking soda and salt. Add cocoa to dry mixture.
In mixing bowl, cream the butter with both sugars. Beat in the egg and vanilla. By hand or using low speed of mixer, stir in the flour mixture. Fold in the chips and nuts.
Drop mixture by rounded tablespoonfuls onto ungreased cookie sheets. Bake 10-12 minutes. Cool 2 minutes on cookie sheet then transfer to rack to finish cooling.
3 Dozen