Here's a little something I made for Todd this weekend. It's a frozen grasshopper pie layered between two rows of ice cream sandwiches and coated in sweetened whipped cream. Unlike the last ice cream sandwich cake, this one is made in a square pan and has a little bit more filling. It's also incredibly easy, which is pretty much the point of ice cream sandwich cakes.  Naming it was not so easy.   Todd suggested "Ice Cream Hopper Pie", but I preferred the more descriptive "Grasshopper Ice Cream Sandwich Cake".  Fuzz liked my name so we went with that.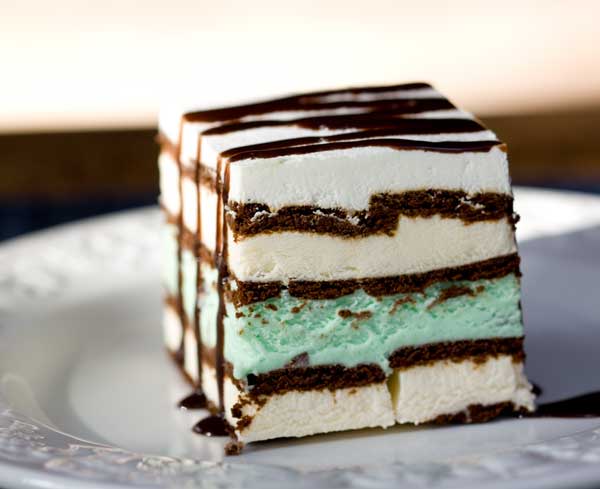 Grasshopper Pie in an Ice Cream Cake
You could make this with any frozen grasshopper pie recipe, but I used one which calls for Creme de Menthe and marshmallows.  If you don't want to buy the Creme de Menthe or just want to try a different frozen pie, there are quite a few options. A peppermint version made with Peppermint Schnapps would be good, too.  And finally, I recommend good ice cream sandwiches because the ones I used were kind of grainy.  They were okay, but what a way to ruin a good dessert!  If you live in Texas, the Blue Bell ones work well.
Update:  If you like the idea of mint in your ice cream sandwich cake but don't want to deal with making a grasshopper pie filling, the simple solution is to just use your favorite mint ice cream or mint gelato.
Recipe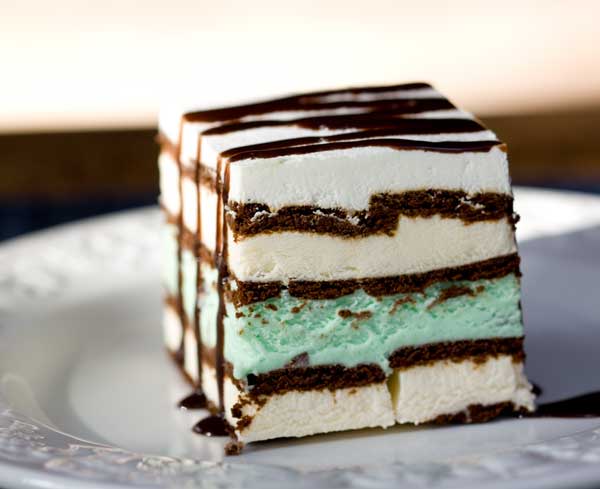 Grasshopper Ice Cream Sandwich Cake
An ice cream sandwich cake with a grasshopper pie (mint) flavored topping
Ingredients 
12

whole

Ice Cream Sandwiches

4

cups

mini marshmallows

¼

cup

granulated sugar

2

tablespoons

butter

⅓

cup

Crème de Menthe

green type

⅛

teaspoon

vanilla extract

1 ½

cups

whipping cream

⅔

cup

Andes Mint Chunks or chopped Andes Mints

Topping 1 cup whipping cream whipped with 2 tablespoons powdered sugar and ½ teaspoon vanilla or 2 cups of prepared whipped topping

Garnish: Chocolate Syrup

optional
Instructions 
Line the inside of an 8-inch square baking dish or pan with plastic wrap or nonstick foil. You could also use a 9 inch pan, but it will require more sandwiches.

Cover bottom of the dish with ice cream sandwiches (4 whole, 2 cut in half) and put in the freezer.

Melt the 2 tablespoons of butter in a large microwave-safe bowl. Add the sugar and marshmallows and heat mixture at 50% power, stirring every 30 seconds until mixture is melted and smooth. Stir in the Crème de Menthe and let the mixture cool to room temperature.

Whip the 1 ½ cups of cream. Fold the whipped cream into the mint mixture, then fold in the mint chips. Pour over the ice cream sandwiches, then add a second layer (6) of ice cream sandwiches.

Bring plastic wrap up and around the ice cream cake to cover, then freeze for about 6 hours or until firm.

Now it's time to cover the cake with whipped cream. You can whip the 1 cup of cream and flavor it with sugar and vanilla OR for a lighter coating, just use light whipped topping. Cover the frozen cake in whipped cream and return to the freezer, covered loosely this time, until ready to serve. To serve, let sit for about 10 minutes to soften slightly, then cut into squares.
Notes
If you don't want to use a microwave, you may melt the marshmallows in the top of a double boiler.
This recipe halves well. Just make it in a loaf pan and use half the filling.
The 300 minutes refers to the chill time.