I am having a lot of fun with these tiny rectangular cheesecakes. Here's another one for those who prefer plain over chocolate. This is a scaled down version of Nigella Lawson's "London Cheesecake". I bake it at a different temperature and of course, use a petite loaf pan..
If you've ever made a cheesecake, you know bake time is key, so I will preface this that the times below are what worked for me. Your cheesecake is ready when it appears set around the sides but seems a tiny bit wiggly in the center. It will set as it cools and chills. For this cheesecake, bake time was a total of 43 minutes, the last 5 of which I covered the cheesecake with a sour cream topping and returned it to the oven.
Here's the picture. Now I need to go dig up a good topping recipe.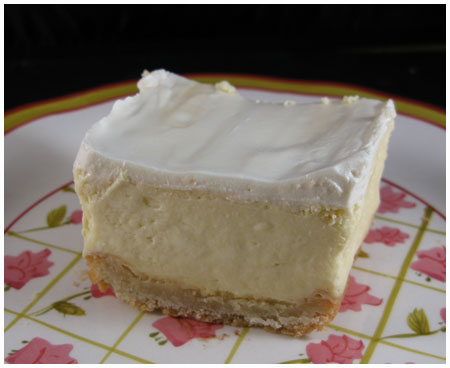 Cheesecake
Crust:
3 rounds ready-to bake sugar cookie dough or 6 crushed graham crackers mixed with 1 tablespoon melted butter
Middle:
6 3/4 oz cream cheese (192 grams) — softened
3 tablespoons plus 1 teaspoon sugar (41 grams)
1 egg
1 egg yolk
1/2 tablespoon lemon juice (7 ml)
1/2 tablespoon vanilla (7 ml)
Topping:
1/4 cup sour cream (50 grams)
1 teaspoon sugar (5 ml)
1/4 teaspoon vanilla (1.25 ml)
Preheat oven to 325 degrees F. Line inside of a petite loaf pan with non-stick foil.
If using store-bought cookie dough rounds, press them into bottom of lined pan and bake for 15 minutes. If using graham cracker/butter mixture, press into pan but don't bake.
In a medium size bowl, beat cream cheese and sugar until well mixed. Add egg and egg yolk and stir until well mixed. Stir in lemon juice and vanilla. Pour this mixture over crust and place loaf pan into a larger square pan. Pour very warm water into the square pan so that it comes about halfway up sides of loaf pan. Bake on center rack of oven for about 38 minutes. While cheesecake bakes, mix together sour cream, sugar and vanilla. Spread this mixture over top of cheesecake and return to oven for 5 minutes. Remove from oven. Lift small pan from water and let cool on a cooling rack for about an hour. Transfer to refrigerator to chill for at least 3 or 4 hours.
Before serving, grasp foil and lift little cheesecake from loaf pan. Slice in half and plate.
Makes 2 servings (1 petite loaf pan)  Each person gets half
Related posts: