Cheesecake for Two is a mini loaf pan cheesecake version of Nigella Lawson's "London Cheesecake". It's baked in a 5.75x3 inch loaf pan (mini loaf pan). The crust can be made a few different ways, but I've included two. You can use a few pieces of cookie dough or use a mixture graham crackers and butter.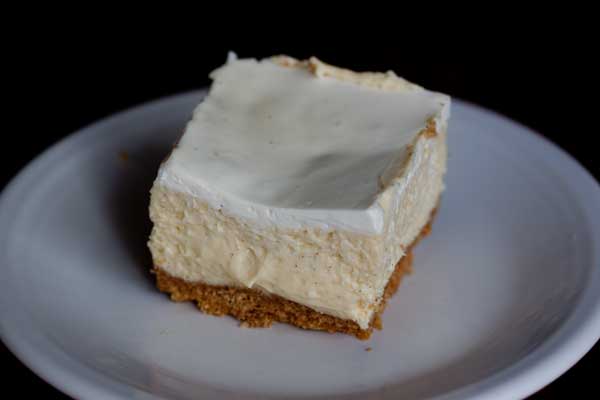 If you've ever made a cheesecake, you know time and temp are both key, so I will preface this by saying the times below are what work for me. The cake is ready when it appears set around the sides but seems a tiny bit wiggly in the center. It will set as it cools and chills. Another clue that it's done is the internal temperature. It should be between 150 and 170 degrees F.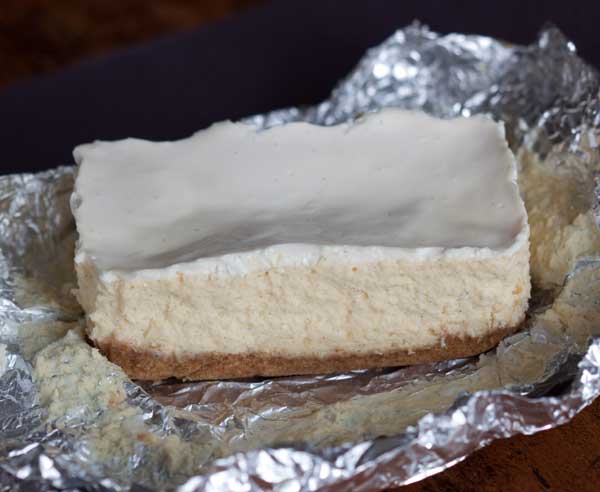 Here's the picture. Now I need to go dig up a good topping recipe. Update: Here's a recipe for strawberry topping!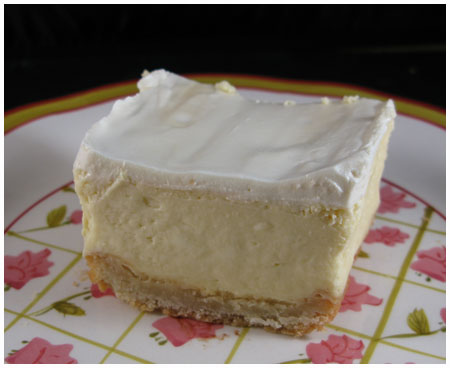 Type of Mini Loaf Pan
Since posting this, I've acquired several different types of mini loaf pans. They're all around 5.75x3, but some are ceramic and others are metal. For this recipe, you can use either ceramic or metal. I always line with foil so that I can pull the cheesecakes out, but it might be fun making these in decorative loaf pans without the foil and just serve straight out of the loaf pan.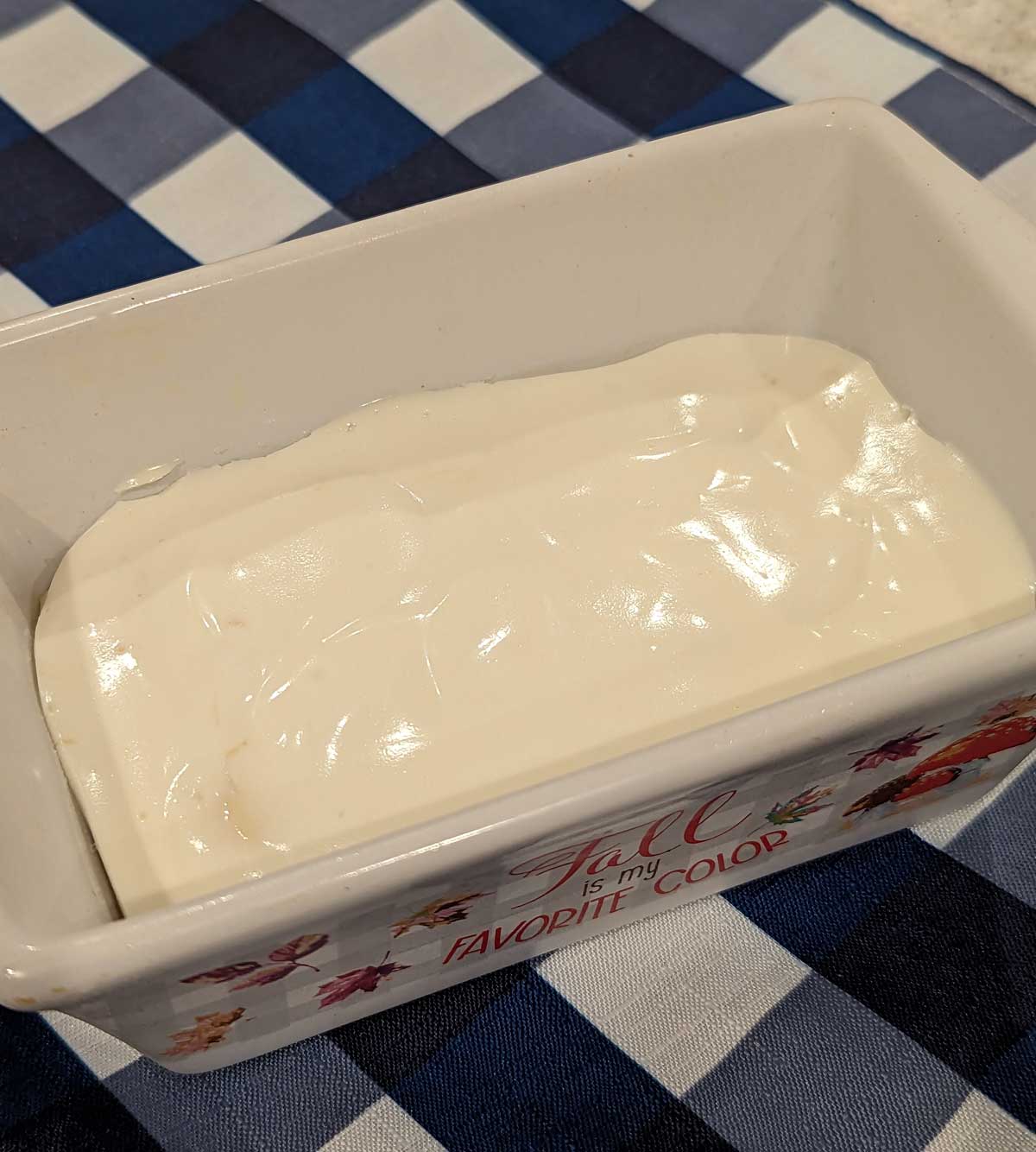 Cheesecake for Four
Update: I originally made this all in one mini loaf pan, but I recently tried dividing the filling between two pans to make two shallower cakes. I also got rid of the foil lining and just served the cheesecake directly out of the pan. While it's not as photogenic for the blog, the cheesecake baked directly in the decorated seasonal loaf pans make a nicer presentation in real life should you wish to give them as little gifts.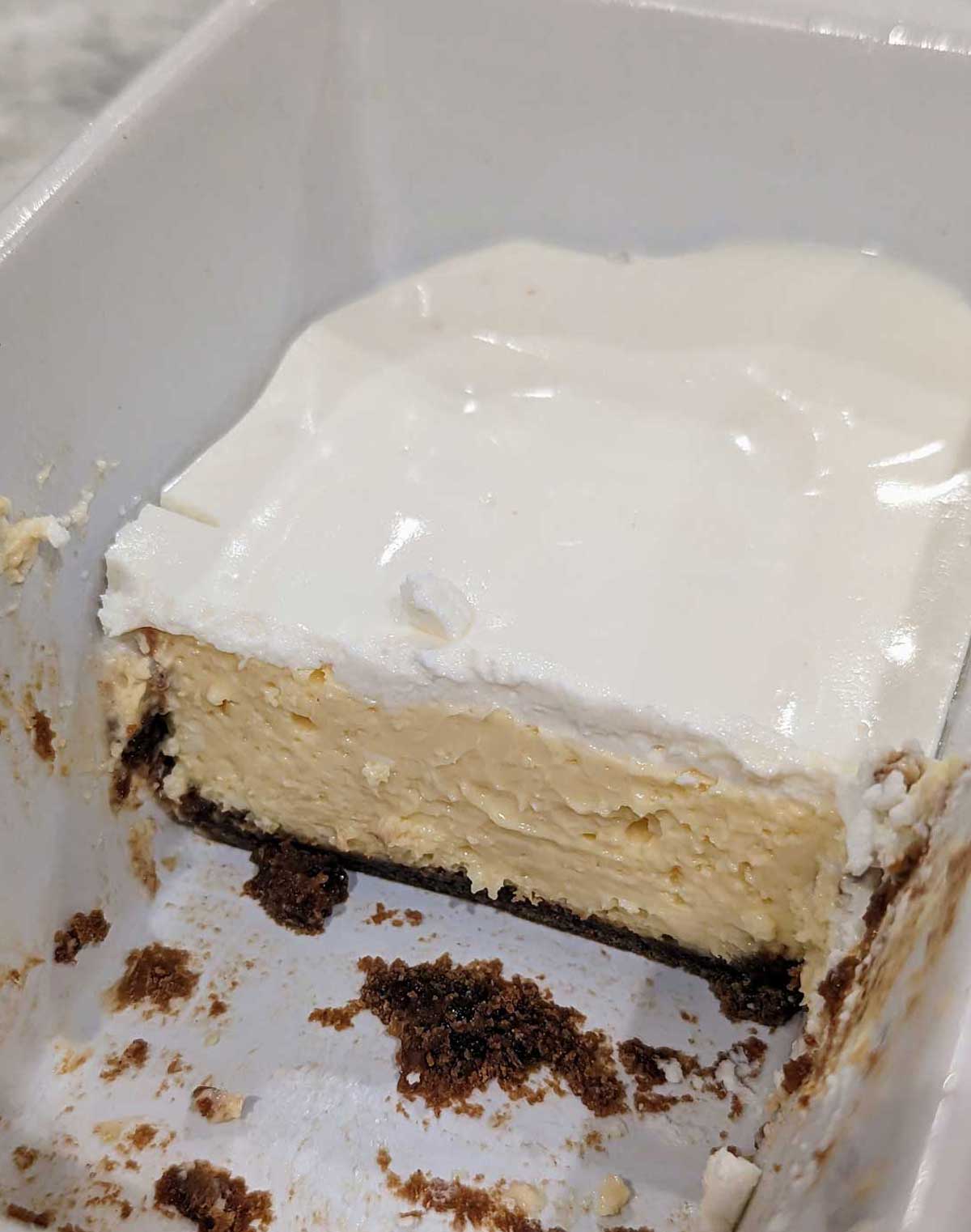 Recipe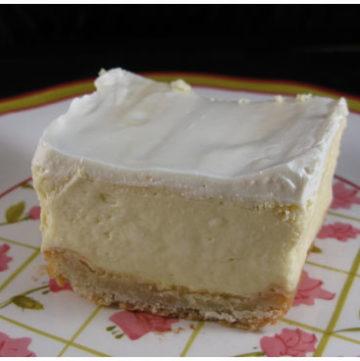 Cheesecake for Two
Cheesecake for Two is basic New York style cheesecake baked in a small loaf pan. Lining the pan with nonstick foil lets you lift the cheesecake right out and cut it into two neat squares.
Ingredients 
Crust:
3

rounds

ready-to bake sugar cookie dough or 6 crushed graham crackers mixed with 1 tablespoon melted butter
Middle:
6 ¾

oz

cream cheese, softened

(192 grams)

3

tablespoons

plus 1 teaspoon sugar

(41 grams)

1

large

egg

1

large

egg yolk

½

tablespoon

lemon juice

½

tablespoon

vanilla
Topping:
¼

cup

sour cream

(50 grams)

1

teaspoon

sugar

¼

teaspoon

vanilla
Instructions 
Preheat oven to 325 degrees F. Line inside of a 3x5 ½ inch petite loaf pan with non-stick foil or parchment paper. If making the shallower version, line two.

If using store-bought cookie dough rounds, press them into bottom of lined pan (or pans) and bake for 15 minutes. If using graham cracker/butter mixture, press into pan but don't bake.

In a medium size bowl, beat cream cheese and sugar until well mixed. Add egg and egg yolk and stir until well mixed. Stir in lemon juice and vanilla. Pour this mixture over crust and place loaf pan (or pans) into a larger square pan.

Pour very warm water into the square pan so that it comes about halfway up sides of loaf pan. Bake on center rack of oven for about 38 minutes.

While cheesecake bakes, mix together sour cream, sugar and vanilla. Spread this mixture over top of cheesecake and return to oven for 5 minutes. Be careful not to overbake the sour cream topping. 5 minutes is all you need.

Remove from oven. Lift small pan from water and let cool on a cooling rack for about an hour. Transfer to refrigerator to chill for at least 3 or 4 hours.

Before serving, grasp foil and lift little cheesecake from loaf pan. Slice in half and plate.

Makes 2 servings (1 petite loaf pan) Each person gets half. If using two mini loaf pans, you'll have four smaller servings.