Okay, I have one more and that is IT. Finito. No more cookies today.
This recipe was a winner in the 1994 Bake-off contest. It was created by a former WAC named Betty, who used her prize money to buy a car which she named "The Chocolate Coconut Cruncher". Every time I come across this recipe I picture Betty cruising down the highway in The Cruncher, so I figured it was high time to try the cookies.
I had half a box of cake mix (Devils Food) that needed using and decided to make a half batch. A half batch was still 30 cookies, so I changed my mind and scaled the recipe down even more to make 15 cookies. Things worked out well.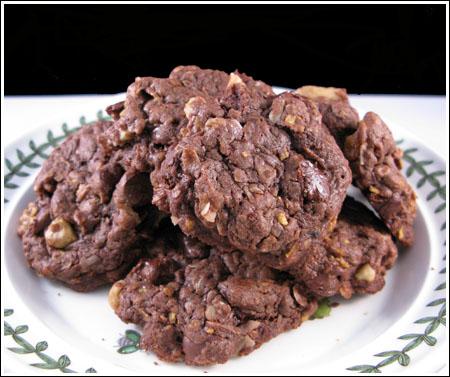 Using a 1/4 of a box of cake mix isn't as ridiculous as it sounds because you can always use the rest of the cake mix in other things…..such as more cookies. I measured the cake mix after I weighed it and ¼ box ( 4.5625 oz) was about 1 cup plus ½ tablespoon.
I'm going to link you right to original recipe in case you need 5 dozen cookies.
The version below makes 15 cookies….and they're really good! 
Chocolate Coconut Crunchers (Small Yield Version)
4 tablespoons butter
1 cup plus 1/2 tablespoon chocolate cake mix (1/4 of an 18.25 oz box)
2 tablespoons lightly beaten egg
1/4 cup coconut
1/4 cup toasted chopped walnuts
1/4 cup crushed corn flakes
1/4 cup rolled oats
1/2 cup semi-sweet chocolate chips
Preheat oven to 350 degrees F. Have ready one parchment lined cookie sheet
In a medium size microwave-safe mixing bowl, melt the butter on high (40-50 seconds). Add cake mix to melted butter and stir until moist. Stir in egg. Add coconut, nuts, corn flakes, oats and chocolate chips. Stir until mixed.
Drop by generously rounded teaspoonfuls 2 inches apart onto ungreased cookie sheets. Press the mounds together tightly so that they are compact, then press them gently to about ½ inch thickness.
Bake cookies for 8-10 minutes or until set. Remove from oven and let cool on cookie sheet for 2 minutes. Transfer to a wire rack to cool.
Makes 15 cookies
Related posts: