From the time I got a car and could drive myself there, I was a heavy library user. I'd check out loads and loads of books and was able to account for each one. This ended when I became pregnant and the smell of library books made me sick. After the baby came, I made my way back to the library, but my ability to keep track of the books had diminished and since late fees trigger guilt, I just stopped going and found it was kind of luxurious not have to worry about returning library books. The expense of buying a book was pretty much an opportunity cost, even though I was making Laura Bush sad.
Yesterday, due to my eye doctor appt (dry eye, btw), I pulled Fuzz out of school 20 minutes early. She was in the school library and hadn't yet chosen a book, so to make up for it, I took her to the public library late that afternoon. She selected a book about fish care. I walked out with 5 cookbooks, one of which was an old favorite which I used to check and re-check — Rosie's Bakery Cookie Book
I love this book. The recipes are great and Judy Rosenberg does an amazing job of explaining semi-complicated things. However, she does use some crazy measurements and this crunchy chocolate chip cookie recipe is case in point. Half an egg yolk?
I found the original recipe, reprinted with permission, HERE. It's the Fresh Direct site and it might ask you for your zip code.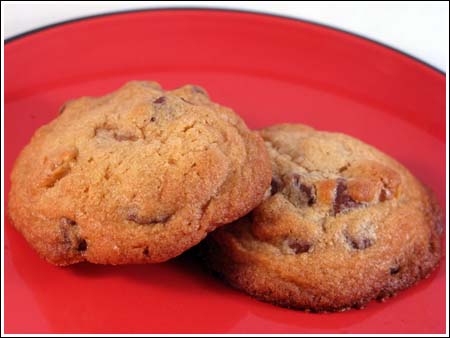 End result. Very good! Thickish, but with some crunch. My only advice is if you cook the cookies at 400 degrees, to check the cookies at 10 minutes. If you know your oven runs hot, use 375 degrees. My oven runs true (as the pros say) and my cookies were done 10 minutes at 400 F. Also ¾ cup of chocolate chips? Is that some kind of a joke? Increase them! Toasted walnuts are optional, but I added them and they were delicious.
Related posts: