These cookies are from Rosie's Bakery Cookie Book
, which I love. The recipes are great and Judy Rosenberg does an amazing job of explaining semi-complicated things. However, she does use some crazy measurements and this crunchy chocolate chip cookie recipe is case in point. Half an egg yolk?
I found the original recipe, reprinted with permission, HERE. It's the Fresh Direct site and it might ask you for your zip code.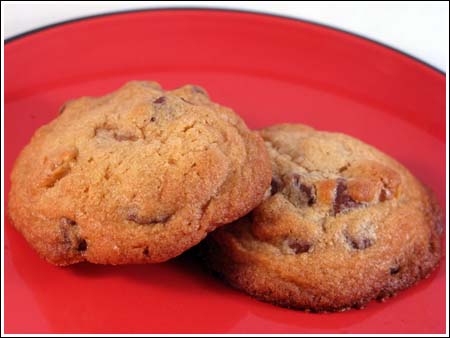 End result. Very good! Thickish, but with some crunch. My only advice is if you cook the cookies at 400 degrees, to check the cookies at 10 minutes. If you know your oven runs hot, use 375 degrees. My oven runs true (as the pros say) and my cookies were done 10 minutes at 400 F. Also ¾ cup of chocolate chips? Is that some kind of a joke? Increase them! Toasted walnuts are optional, but I added them and they were delicious.
Related posts: