I get a little overwhelmed when people asking me for my top favorite yellow cake recipe, because the truth is there are a few. This is one of them! It's the yellow cake recipe adapted from The Magnolia Bakery Cookbook. What I like about it is it's easy to prepare, uses up some of the self-rising flour I always keep around, and is firm enough to carve. It's just an all-around good, basic yellow cake.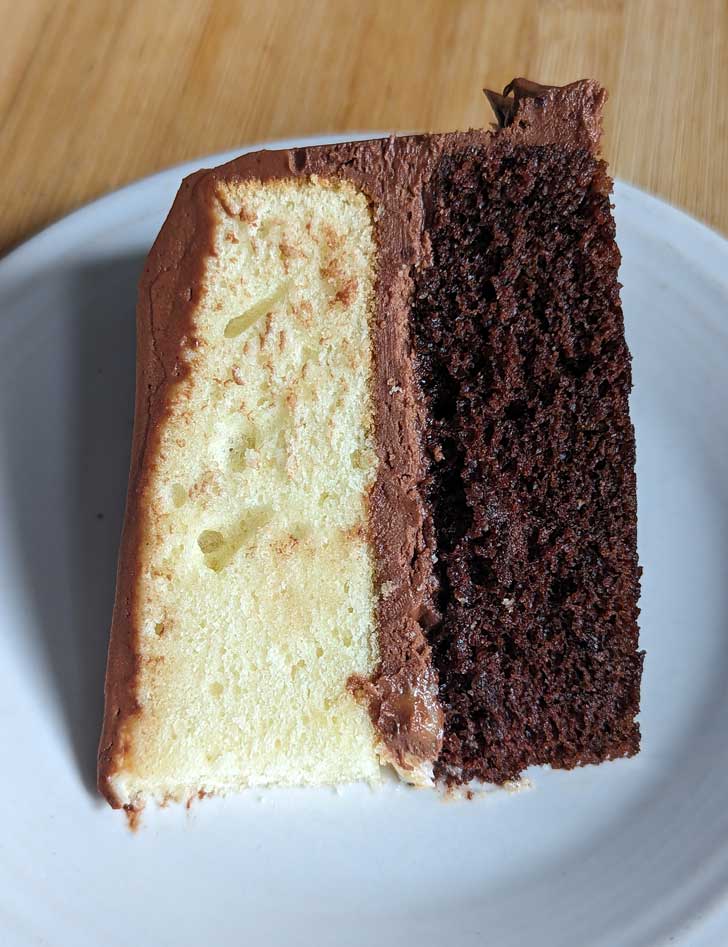 Flour in Magnolia Bakery Yellow Cake
The recipe is interesting because instead of calling for just self-rising flour or all-purpose, it calls for a mixture of the two, giving you the benefits of both types of flour. Self-rising flour is softer and already contains the salt and baking powder, while the all-purpose adds structure. Here's a texture shot.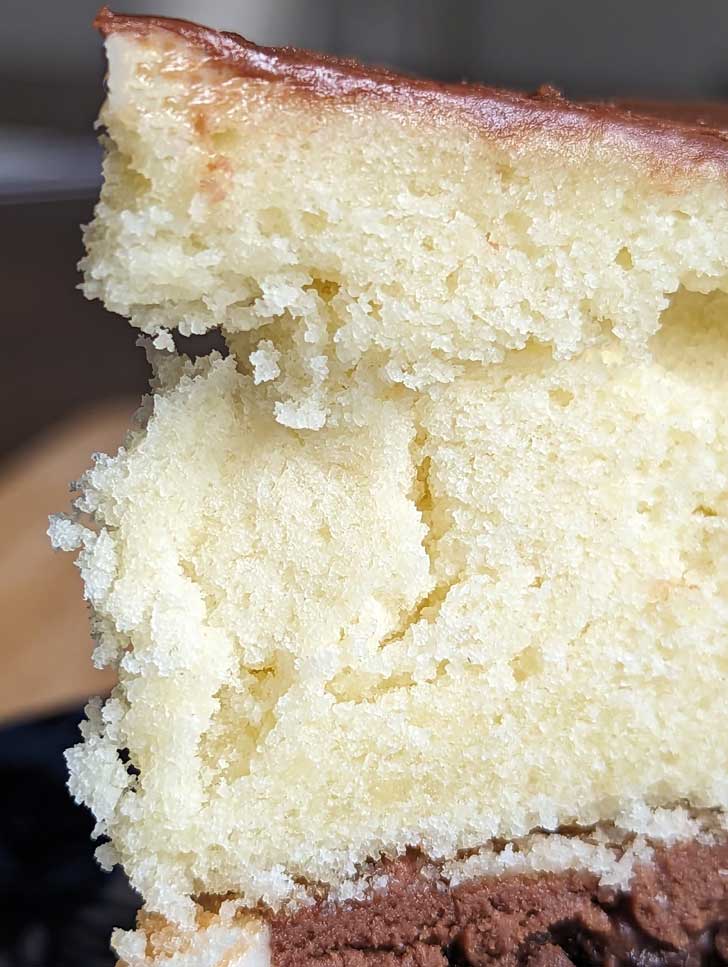 Cake Flavor
The flavor of the cake is a pretty basic vanilla, and its yellowness will probably be determined, to some extent, by what brand of butter you use. Land o' Lakes is a bit whiter than some of the grocery store brands. You can also make the cake with European style butter or Plugra. And since the cake doesn't have a lot of salt in it (it's all from the self-rising flour), you can use salted butter.
Pan Sizes and Scaling
The recipe is also very easy to scale down. I rarely need a full cake, so I've often made half of the recipe and divided it between two 6-inch pans or two 8-inch round pans. My old photos aren't that great, but they give you an idea how thick the layers are when you scale down. The picture below is half a cake divided between two 8-inch pans. This was probably taken before I even owned a 6-inch pan.
Here's a link to Magnolia's cookbook if you'd like to order it.  The Magnolia Cafe Cookbook Yellow Cake is just one of many good recipes in the cookbook. They are all pretty do-able. Some other recipes from the book we like include the Magnolia Peanut Butter Cookies and their Black Bottom Cupcakes. We also like the Coconut Layer Cake.
Recipe
Magnolia Bakery Cookbook Yellow Cake
A delicious yellow cake recipe from The Magnolia Cafe and Bakery
Ingredients
1 ½

cups

self-rising flour

(190 grams)

1 ¼

cups

all-purpose flour

(155 grams)

1

cup

unsalted butter, softened

(230 grams)

2

cups

granulated sugar

(380 grams)

1

teaspoon

vanilla extract

4

large

eggs

at room temperature

1

cup

milk

(230 ml)
Chocolate Frosting
2

oz

unsweetened chocolate, chopped

(56 grams)

2

oz

semisweet chocolate, chopped

(56 grams)

16

tablespoons

unsalted or salted butter

(230 grams)

¼

cup

unsweetened cocoa powder

4

cups

powdered sugar

(1 pound)

¼

cup

milk plus more if needed

2

teaspoons

vanilla

Pinch

or two of salt
Instructions
Preheat oven to 350 degrees F.

Spray two or three round 9-inch cake pans with flour-added cooking spray. If you use two, bake-time will be longer.

Combine the flours in a small bowl and set aside.

Beat the butter until smooth. Add the sugar gradually and beat for about 5 minutes.

Add the vanilla, then add the eggs, one at a time, beating for 30 seconds after each addition.

Add the flour and milk alternately, beginning and ending with the flour and stirring by hand or using lowest speed of mixer until thoroughly mixed. Using a rubber spatula, scrape down the batter in the bowl to make sure the ingredients are well blended.

Divide the batter between the pans and bake at 350 F for 20-25 minutes for 3 pans, or about 30 minutes for 2 pans (deeper cake means longer bake time).

Cool in pans for about 10 minutes, then flip from pans and let cool on a rack. Frost with chocolate frosting.
Chocolate Frosting
Melt both chocolates in microwave or double boiler and set aside to cool.

Beat the butter until creamy. Stir in the cocoa power, about a cup of the powdered sugar, and the cooled melted chocolate. Scrape sides of bowl and beat well. Add remaining powdered sugar, then add milk, vanilla and salt, beating and scraping until you get the consistency you like.