Random last minute cookies I made for T&F Day.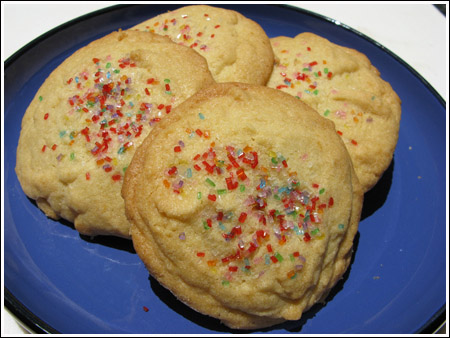 Giant Sugar Cookies
2 cups all purpose flour
1/2 teaspoon baking soda
1/2 teaspoon cream of tartar
1/2 teaspoon salt
1/2 cup (8 tablespoons) unsalted butter
1/2 cup vegetable oil
1/2 cup granulated sugar
1/2 cup powdered sugar
1/2 teaspoon each – vanilla extract and fresh lemon zest
1 large egg
Whisk flour, baking soda, cream of tartar and salt together in a medium bowl.
Cream butter, oil, and both sugars in a mixing bowl; beat in vanilla, lemon zest and egg. With a mixing spoon, stir the flour mixture into the butter mixture until well mixed.
Chill dough for 1-2 hours. Preheat oven to 350 degrees F.
Using a 1/4 cup measure, shape dough into large rounds and place on cookie sheets, spacing 3 ½ inches apart (6 cookies to a sheet). Press down slightly and sprinkle tops with sparkly sugar. Bake on middle rack for 18-22 minutes or until edges are lightly browned.
Makes 12 big cookies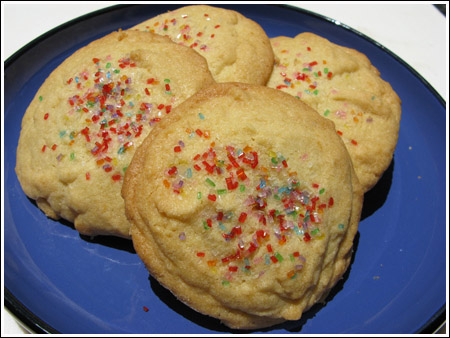 Related posts: