It's been a while since a good, thick sugar cookie recipe got my attention, but Molly Yeh's recipe from Home is Where the Eggs Are did just that. It's different, and yet it's not! This is a basic cut-out sugar cookie recipe that calls for a little almond flour. However, in this case the almond flour is not an all purpose flour replacement. Instead, it's used with the AP flour to add flavor and structural support to the cookies. These are thick sugar cookies that hold their shape.
I couldn't wait to try Molly's cookies, and I did not wait. The dough was mixed this morning and by noon the cookies were cooling. To be honest, I didn't care about decorating them because I was more interested in the cut-out cookie structure and shape. As it happened, I was so pleased with the cookies I did decorate a few!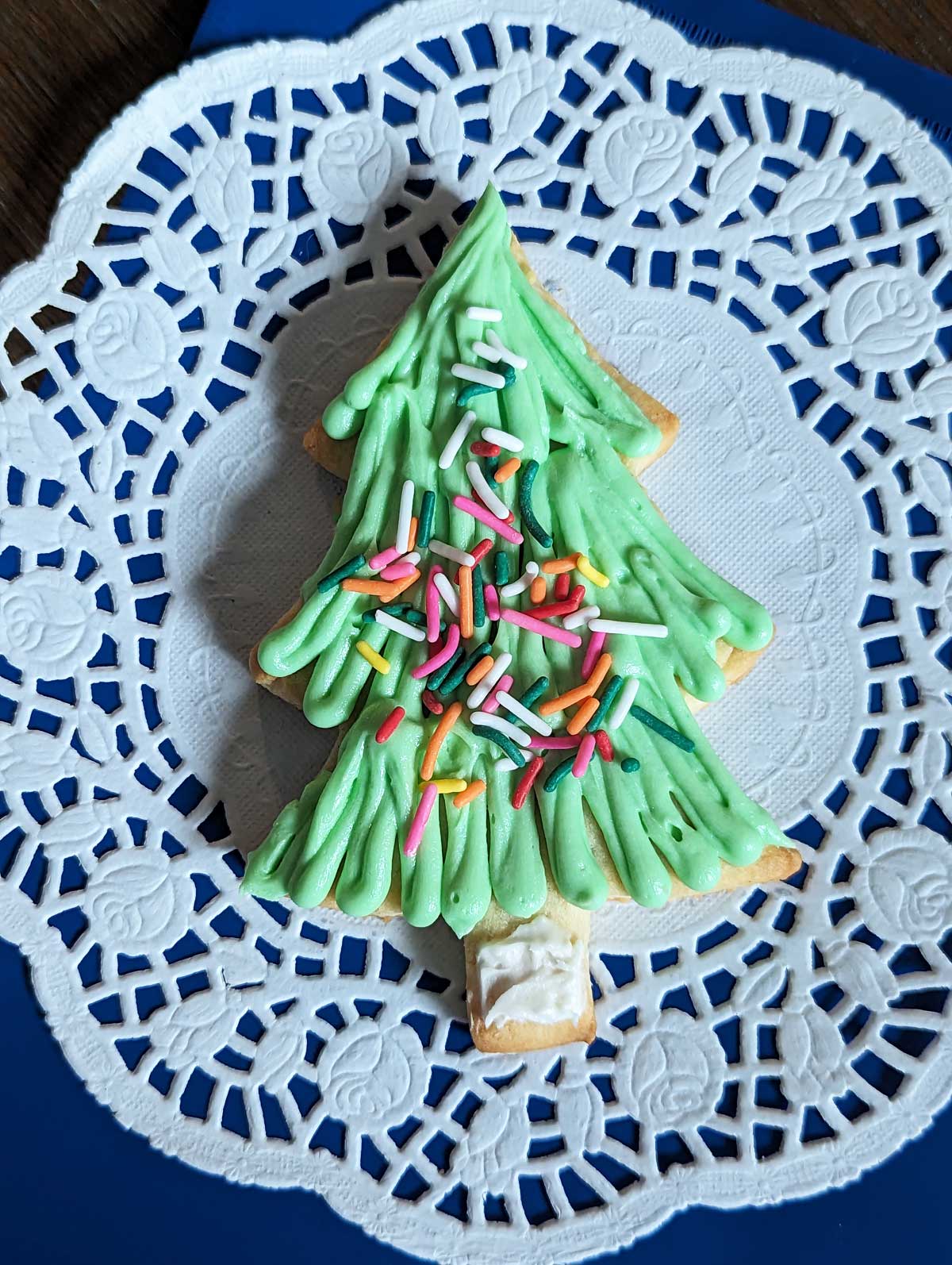 Yeh Family Thick Sugar Cookies Flavorings
The Yeh family sugar cookies recipe calls for a lot of flavorings including lemon zest, vanilla, and almond extract. In addition to all that, Molly throws in Princess baking emulsion. I wrote about my experience with that years ago, and haven't actually bought any since. All I remember about the Lorann Princess Cake and Cookie Bakery emulsion is that it was "different" and I still associate it with yeast breads. The point here is that Molly's cookies are excellent without the Princess emulsion. If anything, I think a butter flavored emulsion or good quality butter flavoring might kick up the natural butter flavor. We'll try that next time.
Sugar Cookie Frosting Recipe
If you love making frosting as much as a I do, which is not at all, you'll be happy to know that the frosting component of this recipe is quick and easy. It's a regular American style buttercream so it won't dry hard like royal icing, but the cookies will taste way better. Also, this is a pretty small batch of frosting -- just enough to spread on the cookies and decorate with sprinkles. If you want to make a lot of different colors, or are doing some fancy decorating, you'll need to double it.
Make Some!
These are excellent thick sugar cookies. They're perfect for medium to large size cookie cutters, but should work with small ones as well. If you don't want to buy the almond flour or can't use it, here's another recipe that doesn't have any. The cut-outs in the link are similar to Molly's, but the butter flavor is less diluted by the almond flour so they taste a little more buttery compared to Molly's, which have more almond flavor. Molly's are a little sandier, which I like.
Recipe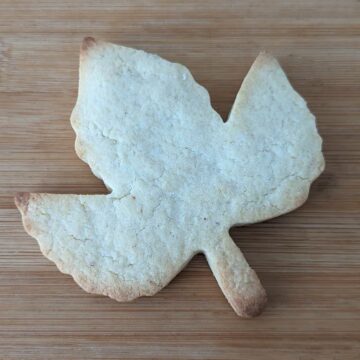 Thick Sugar Cookies with Almond Flour
From Molly Yeh, these are thick, sturdy, sugar cookies that don't puff too much when baked. That is, they hold their shape nicely. The yield is a guestimate. I typically make cookies pretty large, but you could make more using small cutters.
Ingredients 
3 ⅓

cups

all-purpose flour, plus more for dusting

(433 grams)

1 ⅓

cups

superfine almond flour (such as Bob's Red Mill)

(150 grams)

1

teaspoon

kosher salt (Morton, measures like table)

1

teaspoon

baking powder

1

cup

unsalted butter, room temperature

(228 grams)

⅔

cup

granulated sugar

(133 grams)

⅔

cup

powdered sugar

(80 grams)

1

teaspoon

lemon zest

2

large

eggs, bring to room temperature

2

teaspoons

pure vanilla extract or use half vanilla and half Princess emulsion

¾

teaspoon

pure almond extract
Frosting
½

cup

unsalted butter, room temperature

(114 grams)

1 ½

cups

powdered sugar

(180 grams)

Pinch

kosher salt

½

teaspoon

pure vanilla extract

½

teaspoon

pure almond extract

3

tablespoons

cream or 2 tablespoons whole milk
Instructions 
Preheat the oven to 350°F. Line 2 sheet pans with parchment paper or hold off if you plan on chilling the dough.

Whisk together the all-purpose flour, almond flour, salt, and baking powder.

Beat the butter, sugars, and lemon zest (if using) on medium high until pale and fluffy, 3 to 4 minutes, occasionally scraping down the sides of the bowl. You can do this with any electric mixer, but a stand mixer with a paddle works best.

Add one egg and beat until mixed, then add the second egg and beat just until mixed. Add extracts.

Reduce the speed to low and add the flour mixture, mixing until just combined and until you have a smooth dough. Divide dough into 2 large or 4 smaller balls and press into discs. Wrap and chill until ready to use or start rolling.

Roll out a section of the dough on a lightly floured surface to a scant ½-inch thickness, dusting with flour if needed. I didn't need any extra flour. I just kept the dough cold.

When ready to bake, arrange on parchment lined trays and bake one sheet at a time until done. The time will vary depending on cookie size. Mine took about 12 minutes.

If baking two sheets at a time, switch racks after 6 minutes and rotate the pans 180 degrees. Continue baking until done, and checking cookies every 4 minutes or so to make sure they are baking evenly.

To make the frosting, stir everything but the milk together on low speed. Increase mixer speed, scrape side of bowl and add milk gradually until your frosting is creamy and smooth.