Swedish Dream Cookies! They are sugar cookies made with baker's ammonia, a leavening agent you don't see very often, but which gives cookies an incredibly light and crisp texture. The texture is the benefit. The downside is that as your cookies bake, you will detect a slight ammonia odor wafting through your kitchen. This recipe uses so little baker's ammonia that the smell isn't too noticeable, but it's not something you'd want to have baking if you are trying to sell a house.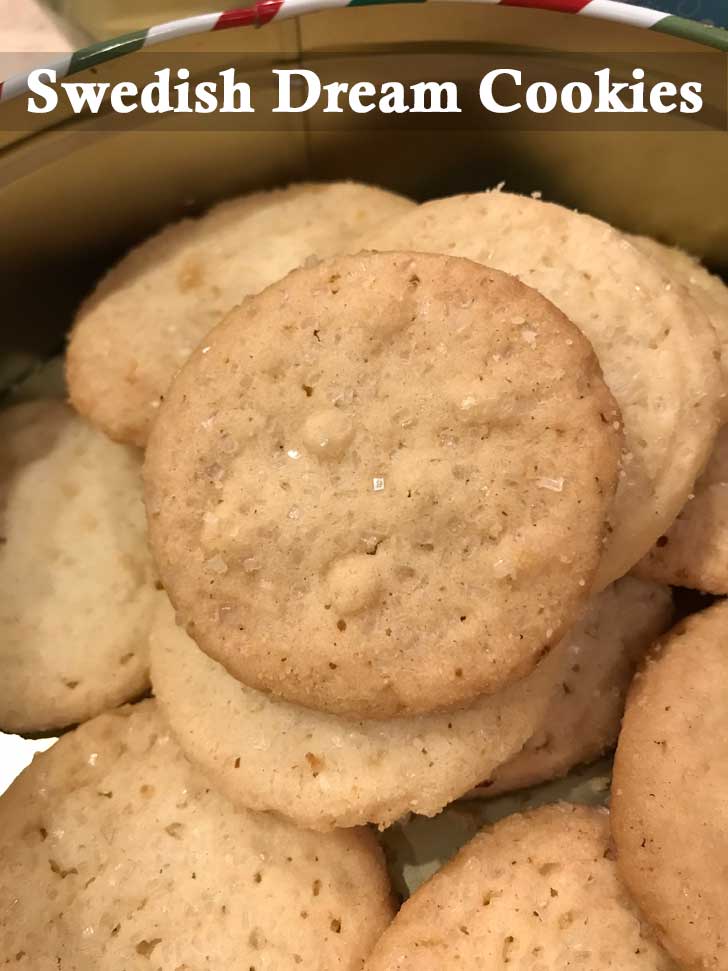 Baker's Ammonia
Baker's ammonia has an interesting history. Once called hartshorn, baker's ammonia used to be made with red deer antlers. These days it's made via a chemical process and goes by the name ammonium carbonate. It's similar to the smelling salts used back in the 19th century when women were always fainting, though not exactly the same, as the old salts were mixed with perfumes. According to WebMD, the fumes trigger a breathing reflex that helps send a surge of oxygen to the brain. So I guess you could say it's a baking ingredient that blows your mind! I recommend you do not tell this joke again and do NOT take a whiff, even if you are an athlete. Save it for the cookies.
Swedish Dream Cookies Variations
Unfortunately there aren't a lot of modern recipes that call for baker's ammonia and making variations on Dream Cookies requires trial and error. This recipe is from King Arthur Baking, though I've reduced the sugar slightly so that the cookies aren't quite as sweet. Don't worry about the sugar reduction because the cookies are plenty sweet with 1 cup and their texture is still very light and crisp. I also kept the batch size small so that you can try try recipe before committing to a larger batch. Plus you may want to make multiple small batches and play with the flavors. This recipe calls for vanilla extract, but you can add lemon and orange oil for a little extra back note of flavor or mix in peanut powder or coconut. There's lots of potential here!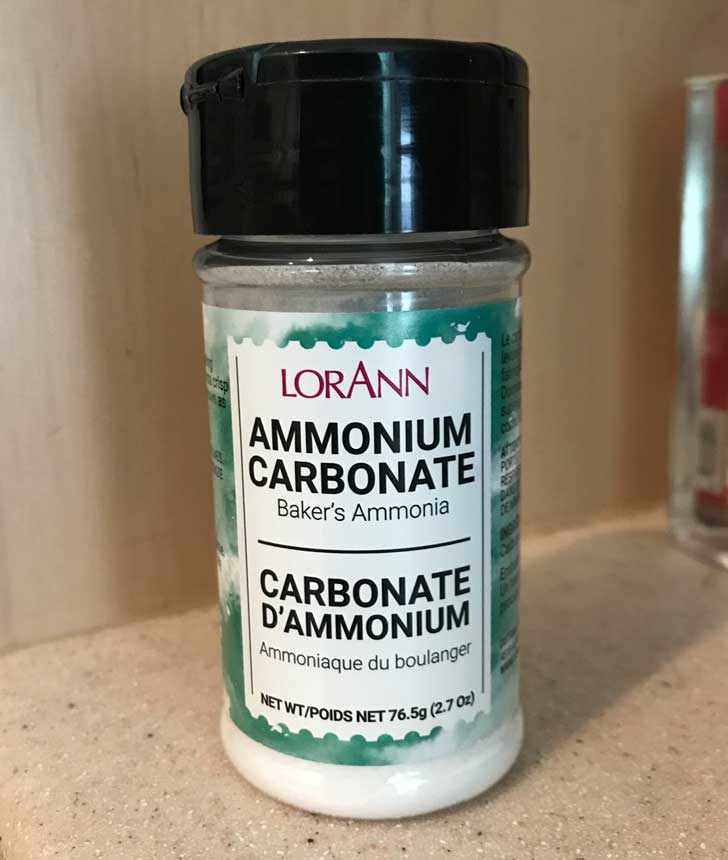 You can find baker's ammonia on Amazon or from King Arthur.
Sugar Cookies Without Baker's Ammonia
Recipe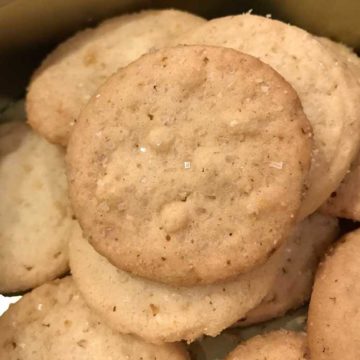 Swedish Dream Cookies
Light and crispy sugar cookies made with ammonium carbonate
Ingredients 
1 ½

teaspoons

vanilla extract

⅛

teaspoon

baker's ammonia

⅜

teaspoon

salt

½

cup

sugar

(100 grams)

8

tablespoons

unsalted butter

room temperature (114 grams)

1

cup

minus 1 tablespoon all-purpose flour

(120 grams)

Coarse or sparkling sugar
Instructions 
Preheat the oven to 300°F. Line a large baking sheet with parchment paper.

Beat the butter and sugar with an electric mixer until light and creamy.

In a small bowl or custard cup, combine the vanilla, baker's ammonia, and salt. Stir to dissolve the ammonia. Scrape vanilla mixture into butter mixture and beat until smooth.

Mix in the flour and stir until the dough holds together.

Using a small cookie scoop (or ½ ounce weight) of dough, shape into balls. Roll the balls in coarse sugar. Press down flat using the bottom of a glass or a spatula with holes in it.

For more decorative cookies with circular ridges, use the presser from a food processor to press the cookies (King Arthur's idea!)

Bake the cookies at 300 degrees until they're a very light golden brown around the edges, about 25 minutes.
Notes
Even Less Sweet Version -- These are more like shortbread.  This version uses more baker's ammonia.
1 stick salted butter, ¼ cup granulated sugar (50 grams) 1 cup flour (130 grams), ½ teaspoon baker's ammonia, 1 teaspoon vanilla