Up until recently all of my molasses cookie recipes called for mild molasses. Most of them still do, but this one is a little different. This recipe is for molasses cookies with blackstrap, a darker, more concentrated and stronger flavored molasses. I always believed it would be too robust for molasses cookies, but I was wrong. Blackstrap is very good in molasses cookies. Or at least in these crinkly fellows!
Jump to Recipe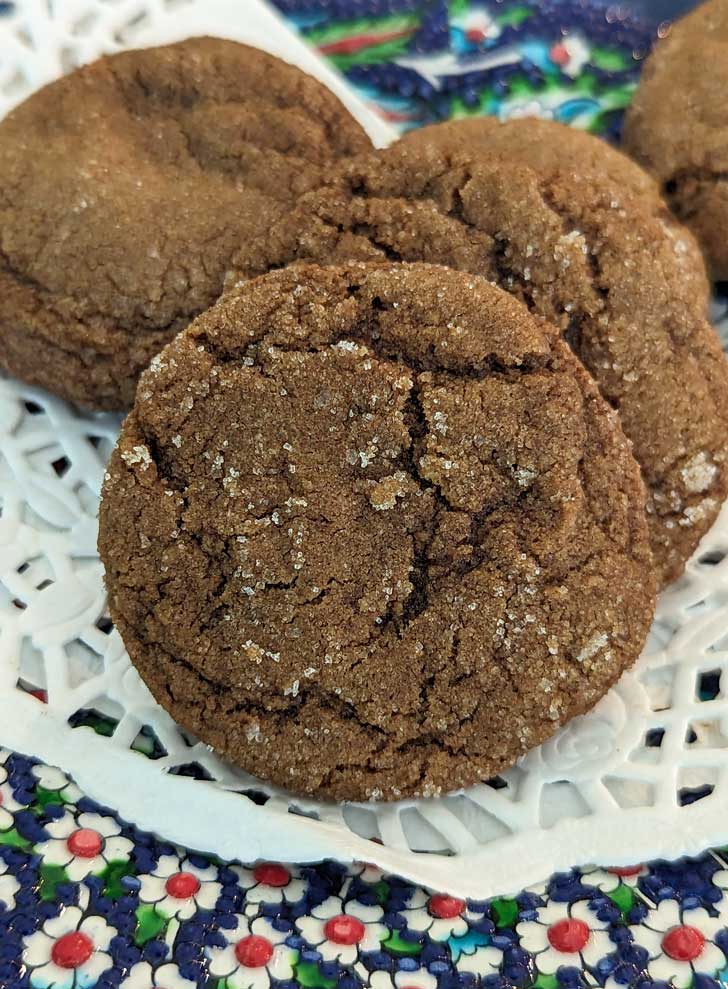 Why is Blackstrap Molasses Special?
Blackstrap molasses is robust in flavor and rich in iron, vitamin B6, manganese, magnesium and potassium. Normally I'd chuckle at that because we're mixing the molasses with sugar, butter and flour and cookies aren't exactly healthy. However, WebMD says that a tablespoon of blackstrap has "20% of the iron you need each day". This recipe has 4 tablespoons, so I guess 8 cookies helps stave off anemia. Just kidding, but it's nice to know there's some redeeming value in sweet ingredient. It also has a decent amount of calcium.
Flavor Varies by Brand
Based on my experience, molasses flavor varies somewhat among brands. I usually use Grandma's or Brer Rabbit mild, but for these blackstrap molasses cookies I used Plantation. I don't know much about the brand, but it's what was available at the time and it's fine. My favorite molasses of them all is the milder Golden Barrell, so I'll have to try their blackstrap at some point.
Blackstrap Molasses Cookies Tips
These are pretty easy to throw together, especially if you have a scale. With a scale, you'll never have to clean molasses out of a measuring cup again! Plus I made these using the weights, so for accuracy it's best to use a scale. For mixing, I recommend using an electric mixer to beat plenty of air into the batter so they'll rise, crack and fall. A stand mixer is ideal because you can beat the wet ingredients then use the gentle mixing of the paddle to blend in the flour. But a handheld is fine too. When using a handheld mixer I almost always add the flour by hand with a heavy duty scraper because I believe the beater blades are too rough on the dough. But that could just be superstition. I've always taken the rule of not overbeating flour pretty seriously.
So here's the recipe! These are petite cookies that would be great on a tray or in a cookie exchange in. There about the same size as typical Chocolate Crinkles. If you want big, thick, soft molasses cookies, my recommendation, as always, is Giant Chewy Molasses Cookies with shortening.
Recipe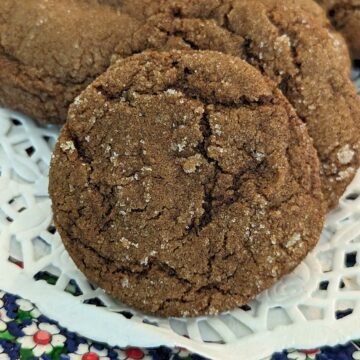 Blackstrap Molasses Cookies
Strongly flavored molasses cookies.
Ingredients 
8

tablespoons

unsalted butter, cut into chunks

(114 grams)

2

cups

all-purpose flour, sifted before measuring or weigh

(260 grams)

2

teaspoons

baking soda

½

teaspoon

kosher salt (Morton, measures like table)

¾

teaspoon

ground ginger

1

teaspoon

allspice

1

teaspoon

cinnamon

1

cup

granulated sugar plus extra for rolling

(200 grams not counting extra for rolling)

¼

cup

blackstrap molasses

(80-90 grams)

1

large

egg

(50 grams)
Instructions 
Melt the butter gently in a saucepan or in a microwave-safe mixing bowl using a lower setting (50% power). Set aside to cool.

Combine the cooled butter, molasses and sugar in a mixing bowl and beat with an electric mixer for about 30 seconds. Beat in the egg.

Mix the flour, salt, baking soda and spices together well, then add to the molasses mixture. Add the flour by hand and stir to make a thick dough.

Preheat oven to 350 F. Line two baking sheets with parchment paper.

Using a small cookie scoop, scoop up dough and shape into balls. Roll in sugar and arrange 2 ½ inches apart on parchment lined baking sheets.

Bake cookies one sheet at a time for about 11-13 minutes or until puffed and set.

Let cool for about 2 minutes on baking sheet, then transfer to a wire rack and let finish cooling.