Cookie Madness is going to be quiet tomorrow, because Fuzz and I are heading to Sea World with Rachel and the rest of our Brownie troop. We don't have Brownie meetings in the summer, but the girls sold enough Girl Scout Cookies to buy a trip to Sea World and we had to wait until the summer to go.
As for today, we're doing last minute errands and puttering around the house which now smells like banana bread thanks to these bars. They are delicious! This is the full 13×9 inch pan recipe, but you can also make a half batch by halving the ingredients and using an 8 inch square pan. My bars were a bit thicker than I expected, so I think a 9 inch pan would work well too.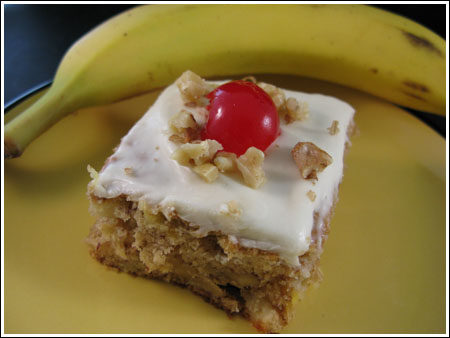 Banana Split Bars
2 cups all purpose flour (9 oz)
3/4 teaspoon baking soda
1/4 teaspoon salt
1/4 teaspoon cinnamon
2 extra-ripe medium bananas, pureed or mashed
1 cup granulated sugar
2 large eggs
½ cup vegetable oil
1 ½ teaspoons vanilla extract
8 oz can crushed pineapple, drained
¼ cup maraschino cherries, drained, halved, patted dry
½ cup toasted chopped walnuts (optional)
Icing:
4 tablespoons butter, softened
3 oz cream cheese
2 ½ cups powdered sugar
1 teaspoon vanilla
1-2 tablespoons milk
Preheat oven to 350 degrees F. Line a 13×9 inch metal pan with non-stick foil or parchment paper.
Mix together flour, baking soda, salt and cinnamon; set aside.
Beat pureed bananas, sugar, eggs, oil, and vanilla together in a large mixing boil. Add flour mixture and stir until blended. Stir in pineapple, cherries and walnuts. Pour batter into pan and spread to edges.
Bake 30-35 minutes. Cool completely, and then frost with icing. Decorate with extra cherries and nuts if desired.
Icing: Combine butter and cream cheese and beat until fluffy. Add sugar, stir well and then beat until light. It's best to use an electric mixer for this. Beat in vanilla. Add 1-2 tablespoons of milk and beat until light and fluffy. Ice bars.
Related posts: