Fuzz has day camp this week. It starts early, so our plan is to wake up, take care of Lizzie, get packed up and have breakfast in the car on the way to the camp. Fuzz isn't much of a breakfast eater, but she does like a little something sweet, so I decided our on-the-go breakfast would be bran muffins.
This is the recipe I used today. It's similar to one from The Joy of Cooking, but I added a little vanilla and cinnamon. These were as moist as the last bran muffins I made, but with less fat.
This is a full batch. I baked half a batch and used about 1 ½ tablespoons of egg to make ½ an egg.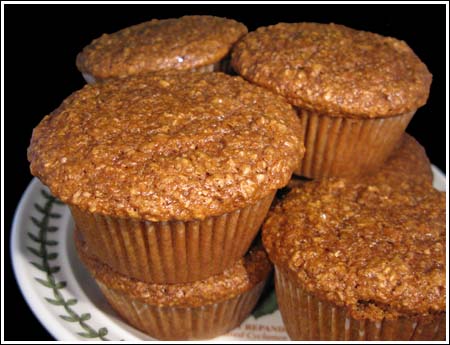 Dark Bran Muffins
2 cups all purpose flour
1 1/2 cup wheat bran
1 1/4 teaspoons baking soda
1/4 teaspoon salt
1/2 teaspoon cinnamon
4 tablespoons melted butter
2 tablespoons brown or granulated sugar (I used brown)
1/2 teaspoon vanilla extract
1 large egg
1/2 cup mild molasses
2 cups buttermilk
Preheat oven to 350 degrees F. Line 16 muffin cups with paper liners.
Combine flour, bran, baking soda, salt and cinnamon and stir well.
Whisk melted butter, sugar, vanilla, egg, molasses and buttermilk together in a large mixing bowl. Add dry ingredients and stir until moistened. Divide batter evenly among muffin cups – it should come almost to the top.
Bake 15-18 minutes or until muffins appear done
Makes 16
Related posts: