One New Year's Goal accomplished!  Hold your applause, but I've finally put a dent a big box of Raisin Bran that's about to go stale. I bought it a few months ago to make an old recipe called "Six Weeks Muffins". Unfortunately, nobody around here thought the muffins were anything special, and I haven't done anything with the Raisin Bran since.  But these Raisin Bran Cookies are so good I may have to buy more Raisin Bran.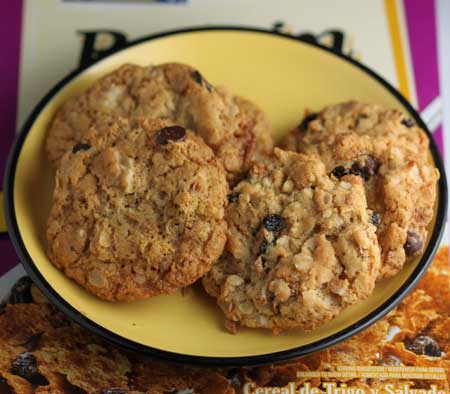 The original recipe is from Food and Family Spring 2007, a magazine put out by Kraft. I'd planned to make these with some sort of healthier whole grain flour, but I didn't make it to the store and ended up using all-purpose.  What I did change was the amount of coconut and the amount of vanilla.  I also cut the recipe in half and added a handful of currants to part of the batter and a handful of chocolate chips to the other part.  My favorites were the ones with the chocolate chips, and they did live up to the "crunchy" in the title.
Raisin Bran Cookies
Crunchy Raisin Bran Cookies
If you want to use up Raisin Bran, try these cookies. They might make you buy more Raisin Bran, though.
Ingredients
1 1/8 cups (5.6 oz) all-purpose flour or white whole grain
1 teaspoon baking powder
1 teaspoon baking soda
1/2 teaspoon salt
1/2 cup oats, old fashioned type
1 stick (4 oz) unsalted butter, room temperature
3/4 cup firmly packed brown sugar
1/2 cup granulated sugar
1 large egg
1 1/2 teaspoon vanilla
1 cup Raisin Bran cereal
3/4 cup flaked coconut -- original version used more
1/2 cup toasted walnuts, chopped
1/2 cup dark chocolate chips OR 1/2 cup currants, raisins or whatever dried fruit you have around
Instructions
Preheat oven to 350ºF. Have ready a large ungreased baking sheet.
Mix flour, baking powder, baking soda, salt and oats in a small bowl; set aside.
In a large mixing bowl, beat butter and sugars with an electric mixer until light and fluffy.Add egg and vanilla; mix well. Gradually add flour mixture, mixing with a spoon until well blended. Add cereal, coconut, nuts, and chocolate chips (or dried fruit). Drop by heaping teaspoons spacing 2 inches apart onto baking sheets. Bake 12 to 15 minutes or until lightly browned. Let cool on tray for a few minutes, then transfer to a rack to finish cooling.
Notes
Crush the Raisin Bran after measuring out 1 cup. Also, this recipe halves well. To halve an egg, break it into a cup, beat it with a fork and measure out 2 tablespoons.