School's out and I've been lucky to have Fuzz and her friend AK helping me with Lizzie. This morning they made a parade of floats from clear boxes. The actual game lasted 3 minutes, but setting it up and talking about it took 30. That was all the time I needed to make these very thin, chewy oatmeal cookies.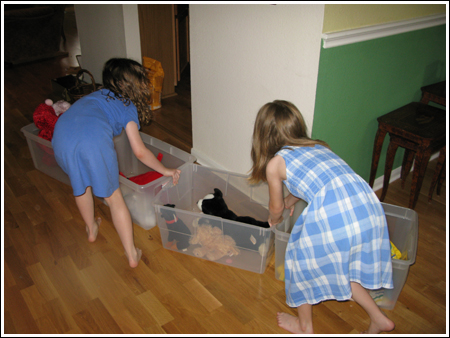 This is from on of my very favorite cookbooks, One Bite Won't Kill You, by Ann Hodgman – author of Beat This, Beat That and several children's books including "House of a Million Pets" which think I might be able to relate to now.
This is an oatmeal cookie and I would have made it sooner if Ann hadn't named it "Honest to God, the Second-Best Oatmeal Cookies, I Swear." I like her funny recipe titles, but this one put me off. Why would I bother with second best? Hmmm. Maybe she was being humorous? I decided to bake the cookies, even though her "best" are in her first cookbook, Beat That.
I halved the recipe and made a few minor changes — a bit more salt and vanilla. I also had to use quick-cooking oats, but I don't think that made a huge difference in the overall outcome.
End result was a chewy, rich, sweet oatmeal cookie. I would definitely make these again and look forward to doing so once I get some old fashioned oats. I've used up the quick-cooking, so I guess now I have to.
I gave the cookies a more boring, but more descriptive name. If you like thin and chewy, give these a try.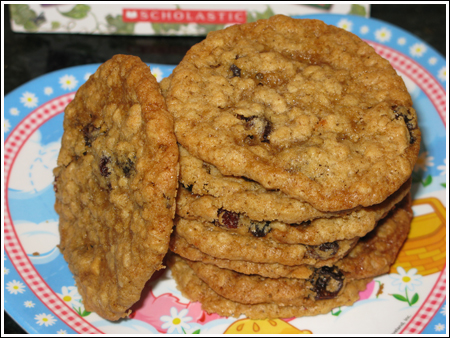 Thin, Chewy Oatmeal
Thin and Chewy Oatmeal Cookies Adapted from Ann Hodgman
Ingredients
8 tablespoons unsalted butter, room temp
1/2 cup brown sugar, light
1/2 cup granulated sugar
1 teaspoon vanilla
1 large egg
3/4 cup all purpose flour
1/2 teaspoon baking soda
1/2 scant teaspoon salt (AH uses 1/4 tsp)
1/2 teaspoon cinnamon
1/8 teaspoon fresh nutmeg
1 1/2 cups Old Fashioned oats or quick cooking if necessary
3/4 cup raisins
Instructions
Preheat oven to 350 degrees F. Line 2 cookie sheets with parchment paper.
Cream butter and both sugars with an electric mixer; beat in vanilla and eggs.
Stir together flour, baking soda, salt, cinnamon and nutmeg in a separate bowl. Add the flour mixture to the butter mixture and stir until blended. Stir in the oats, followed by the raisins.
Using wet hands, shape the dough into equal (1 inch) rounds. Bake for 10-12 minutes (mine took 14) or until cookies are brown around the edges.
Let sit on cookie sheet for a few minutes, then transfer to wire racks to Cool
Makes 2 dozen
Related posts: