When it comes to Coconut Chocolate Chip Cookies, the Toasted Pecan Coconut Chocolate Chip Cookies are my most popular. People say nice things about them, so naturally I keep returning to that recipe! I still love those cookies, but as of yesterday I have another good one.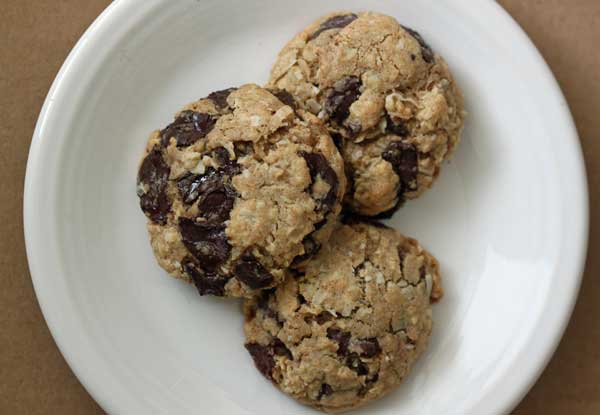 Introduced by a website I follow called Clean Plates, "Chewy Coconut Chocolate Chip Cookies" are from Daphne Oz's new book The Happy Cook: 125 Recipes for Eating Every Day Like It's the Weekend .
I made the cookies as written in the book's excerpt, but they weren't quite what I expected.  They spread like crazy and were limp and kind of greasy tasting. The cookies in the photo below are made with 1/2 cup of flour.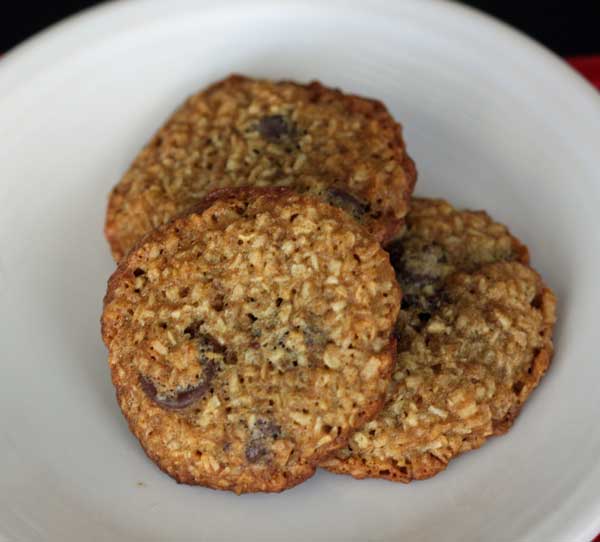 A quick search revealed that people who made them with the excerpted recipe (1/2 cup of flour) thought they were good. However, they certainly didn't match the photo on Clean Plates and a big point in the recipe is banging the tray on the counter to deflate the cookies. I can tell you right now that with only 1/2 cup of flour, the cookies don't need any deflating. So I suspect a "1" fell off the recipe and it should be 1 1/2 cups of flour.
So here's how I made the cookies — not once, but twice. When made with 1 1/2 cups of lightly scooped whole wheat flour, they are great. They taste a little "whole wheat-y" but in a great way. They're not super sweet and they are nice and sturdy, so you can really pack them with chocolate.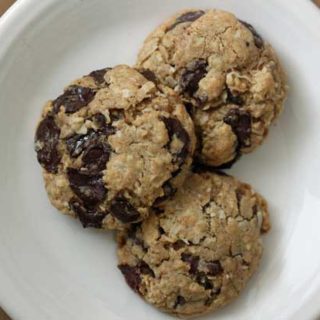 Chewy Coconut Chocolate Chip
Chewy Coconut Chocolate Chip Cookies made with whole wheat flour, butter, coconut and oats. I've made these with both chips and chunks and both versions are great. The dough is dry and the cookies don't spread much, but with all of the chocolate and coconut they are very satisfying.
Ingredients 
1 1/2

cups

whole wheat flour

stirred and carefully scooped into cup (6.8 oz)

1

teaspoon

baking soda

3/4

teaspoon

kosher salt

1

stick

4 ounces unsalted butter, at room temperature

1/2

cup

packed light brown sugar

1/4

cup

granulated sugar

1

teaspoon

pure vanilla extract

1

large egg

1

egg yolk

1

cup

quick cooking rolled oats

1

cup

unsweetened shredded coconut

sweetened is okay, too

1/2 to 1

cup

dark chocolate chip or chunks
Instructions 
In a medium bowl, whisk together the flour, baking soda, and salt.

With an electric mixer, beat the butter, brown sugar, and granulated sugar until creamy.

Add the vanilla and the egg and beat for 30 seconds, then beat in the yolk.

By hand, or using lowest speed of a stand mixer (if using a handheld mixer, do it by hand), add the flour mixture and stir until blended. Stir in the oats, coconut and chocolate chips.

At this point the batter should be very thick and you should be able to shape it into 24 balls. Chill the shaped balls of dough for at least 30 minutes or until ready to bake.

Preheat the oven to 350°F. Line a rimmed baking sheet with parchment paper.

Arrange dough balls at least 2 inches apart on a baking sheet.

Bake one sheet at a time for 7 minutes, then remove tray from the oven and bang against a hard, heat-proof surface to deflate the cookies. Return to oven and bake the cookies for another 4 to 7 minutes or until they appear set.

Let the cookies cool on the baking sheet for 5 minutes, then transfer them to a wire rack to cool completely.
Notes
The original version of this recipe called for only 1/2 cup of whole wheat flour. I made them with 1/2 cup, but they spread too much and were too buttery. I think it should be 1 1/2 cups.