There are other versions of giant chocolate chip cookies which you can decorate and cut with a pizza cutter, but this is our favorite.
Un-Baked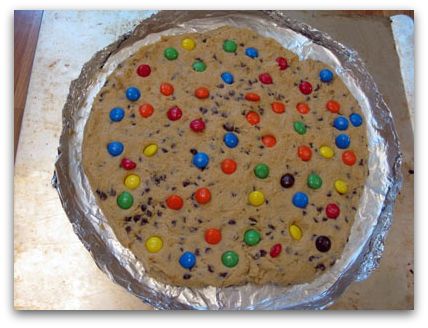 Baked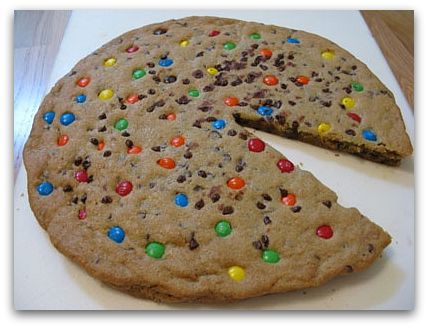 M&M Giant Chocolate Chip Cookie Cake
Large M&M Chocolate Chip Cookie Cake chocolate chip cookie cake birthdays or gifts
Ingredients
2 1/2 cups all-purpose flour
1/2 tsp baking soda
1 tsp salt**
4 oz butter, preferably unsalted
1/2 cup shortening**
1 cup packed light brown sugar
1/2 cup granulated sugar
2 large eggs
2 teaspoons vanilla
1 bag semi sweet regular or miniature size chocolate chips (2 cups)
1 regular size bag (about 1.5 oz) plain M&M's or, if you live in the UK, smarties
Instructions
Preheat oven to 300° F. Line a large (14 inch) round pizza pan with a circle of parchment or non-stick foil.
Mix flour, baking soda and salt together; set aside.
Cream butter, shortening and both sugars by hand or with an electric mixer. Beat in the eggs and vanilla. When well mixed, add flour mixture and stir until blended Fold in chocolate chips.
Put all the batter in the pan and press it into a large circle. Stop the circle about 1 ½ to 2 inches from the rim. Press M&M's decoratively into top.
Bake on center rack for 32-35 minutes or until cookie is golden around edges and appears set.
Notes
**If using margarine or regular butter, decrease salt to ½ teaspoon
**If you prefer not to use shortening, you can swap the shortening out for 1/2 cup of butter. In my opinion, the butter/shortening combo has a better texture.
Related posts: