Today's recipe for Butterscotch Raisin Pecan Bars was recommended by my friend Janet, who made it this weekend for her friends. It was a huge hit, so I'm guessing her friends like raisins – you pretty much have to for these bars. They're great, but raisins are the predominate flavor/texture and the bars wouldn't be the same without them. The best way I can describe these is a cross between shortbread (the crust is thick and very buttery), raisin pie and pecan pie – though not as gooey or slick as pecan pie.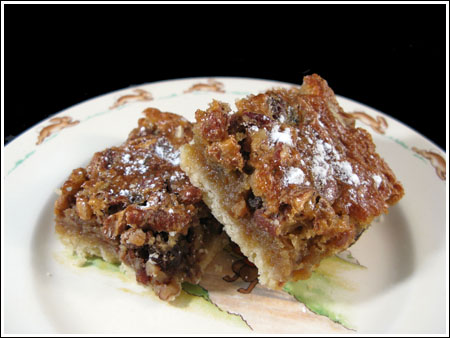 Butterscotch Raisin Pecan Bars – Adapted from Cooking.com & Elinor Klivans
Crust:
1 cup (140 grams) all-purpose flour**
1/4 cup (25 grams) confectioners' sugar, plus save extra for dusting
1/8 teaspoon (.5 ml) salt
1 stick (114 grams) cold unsalted butter, cut in pieces
Filling:
1 cup (200 grams) packed dark brown sugar
1/4 cup (60 ml) whipping cream
2 large eggs
1 teaspoon (5 ml) vanilla extract
2 tablespoons (10 ml) all-purpose flour
1/2 teaspoon (2.5 ml) baking powder
1/4 teaspoon (1 ml) salt
2/3 to 1 ½ cups raisins (120 grams)
1 1/2 cups pecans, coarsely chopped (140 grams) — toasted
Crust:
Preheat oven to 350 degrees F. Line a 9-inch square metal pan with foil and spray foil with cooking spray.
Combine flour, sugar and salt in food processor and pulse to mix. Add cold butter and pulse until crumbly. Press crumbs into bottom of pan and bake for 15 – 18 minutes.
Filling
In processor or using a bowl and whisk, process or mix together brown sugar, cream, eggs and vanilla until smooth. Stir or process in flour, baking powder and salt. Mix together raisins and nuts and spread over baked crust. Pour the filling mixture over raisins in nuts.
Bake until filling is set when pan is shaken gently, about 30 minutes. Cool bars in pan. Dust with confectioners' sugar if desired. Using sharp knife, cut into 16 bars. Transfer bars to platter and serve.
Makes 16
Related posts: