One of our favorite things to do in Connecticut is walk around the town where Todd grew up. Shops come and go, and one recent addition made us very happy – a Crumbs bakery. I was excited about trying one of their famous cupcakes, but never did. The excuse? It was 30 minutes before lunch and too hot to carry cupcakes around. I said we'd go back, but we didn't and I've been mad at myself ever since.
Today, in honor of the Crumbs cupcake we never tasted, I decided to make some cupcakes that sort of look like the ones from Crumbs. That is, with big domed tops and lots of sprinkles
The cake part of this recipe is adapted from "The Only Bake Sale Cupcake You'll Ever Need" and the icing is adapted from Oprah.com. I halved both recipes, added vanilla, and baked the cupcakes at a higher temperature since I'd read that domed tops were formed from high heat baking. It seems to have worked. The domes are just the right size and shape for building up with more icing for a big, dramatic top. They might not be as good as Crumbs, but they were still delicious.
If you only need 6 cupcakes, you can halve this recipe. Just beat the egg lightly and measure out a little less than 2 tablespoons.
As for the icing, it's got a pretty strong (in a good way) sour cream flavor and a velvety smooth, non-chalky texture which I loved.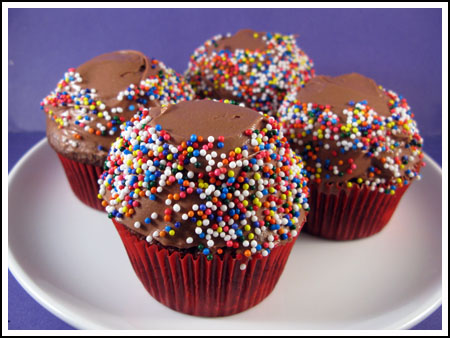 Chocolate-Sour Cream Cupcakes
2 ounces unsweetened chocolate (I used Ghirardelli's 100% cacao)
1 cup granulated sugar (192 grams)
1 cup all purpose flour (135 grams)
3/8 teaspoon baking soda (1 ml plus a pinch)
1/4 teaspoons salt (1 ml)
1/4 cup hot coffee (60 ml)
1/4 cup sour cream, room temperature (55 grams)
1/4 cup vegetable oil (60 ml)
1/2 teaspoon vanilla extract
1 large egg, lightly beaten
Frosting:
5 oz bittersweet chocolate, chopped
2 sticks unsalted butter (230 grams)
3/4 pound powdered sugar, sifted after measuring (336 grams)
Pinch salt
1/2 teaspoon vanilla extract
1/4 cup sour cream (55 grams)
Preheat oven to 375 degrees F. and line 10-12 muffins cups with paper liners. I wanted my cupcakes to be a little bigger, so only used 10.
Melt the chocolate in a bowl set over hot water or in microwave. Set aside to cool slightly.
Mix the sugar, flour, baking soda and salt together in a mixing bowl.
Whisk the coffee, sour cream, oil and vanilla together in a separate bowl for about 2 minutes or until very well mixed.
Gradually add the coffee mixture to the flour mixture, stirring to blend, then add the egg and whisk until combined. Add the melted chocolate and mix until it's blended in.
Divide the batter evenly between the cupcake tins and bake on center rack for 20 minutes or until cupcakes appear done or a toothpick inserted in the center comes out with moist crumbs.
Makes 12
To make the frosting, melt the bittersweet chocolate and set it aside to cool to lukewarm. Beat the butter with an electric mixer until fluffy. Beat in the powdered sugar, salt and vanilla. Stir in the melted chocolate and the sour cream.
Related posts: