Fitting 50 good recipes into 5×7 inch magazine supplement can't be easy, but Food Network Magazine managed to do it with December's "50 Holiday Cookies".
Using the one-dough-50-variations trick is one way to get the job done, but they went the extra mile by piggybacking off five different "families" of dough – Sugar Cookies, Chocolate Chip, Chocolate, Shortbread and "More Favorites".
After scanning the recipes, I was impressed with the creativity of the ideas. Along with the traditional cookies like Rugalach, Windowpanes and Linzers, they have things like Lemon Volcanoes, Petit Fours Rice Krispie Treats, and Chocolate Malteds. And while each cookie starts with one of the base doughs, they managed to edit the recipes so that the end result is a completely different cookie with a unique flavor. Or at least that's the impression I got from today's recipe.
This recipe from the "Shortbread" family caught my attention because it had hazelnuts and I had some on hand. You make the bars with the base shortbread dough (minus a cup of flour), plus ground oats, hazelnuts and jam. The results were terrific and I would definitely make these again for an event since they tasted so good and looked so pretty.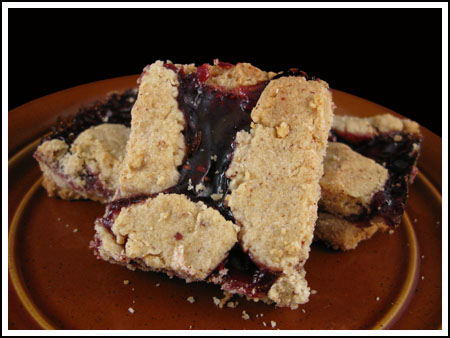 My tiny complaint about the supplement is that they didn't specify "salted or unsalted" when referring to the butter. No big deal, though. You could probably go either way. I used salted for this recipe because I almost always use salted if a recipe doesn't say otherwise, but unsalted would have been fine too.
Hazelnut Linzer Bars
1 cup butter (2 sticks/8oz)
¼ cup granulated sugar
½ cup powdered sugar
1 teaspoon salt
1 cup all purpose flour
1 cup ground oats
1 cup ground hazelnuts, divided use**
2/3 cup raspberry preserves (approximately)
Don't preheat oven quite yet. Line an 8 inch square pan with non-stick foil or just butter it. Lining it with foil made the bars easier to lift and cut.
Beat the butter, both sugars and salt together in a mixing bowl. Add flour and stir gently until partially blended, then add the oats and 3/4 cup of the hazelnuts and stir to make a thick dough. Take out about 1/3 of the dough and mix with another 1/4 cup hazelnuts. Shape this portion of the dough into tablespoon size balls, flatten them a little and put them in the freezer for 30 minutes. Meanwhile, press the remaining mixture into pan.
Spread raspberry preserves over the dough. Arrange the frozen dough bits over the preserves. Bake on center rack at 350 F. for 50 minutes.
**I toasted mine and removed the skins move using.
Makes 16 (or 24) — Depends on how big you cut them
Related posts: