Like most of 2020, cherry season was a little disappointing and I didn't buy enough fresh cherries to freeze for a later date. Well, to be honest I rarely do that anyway. If cherries are fresh, we eat them right away. And if we want cherry pie out of season (which is often), we use Morello cherries or buy frozen dark sweet cherries.
Yesterday I wanted to make a Morello cherry pie, but neither Trader Joe's nor Aldi had the Morello cherries. Hopefully this is a temporary situation and Morello cherries will be back. At any rate, I switched gears and bought frozen cherries. It wasn't as easy as that, though. There must have been a run on frozen cherries because two out of three stores were out and the last store only had one 12 oz bag. So that's how I ended up using 12 oz of cherries and 12 oz of mixed berries for Frozen Cherry Berry Pie.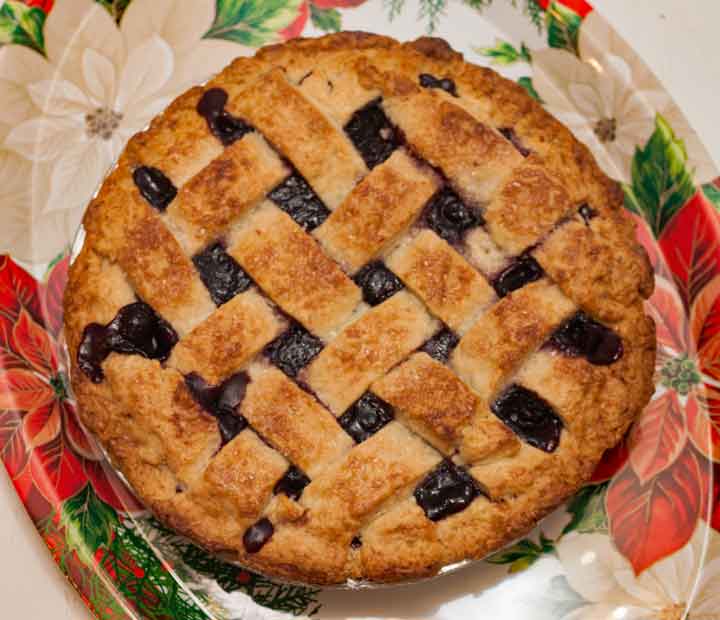 Maybe it was the berry mix (which was strawberries, blueberries and blackberries) or maybe it was the blend of cinnamon, lemon, salt, almond extract and butter. None of the ingredients were particularly unique for this kind of pie, but they came together really well and the pie had such a great flavor. Plus it held together well!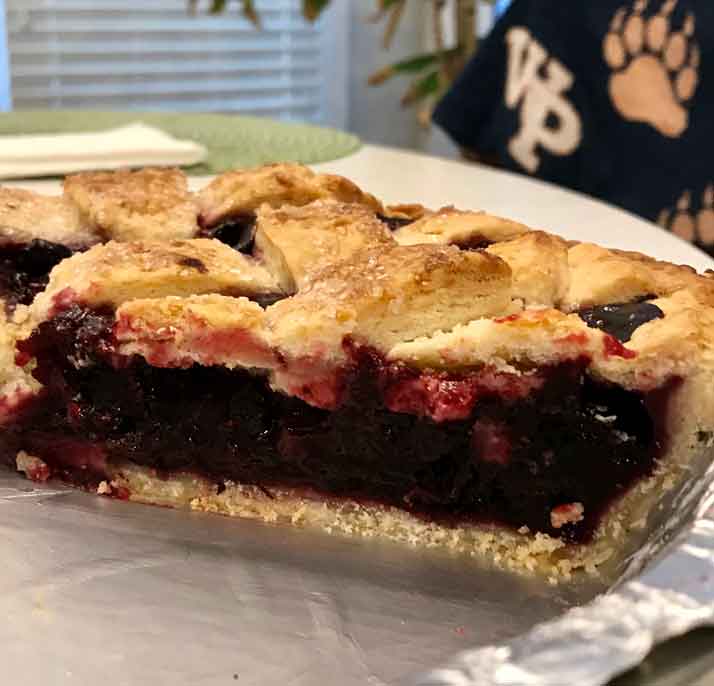 Thickening the Frozen Cherry Berry Pie
Cornstarch is the main thickener for this pie, which should not be runny. Unlike some recipes where you just toss the fruit with cornstarch, with this pie you thaw the fruit in saucepan, add the cornstarch/sugar mixture and cook over the stove until thick. The filling goes in thick and stays thick.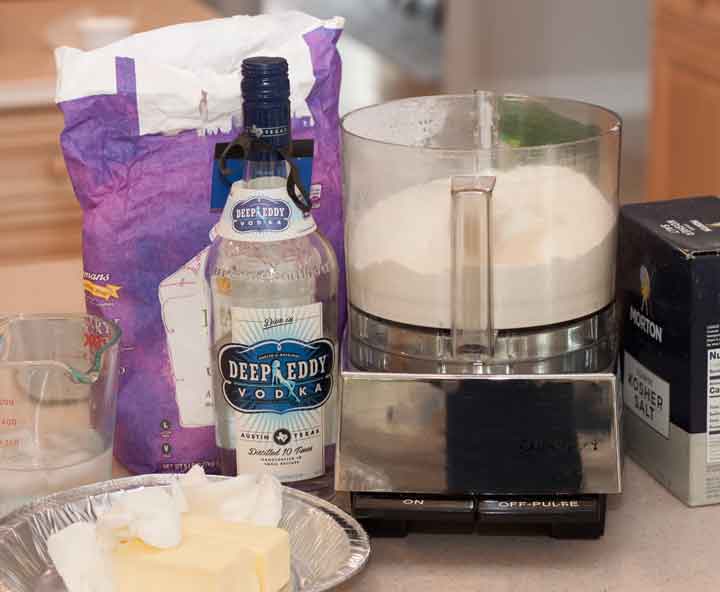 Recipe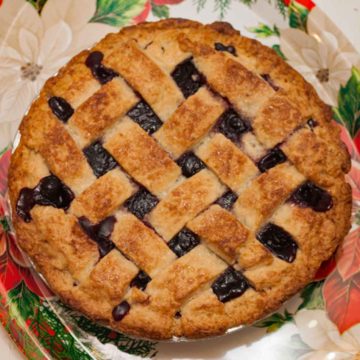 Frozen Cherry Berry Pie
A scratch cherry pie made with frozen cherries and mixed berries.
Ingredients 
Crust:
15

oz

pie dough or a pack of two roll and bake crusts

Or homemade recipe in the notes
Filling:
12

oz

dark sweet frozen pitted cherries

12

oz

mixed berries

(Strawberries, blackberries and blueberries)

¾

cup

plus 2 T. granulated sugar (See note)

(180 grams)

¼

cup

cornstarch

(32 grams)

⅛

teaspoon

salt

⅛

teaspoon

cinnamon

1 ½

tablespoons

fresh lemon juice

¼

teaspoon

almond extract

1 ½

tablespoons

unsalted butter

(22 grams)

2

tablespoons

heavy cream

1

tablespoon

sparkling sugar
Instructions 
Preheat oven to 425 degrees F.

Put the fruit in a 3 ½ quart saucepan. Heat over medium, stirring often, until fruit has released its juice and is completely thawed. Meanwhile, mix together the sugar, cornstarch, salt and cinnamon.

Pour the sugar mixture into the pan with the fruit and stir over medium heat until mixture becomes thick and translucent. Turn off heat and stir in the lemon juice, almond extract and butter. Set aside and let cool while you prepare the crust.

Line a shallow 9 inch round pan with a circle of pie dough.

Pour the berry filling into the lined pan.

Unroll the top crust and lay over the pie. Pinch bottom and top crust together to seal. Make two cuts in the top of the pie for steam to escape. Brush top crust generously with heavy cream and sprinkle with coarse sugar.

Place pie on rimmed baking sheet and bake for 20 minutes at 425 F.

Reduce oven temperature to 375°F. Bake pie until filling is bubbling and crust is golden brown, covering edges with foil collar if browning too quickly, about 25 to 30 minutes longer. Transfer pie to rack and cool completely.
Notes
Sweetness Level:  I use 180 grams of sugar for this pie which is a little bit under a cup.  If measuring by volume, use ¾ cup plus 2 tablespoons rather than a full cup. 
Vodka Pie Dough
2 ½ cups all-purpose flour (12.5 ounces)
1 teaspoon salt
2 tablespoons sugar
12 tablespoons cold unsalted butter, cut into chunks (6 ounces)
8 tablespoons cold shortening, chunks (3.4 ounces)
¼ cup cold water
¼ cup cold vodka
Put 1 ½ cups of the flour, salt and sugar in a food processor and pulse until mixed.
Add the butter and shortening and pulse until mixture is clumpy, then scrape side of the processor and add the remaining cup of flour and pulse until coarse.  Empty mixture into a bowl and sprinkle on the vodka and water.  Stir until it all comes together, then empty onto a mat and press into a slab. 
Fold it over on itself into thirds.  Repeat twice.  Shape into two rounds; wrap tightly in plastic and chill for several hours or overnight. When ready to make the pie, let the dough come to room temperature.
Roll half into a 12 inch circle and use to line the pie dish.  Use the other half to make a lattice or just lay it over the top.