I was introduced to Upside Down Apple Pie about 6 years ago, and it was kind of a revelation! It's almost better than regular apple pie because of the buttery, brown sugar & nut topping.  And then there's the fact it's made with ready-to-bake rolled store bought pie dough, which makes it so easy! Believe me when I say this recipe elevates the convenience product. So I'm all for scratch pie dough, but if you're looking for a way to use store bought, this is it. You can make a full size version or a scaled down six inch Upside Down Apple Pie.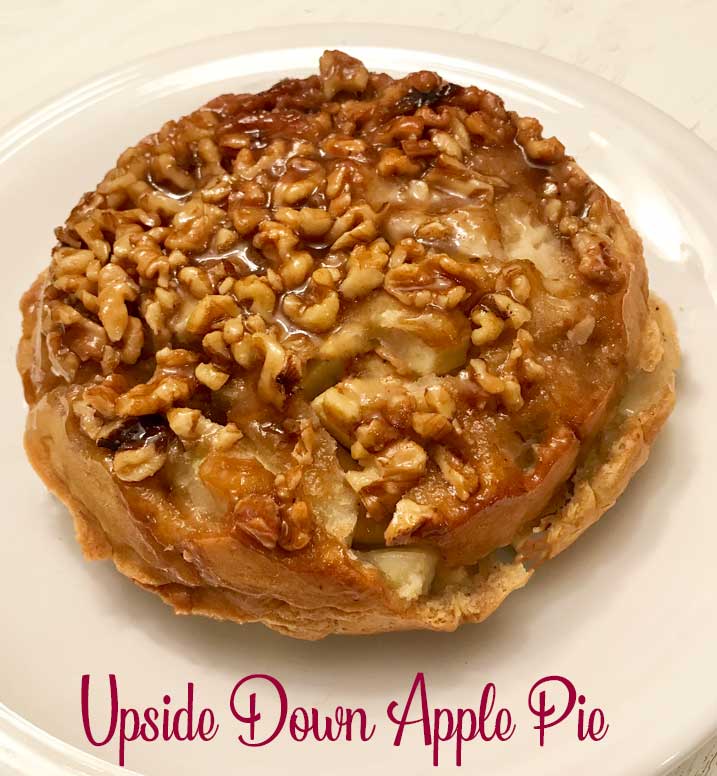 Six Inch Upside Down Apple Pie
The usual recipe for Upside Down Apple Pie makes a 9 inch pie and calls for two rolls of pie dough. To make it, you put butter, brown sugar and nuts in the bottom of a 9 inch pie dish.  You then lay a pie crust over the nuts, fill with an apple mixture, cover with a second crust and crimp edges.  Once baked, you flip from the pan onto a plate so that the top crust becomes the bottom. This eliminates all possibility of a soggy crust, and the nuts are on top.  My new version uses a similar technique, but calls for just one roll of dough and a 6-inch pie dish.
Shaping the Circle of Pie Dough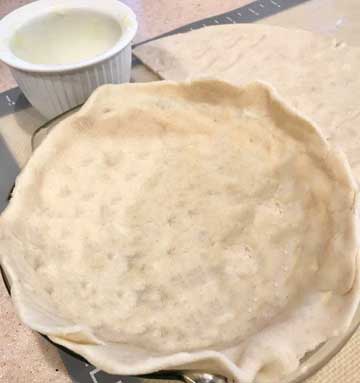 For the full batch you use two full circles of pie dough, but in this case you are cutting one big circle in half to make two semicircles and using the semicircles for a top and bottom crust. This involves trimming and patching to make two circles. You lay one semicircle over the buttered, nut filled pie dish, then just trim long edges and pinch the trimmings onto the areas where needed to make a regular circle with a rim for holding the apples.  Something like what's pictured, but maybe a neater circle! I was trying not to overhandle the dough and did minimal patching, but I think with store bought dough it probably doesn't matter. The nuts are underneath the crust and the apple filling goes right in the middle.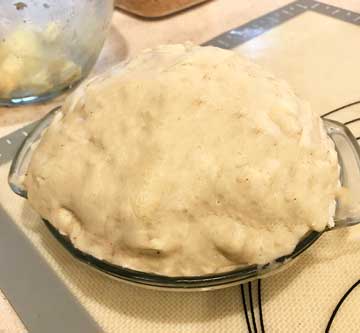 You then take the second semicircle of dough, lay it over the apples and do more trimming and patching.  At this point it just looks like a regular apple pie, but those nuts are hidden on the bottom so there's no turning back! Luckily this pie flips out perfectly, and if you've pinched the edges together the apples should be hiding inside.  If there's a little tear you can cover it with nuts.
It's fun calling everyone to the kitchen when it's time to turn it out of the pan. I can't promise that it will slice as neatly as the slice below while warm, but the refrigerated leftovers (if you have them) will. Plan on having some for breakfast.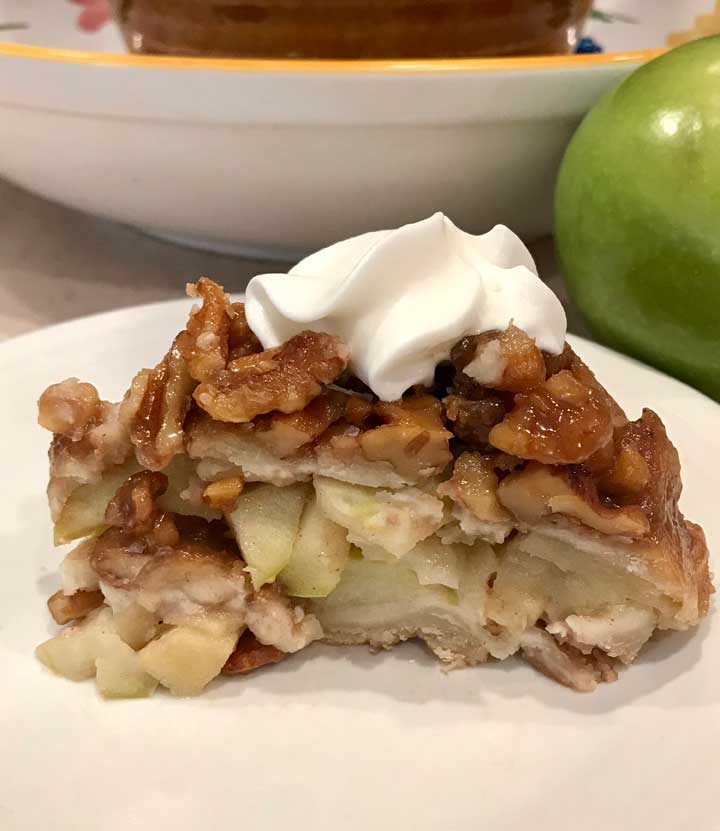 Recipe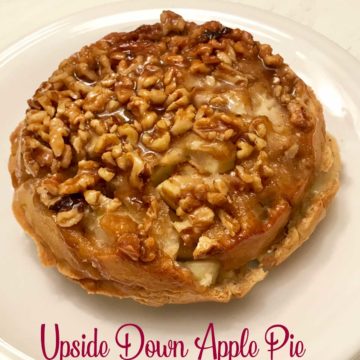 Upside Down Apple Pie with Store Bought Dough
A favorite dessert scaled down and baked in a 6 inch pie dish.
Ingredients 
½

cup

chopped pecans or walnuts

¼

cup

packed brown sugar

3

tablespoons

butter

melted plus about 1 tablespoon for greasing dish

½

box

ready to bake pie crusts

1 crust

2

medium

Granny Smith apples

about 10 oz peeled, cut into 1-inch chunks

1

large

red apple, Fuji or Jonathan

about 6 oz, peeled, cut into 1-inch chunks

2

tablespoons

granulated sugar

1

tablespoon

all-purpose flour

½

teaspoon

ground cinnamon

¼

teaspoon

ground nutmeg
Instructions 
Preheat oven to 375 degrees F. Meanwhile, unroll the dough and let the dough sit at room temperature for about 20 minutes.

Brush a 6 inch pie dish generously with about a tablespoon of the butter. .

Mix together the nuts, brown sugar and 3 tablespoons of melted butter and spread over the bottom of the dish, pressing tightly.

Roll out the dough so it's just slightly larger and cut in half to make two semicircles. Drape a semicircle of dough over the pie dish with the nuts. Since you will be working with a half circle rather than a circle, you'll need to trim the areas with the most overhang and press the pieces you've trimmed around the edges

Mix together the apples, sugar, flour, cinnamon and nutmeg and press mixture as tightly as you can into the dough lined pan. You may not use it all. Just press as tightly and fit as much as possible.

Lay the remaining pie dough over the apples, then trim with scissors and put trimmings over, pressing to seal, all of the exposed apples so that you have a big dome of dough covered apples.

Bake at 375 for 50 minutes, covering edges with foil if you need to. Let stand 10 minutes after baking.

To serve, carefully flip onto a serving plate. Scrape out any nuts that are sticking on top and pile them on the pie, patching any torn areas.