Inspiration for this Peach Galette came from Sonya, who helped me get off a crazy chocolate chip cookie baking streak (I'm trying to make ones like Wegman's) by recommending some recipes. One of her recommendations was this one from The King Arthur Whole Grain Baking Book. It's a galette with made with what KA calls Whole Grain Blitz Puff Pastry, a filling of fresh peaches and an oatmeal streusel which sits under the peaches and absorbs the liquid from the peaches. I made it once and loved it so much I made it again in a slightly different way.
Jump to Recipe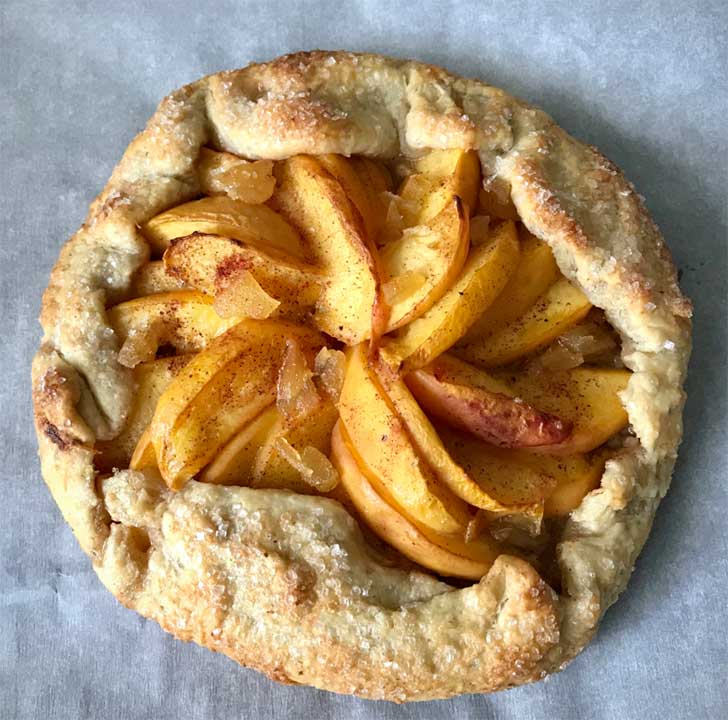 Whole Grain Blitz Puff Pastry.
The crust is called Whole Grain Blitz Puff Pastry. Don't be intimidated by the words puff pastry. It's not a true puff pastry, but rather an extra flaky pie dough made in a stand mixer. It's called puff pastry because you use large chunks of butter and do a series of folds to get the texture of a laminated dough. But really, it's just a pie dough with oat flour in it. The oat flour is worth using! It adds flavor and sweetness and makes the galette more interesting. That said, if you want to skip the oat flour you can use the regular Blitz Puff Pastry recipe from King Arthur or any galette dough.
Peach Galette Filling and Streusel
The filling is fresh peaches which sit on a bed of streusel which soaks up the juices as the galette bakes. With the streusel on board, you don't really have to worry about the galette leaking because it does a great job taking in the juice. The streusel adds kind of an unusual oatmeal-y texture. Be sure to use old fashioned oats. I made my first galette with quick oats and while the oat mixture was good, the texture was better with old fashioned. And as an FYI, you may have streusel leftover.
Assembling The Galette
A nice thing about this recipe is that you don't have to slice the peaches perfect or have a talent for arranging fruit. Thanks goodness. My peach slices were in various stages of ripeness and overall, kind of a mess, but the galette was still presentable. My second round (a smaller galette) was pretty. Here's what it looked like before going in the oven. I threw a little crystallized ginger in with the peaches.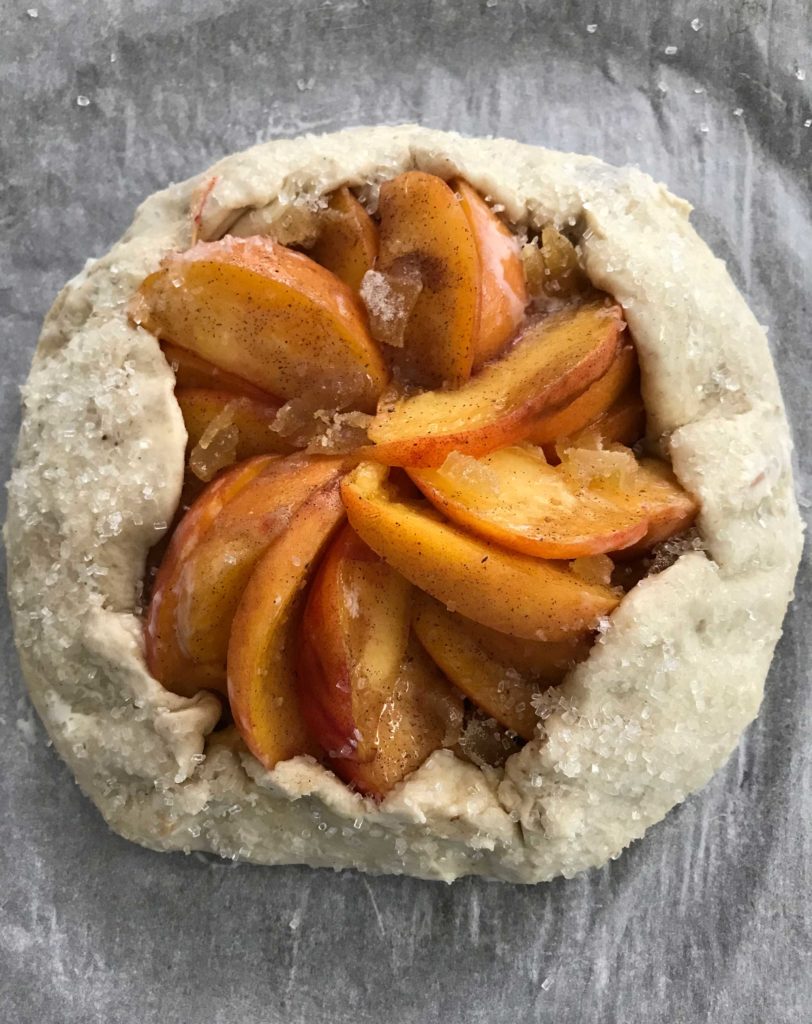 Smaller Version
I had so much fun making the large Peach Galette that I made the recipe again. For the second galette, I used half the amount of Blitz Puff Pastry and half the amount of filling for a smaller size galette. The photos are of the smaller size. The larger one looks pretty much the same, just bigger. Honestly, the smaller size tart was much more practical for us, though it could easily serve 4 or maybe 6. So if you don't need a giant galette, make the full amount of dough below and use half. You can then halve the filling.
Recipe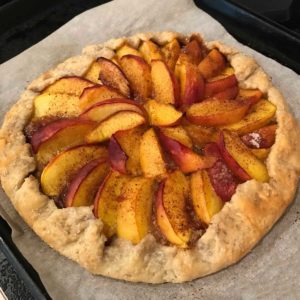 Peach Galette
An easy peach galette made with an extra flaky dough.
Ingredients 
Blitz Puff Pastry Dough
½

cup

oat flour -- you can make this by buzzing oats in a coffee grinder

(45 grams)

1 ¼

cups

all-purpose flour or pastry flour

(150 grams)

1 ½

sticks

unsalted butter

(170 grams)

¾

teaspoon

salt

½

cup

ice water
Peach Filling
1 ½

pounds

fresh peaches or nectarines

1

tablespoon

fresh lemon juice

¼

cup

granulated sugar

(50 grams)

½

teaspoon

cinnamon

⅛

teaspoon

nutmeg
Oat Streusel
6

tablespoons

unsalted butter, softened

(84 grams)

½

cup

light or dark brown sugar, packed

(100 grams)

¼

teaspoon

salt

1

teaspoon

cinnamon

⅛

teaspoon

ground nutmeg

½

cup

whole wheat pastry flour or white whole wheat flour

(50 grams) -- weigh for best results

1

cup

oats, rolled or "old fashioned" type

cream and coarse sugar for garnishing

optional
Instructions 
Combine the oat flour and flour in a stand mixer bowl. Add the small chunks of butter. Using the paddle attachment of the stand mixer, mix on low speed until the mixture forms large clumps. Mix together salt and water and add to the crumbly mixture, stirring on low speed until it comes together in a shaggy mass.

Put some flour on a pastry mat and transfer the dough to the floured surface. Shape into a 5x8 inch rectangle. Dust with flour, then wrap in plastic and chill for at least an hour (preferably longer). When ready to use, place on a floured mat and let sit so that it's still cool but not so cold that it's difficult to roll.

On a floured pastry mat, roll into a rectangle around 6x12 -- doesn't have to be exact.

Fold the bottom third up to the center and the top third down over it. Dust with flour. Turn so that the short sides is facing you, then repeat the folding procedure three more times, rolling into a large rectangle, folding and turning By the time you finish most of the butter should be absorbed, while some of it should still be cold and show up as flecks. Wrap and chill for at least an hour until ready to use.

Make the streusel while the dough is chilling.

Prepare the streusel by stirring together the butter, sugar, cinnamon, salt and nutmeg in a medium bowl until combined. Stir in the flour until mixture is evenly moistened, then stir in the oats to make a crumbly mixture. Refrigerate until it's time to assemble the galette.

Let dough sit at room temperature for about 20 minutes or until it's not so cold you can't roll it easily. It should still be kind of cool. On a floured pastry mat, roll the dough into a 13 inch circle. Transfer to a 13x18 inch rimmed baking sheet lined with parchment paper. The dough will go over the edges a bit, but it will get folded inward. Note: If you are making the small version, use half the dough and roll into a 10 inch circle. Carefully transfer your dough circle to a big piece of parchment, then put the parchment and dough in the refrigerator to keep it cold while you slice the peaches.

Preheat oven to 400 degrees F.

Slice the peaches and toss with the lemon juice. If you are worried about mashing up your neat slices, squeeze the lemon juice onto a dinner plate and lay the slices in the lemon juice. Combine the sugar, cinnamon and nutmeg in a small bowl or cup and set aside.

Assemble the galette. Crumble the streusel over the dough circle, sprinkling it to an even thickness and leaving a 2 inch border of bare dough. As mentioned, you'll have a lot leftover. Starting at the outer edge of the streusel, arrange the fruit slices in concentric circles. Sprinkle the sugar mixture over the peaches, then fold the edges of the dough up and over the filling, pressing neatly to contain the peaches. Brush the sides of the galette with cream (or whole milk) and garnish with coarse sugar.

Bake for 35 to 40 minutes (it might take up to 45 if peaches are very juicy) until pastry is golden brown, juices are bubbling and the sugar on the fruit has caramelized. Remove from oven and let cool on a rack for 20 minutes before serving.
Notes
To make smaller Peach Galette, use half of the dough and save the rest.  Use half the amount of streusel and about half the amount of peaches.  Bake time stays the same.