Cardamom Plum Galette is a recipe from Fuzz, who is doing a summer term in college and majoring in Pie! Well, maybe not, but she's been baking some interesting things. She came up with this recipe when she couldn't find peaches, oats or pastry flour to make the Peach Galette. Luckily she was able to acquire plums and strangely enough, had cardamom. She sent me a picture of her mini plum pie creation, and I liked it so much I turned it into a galette.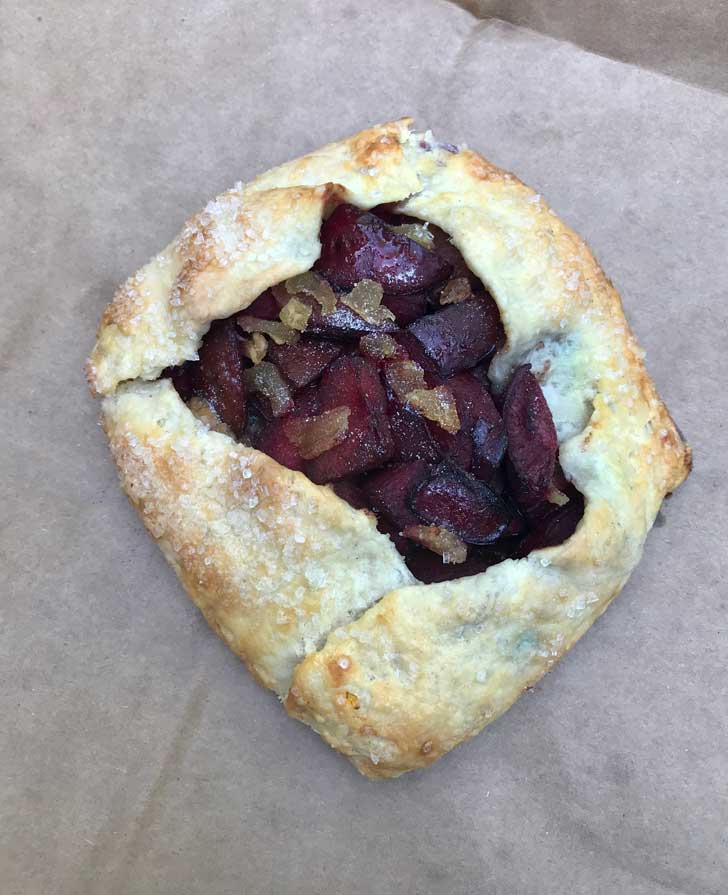 Fuzz's original recipe was a mini plum pie, so I turned it into what might be classifed as a small galette. It's not exactly "mini". I'd say it will serve 3 to 4, but wouldn't be too much for 2, either. This version has a high ratio of dough to fruit, so you may want to pile on even more fruit.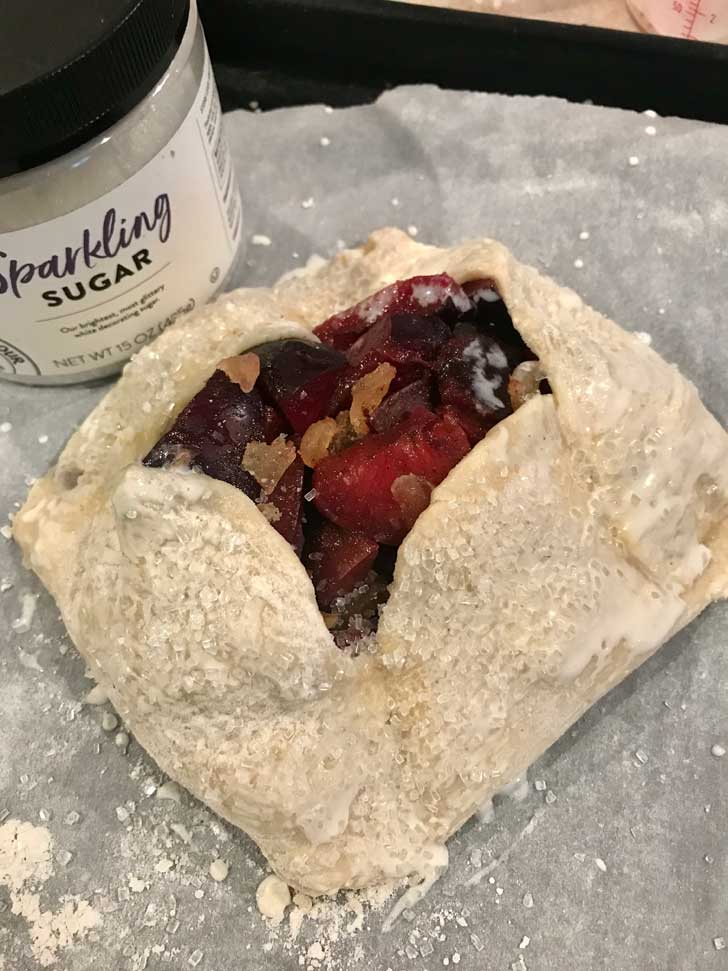 Cardamom Plum Galette Notes
Crust -- Cardamom Plum Galette calls for (6.5 oz/182 grams) of pie dough. This is about half the amount you'd use for a 1 crust pie. I've included the recipe for Fuzz's favorite pie dough, which is one with baking powder.
Plums -- I started out with a over a half pound, but after pitting, chopping and sampling for quality control, the weight was 6.2 oz/173 grams and the volume was about 1 ¼ cups. You can use a little more or a little less as needed.
Cardamom and Cinnamon -- I'm just now learning to appreciate cardamom and was fine with ½ teaspoon each. My daughter used a little over ¾ teaspoon of each spice.
Sugar -- I used 1 teaspoon regular sugar for the base, and coarse sugar to garnish the outside of the pie. The coarse sugar adds sweetness, but also some crunch. If you don't have the fancy sugar, Turbinado sugar would work.
Honey -- ½ tablespoon seemed to be plenty, but Fuzz used a full tablespoon.
Walnuts -- No need to toast! The nuts, along with the sugar and flour, help soak up some of the juices, so I think they're important to the galette. I might try without them.
Crystallized Ginger -- I have some in my spice drawer and I use it whenever I get the chance. This was a VERY good use for it. It is completely optional, but plums sure love ginger. I just scattered big chunks over the plums before baking.
Pepper -- A last minute addition. It's optional, but it's something that also goes well with plums.
Recipe
Cardamom Plum Galette
Emma originally made this in a pie tin, so you can use a pie tin or shape it free form (as I did) on a parchment lined baking sheet.
Ingredients 
Basic Pie Crust for One Crust Pie
1 ⅓

cups

all-purpose flour

(170 grams)

¼

teaspoon

salt plus a pinch (only a pinch if using salted butter)

⅛

teaspoon

baking powder

1 ½

teaspoons

sugar (optional)

8

tablespoons

unsalted butter, cold and cut into half inch chunks

(114 grams)

1 ½

teaspoons

vinegar

¼

cup

ice water
Cardamom Plum Filling
1

teaspoon

all-purpose

1

teaspoon

sugar

¼

cup

untoasted walnuts, chopped fine

1 ¼

cups

roughly chopped plums

(180 grams after pitting, chopping, etc.)

½ to 1

tablespoon

honey

(10-20 grams)

½

teaspoon

cardamom

½

teaspoon

cinnamon

Crystallized ginger, as much as you like

(optional but great!)

black pepper

(optional)

Coarse Sugar for brushing along with some cream

(optional)
Instructions 
To make the crust, mix together the flour, salt, baking powder and sugar. Put this mixture in the bowl of a food processor or a large mixing bowl.

Add half of the butter to the food processor and pulse until mixture is coarse. Add remaining butter and process until slightly less coarse and with more big (pea size) chunks of butter. If you are not using the processor, work it in with your fingers or a pastry cutter or grate it in with a flat grater (in which case you do not cut it into chunks).

Add the vinegar and pulse or just mix. Add ¼ cup of the ice water and pulse processor or stir until mixture holds together when you pinch it. Dump it on a pastry mat and shape into a ball, then press down slightly to make a disk. Wrap in plastic and chill for at least an hour.

Preheat oven to 375 degrees F. Line a rimmed baking sheet with parchment paper.

Roll pie dough into a 9 inch "circle". Place it on a sheet of parchment and keep the circle in the refrigerator until you are ready to assemble.

Combine the teaspoon of sugar with the flour and walnuts. Sprinkle the walnut mixture into the center of your dough circle, leaving a bare border of around 2 inches.

Toss the chopped plums with cardamom and cinnamon. Drizzle honey over the spiced fruit. At this point you can sprinkle on some crystallized ginger if you have it.

Fold the bare border of the dough up and over some of the fruit to contain it, leaving the middle open. the crust, sprinkle top with brown sugar (I did not do this) and whole, untoasted walnuts. Brush pastry w/ wash of your choice (I use heavy cream) and add sparkling sugar.

Bake on the rimmed baking sheet at 375 for the first 20 minutes, then dial back the heat to about 350 and continue baking for another 15 to 20 minutes.
Notes
For the honey, my daughter used 1 tablespoon and I used ½.  I liked it with ½, but if you want your dessert sweeter 1 full tablespoon is definitely not too much.