Today's pie was courtesy of C&H sugar who sent an email with an offer I couldn't refuse – "Try a recipe from our website and we'll send a gift card to cover ingredients." I was so happy I went straight to C&H Recipe Collection and picked the first recipe that sounded good — Bake Sale Betty's Pecan Pie. How could a buy by "Bake Sale Betty" be anything less than spectacular?
I bought the ingredients last night and made the pie today. It was good, maybe great as far as flavors go. It had a lot of depth from the combination of dark corn syrup, brown sugar and vanilla, and since the recipe has less sugar than others, it wasn't cloying sweet.
Thanks C&H and Bake Sale Betty for the recipe. Now I hope you won't mind that I changed it some.
1. First off, the pecans needed toasting. Toast them for about 8 minutes at 400 before proceeding with the recipe. I'm scared to make pecan pie without toasting the nuts. I've been doing it since I was 14.
2. Whoops! Betty forgot to say how much vanilla to use. I used a full teaspoon. I like Betty more now that I know she's not perfect.
3. Betty's oven must be really slow because a bake time of 425 for 20 minutes plus 350 for another hour is ridiculous. I baked the pie at 425 for 10 minutes and at 325 for 35. It was shaky when I took it out of the oven and set up perfectly when cool.
Here are some photos of the pie. If you're still looking for one for Thanksgiving, it's a winner. And now, after all this talk about Betty, I'm off to watch Ugly Betty. Have a good weekend.
RECIPE HERE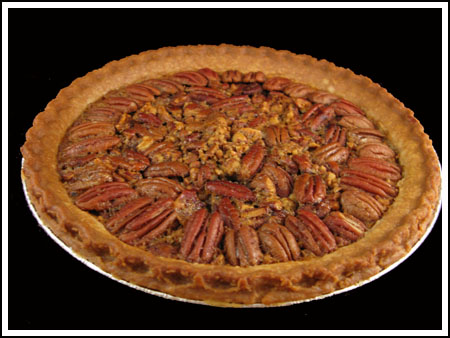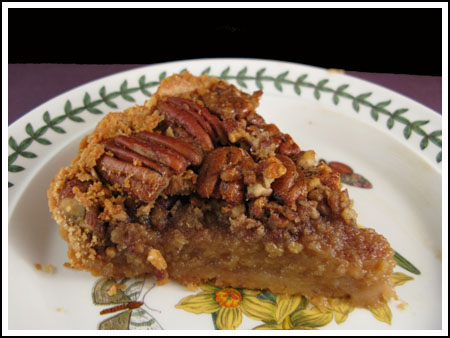 Related posts: