If you love pecan pie but find it a little too sweet, here's a less sweet pecan pie made with sour cream. The sour cream does not make the filling creamy, but rather curbs the sweetness.  Plus the recipe has less sugar than most, so that helps too.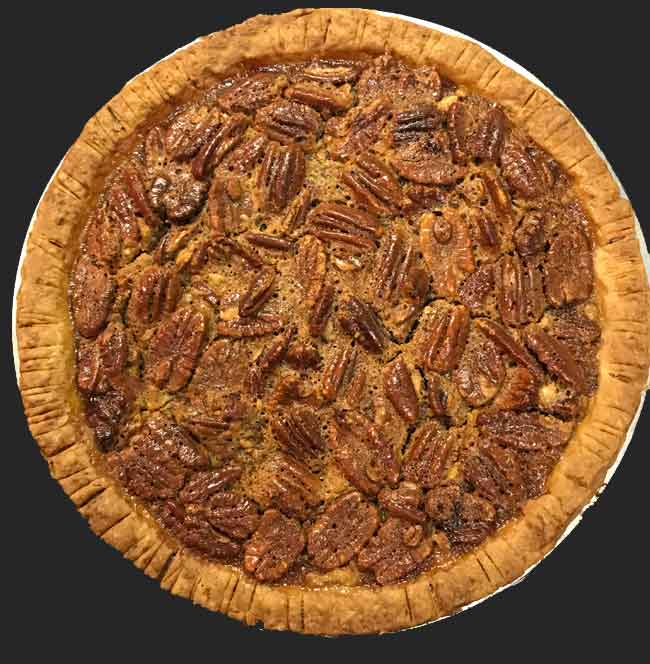 I really like this pie. It's not runny, but the filling is softer and less stiff, so it squishes down a little when you cut it. It's not necessarily a bad thing, but if you want a really stiff pecan pie this is not it. Here's a texture shot of the pie right out of the refrigerator.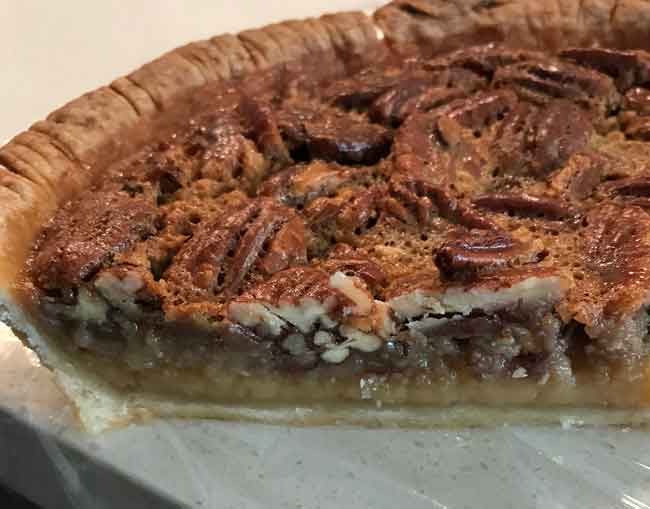 And here's another shot of the pie after being frozen and then cut. It's interesting how freezing pecan pies smooths out the filling.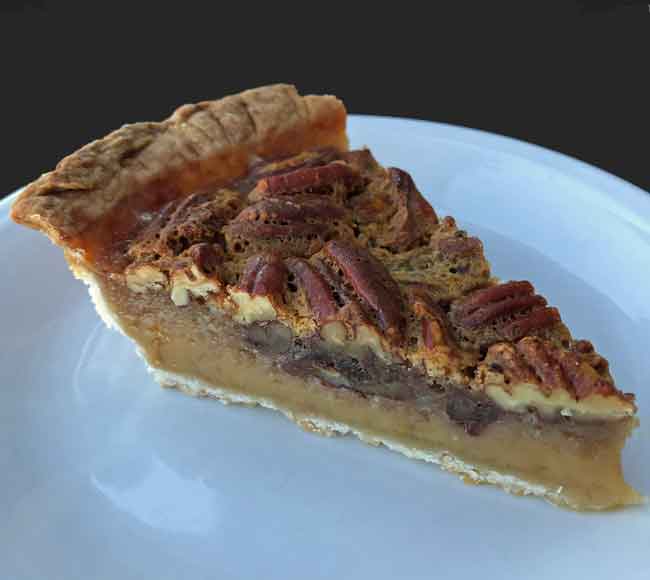 If you want to give the pie a try, here are some notes on what I used for this one.
Pie Pan
I've always baked pies in glass pie dishes, but for the past year I've been using disposable aluminum pie tins bought in bulk of Amazon or $1 pie tins from Dollar Tree. The smaller pies aren't as flashy, but they're easier to serve, they travel well and you can give them away!
Sour Cream Crust
You can certainly use a frozen or refrigerated pie crust, but this homemade crust has sour cream in it and goes well with the filling.  You can buzz it up quickly in a food processor or make it by hand.  In my opinion making it by hand and just using a flat, coarse grater to shred the butter into the flour is easier than cleaning out the food processor. This dough does brown quickly.
Partially Baking Pecan Pie Crust
I've never blind baked or partially baked pie crust for pecan pie, but for this recipe I tested once with a partially baked crust and once with an unbaked. Partially baking the crust made the bottom stiffer, but the edges browned a bit too quickly.  I made the pie again without partially baking the crust and felt it was just fine (though I still needed to shield the edges).
Pecan Pie Filling
Toasted Pecans —  I like the texture of pecan halves rather than chopped pecans, so I dump in the halves without chopping. Toasting seems to improve the flavor and texture of the pecans in the pie, so I throw them in the oven as soon as it preheats and let them bake for a quick 6 to 8 minutes or so. Feel free to toast them at a lower heat or do it over the stove if you prefer. The pecans in the filling should be toasted, but if you choose to decorate the top with more pecans, use un-toasted pecans for the decorative top layer
Eggs — Large, and brought to room temperature so that they blend easier with the sour cream and butter
Sugar — You only need 1/2 cup granulated
Corn syrup — Dark for a little more flavor, but you can use light
Sour Cream — Curbs sweetness, softens filling and rounds out flavor
Butter — Curbs the sweetness, adds smoothness to the filling and adds flavor
Salt & Vanilla — Salt counteracts the sweetness and vanilla adds more flavor
Other Good Pecan Pies
If you've read all this and have decided that using sour cream in pie is not for you, here's a similar recipe called Mom's Pecan Pie that is also less sweet.
Less Sweet Pecan Pie
Sour cream and less sugar make for a not-too-sweet pecan pie.
Ingredients
9 inch pie shell***

1

cup

all-purpose flour

140 grams

2

teaspoons

sugar

1/4

teaspoon

salt

6

tablespoons

unsalted butter, cold

85 grams

1/4

cup

sour cream

60 grams

Filling

1 2/3

cups

pecan halves

3

large eggs

room temperature

1/2

cup

sugar

1

cup

dark corn syrup

1/4

cup

sour cream

room temperature

2

tablespoons

butter

melted

1/4

teaspoon

salt

1 3/4

teaspoons

vanilla extract
Instructions
In a large bowl, mix the flour with the sugar and salt.

Using a cold 8T. stick of butter (you'll only use 6 of the 8T), shred about a quarter of the stick into the flour and toss, coating the butter with flour. Continue shredding and tossing after each quarter until you are left with 2 tablespoons. Mix with a fork to distribute butter evenly. Add sour cream and stir with a heavy duty scraper until well blended. Mixture should be moist enough so that when you pinch it, it holds together, but it will probably still seem dry.

Press it together the best you can with back of a scraper or your hands, then dump mixture onto a pastry mat and press it together. Squish it together, fold it over on itself and press down until its cohesive. Shape into a 6 inch disk, wrap in plastic and chill.

Remove dough from the refrigerator and let it stand for about 10 minutes so that it's not so stiff. On a floured surface, roll the dough into a circle big enough to cover a 9 inch pie pan. Line the pan with the dough and put the lined pan in the freezer until ready to use.

Preheat the oven to 400 degrees. Lay the pecan halves on a rimmed baking sheet and toast for about 7 minutes or just until they are aromatic.

Whisk the eggs, sugar and corn syrup together in a bowl, then whisk in the sour cream, melted butter, vanilla and salt. Add toasted pecan halves.

Pour mixture into the pie shell and set on a baking sheet.

Bake at 400 for 10 minutes, then reduce heat to 350 and bake for 35 minutes or until filling appears set. Cover the pie loosely with a sheet of foil during the last 15 minutes of baking to prevent the crust from getting too brown.

Let the pie cool completely, then chill for a few hours. Bring back to room temperature and serve. Alternatively, you can skip chilling, but the pie will be softer. You can also freeze the pie, then bring it back to room temperature before serving.
Notes
I've been baking this pie in an inexpensive metal pie pan from Dollar Tree.