In our family this is known as Mom's Pecan Pie, but I'm not sure whose mom is the namesake. My mother wrote down the recipe, but the "Mom" in this title is most likely one of my grandmothers. Wherever it came from, this was the family pie recipe for many years and probably the first one I ever made.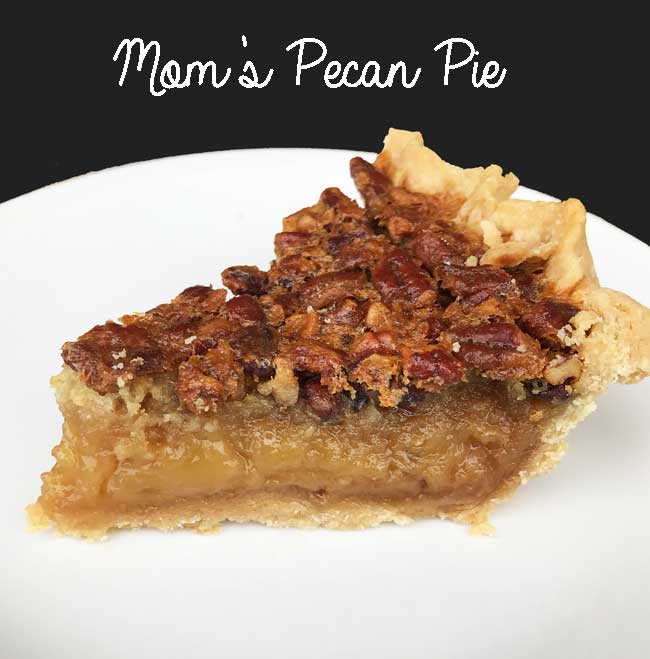 At some point I became enamored with a newer, richer pecan pie (Browned Butter Pecan Pie) and Mom's Pecan Pie got pushed aside.  But  I'm older and my tastes must be changing because of the two, I now prefer Mom's Pecan Pie.  It's less sweet, not at all runny, and it's easy to serve because it slices neatly.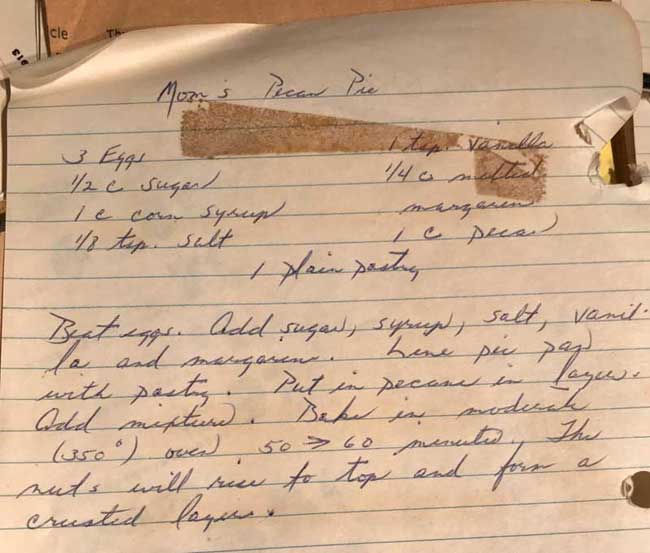 It does have a bit of the usual lumpy, egg-y texture traditional pecan pie has, but this can easily be remedied by freezing the pie before slicing.  Here's what the filling looks like after being frozen.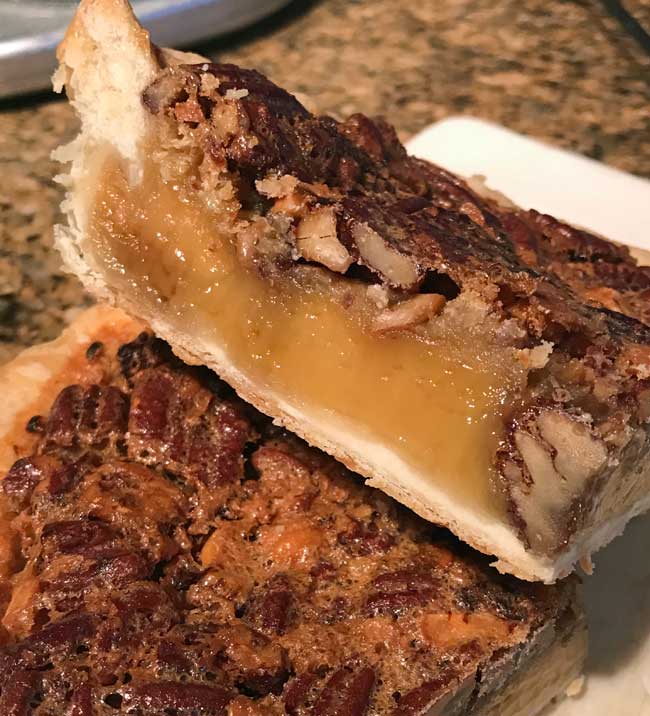 But even without the freezing it's still great. For the crust, this basic all-butter crust (unbaked) is a good one, but store bought is fine.
And finally, one last reason to like Mom's Pecan Pie is because it calls for only one cup of pecans.  This is helpful if you have a limited supply of really good pecans (like the time Todd brought me Berdoll pecans from Austin) and don't want to use them all up.  Pecans are expensive.  One thing I discovered this week while making the pie multiple times is that you can stretch your pecans by using about ⅓ roasted chopped cashews in place of ⅓ cup pecans.  The cashews are noticeable, but their flavor and texture is a good partner to the pecans.
Recipe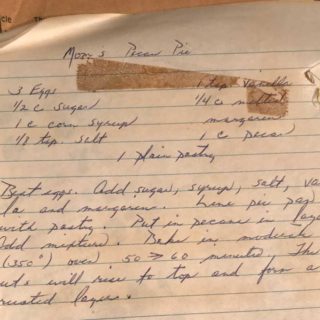 Mom's Pecan Pie
Our family's recipe for pecan pie. It's similar to the one on the Karo bottle, but with a little more butter and less sugar. I use half light and half dark corn syrup.
Ingredients 
1

9 inch unbaked pastry crust

1

cup

pecans

roasted and chopped

3

large eggs

room temperature

½

cup

granulated sugar

100 grams

1

cup

corn syrup

I use ½ light and ½ cup dark

1

teaspoon

vanilla extract

¼

cup

melted butter

can use salted or unsalted

⅛ to ¼

teaspoon

salt

use ⅛ if butter is salted, ¼ if unsalted
Instructions 
Preheat oven to 350 degrees and have ready a rimmed baking sheet.

If you haven't done so, roast your pecans by laying them on a baking sheet and baking for about 6 to 8 minutes at 350 or until they start to release their oils. Let cool, then chop.

Line a 9 inch pie dish with pastry. You can use a glass dish or a disposable 9 inch pie pan.

Spread the roasted pecans across the bottom of the pastry lined pie dish.

Whisk the eggs until the yolks are blended with the whites, then whisk in the sugar, corn syrup, vanilla, melted butter and salt.

Pour filling over pecans (they will rise to the top when the pie is baked).

Put the pie on the rimmed baking sheet and bake for 50-60 minutes or until pie appears set (though it should be slightly jiggly when you pull it from the oven).

Let cool for several hours, then cover and freeze overnight if you have time. Bring to room temperature before serving.