Over the weekend I baked three different yellow cakes. All were variations on basic 1-2-3-4 cake and of the three, my favorite was Magnolia's. But I had to move on and decided to try three more recipes which were significantly different than 1-2-3-4 cake. I chose the Cook's Illustrated Fluffy Yellow cake recipe, a recipe by Shirley Corriher and a recipe off a site called Egg Beater.
First up, the Cooks Illustrated Cake which I baked this morning. Honestly, I could just stop here. This cake was exactly what I was looking for. It was softer, tighter crumbed, lighter and better than all the 1-2-3-4 cakes. I'm not expecting the other two to be better than this, but you never know. CI just upped the ante. It also proves that reader/sometimes commenter Katy G. is always right about everything. She recommended this recipe to me months ago.
Because CI is so methodical, you might want to get the recipe from Cooks Illustrated themselves or from someone who posted the recipe without paraphrasing much. I've included 3 links that contain the recipe.(Update: The first two are now broken so I deleted them. Now there's just one).
I halved it, baked it in a 9 inch round pan and frosted it with what has become my house chocolate frosting.
Sorry the picture is not very exciting, but what can I say? It's a half cake baked in a 9 inch round pan. Maybe I'll go stack what's left of it on top of itself and make a two layer.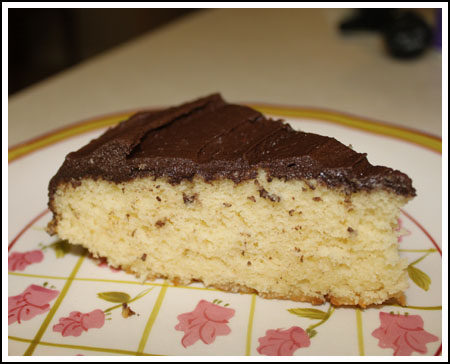 Related posts: