We don't go often, but yesterday Fuzz and I spent the entire afternoon at the mall. Fuzz needed an outfit for a piano recital, and after a few very successful hours we left the mall just before rush hour.
Now there are days when I absolutely do not feel motivated to make dinner or stop at the store for ingredients, and this was one of them. Back at home, we had marinara sauce, pasta and bagged salad. Good enough! But there was no bread, and I couldn't serve pasta and salad without bread. To avoid stopping at the store, I challenged myself to find a bread recipe I could start at 5:00 and have on the table a few minutes before 7:00. The fact I did have some fast-rising yeast on hand made it a little easier, but even fast rising yeast bread takes time, so I was really happy to find this quick recipe.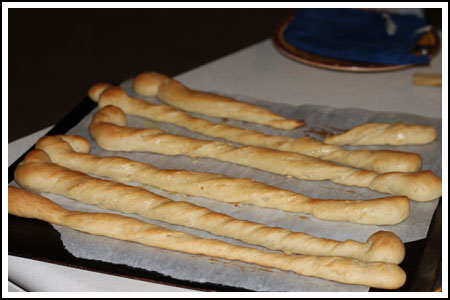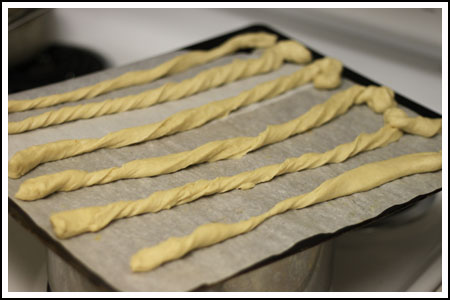 This is adapted from Recipezaar, so make sure to check the original recipe because there are lots of reviews and suggestions. Below is how I made it with fast rising yeast and all-purpose flour. I also gave it two quick 30 minute rise times.  If you make these with regular active dry yeast as opposed to the instant type, you might want to proof the yeast in the warm water and add it to the dough.
An easy recipe for breadsticks made with quick rising yeast
Ingredients
3 cups bread flour or all purpose flour (13.8 oz)
1 packet fast rising yeast (instant yeast)
3 tablespoons brown sugar
1 teaspoon salt
1 cup warm water
1/4 cup vegetable oil
optional -- 2 tablespoons melted butter mixed with a clove of crushed garlic or garlic powder
Instructions
Mix the flour, yeast, brown sugar and salt together in bowl of a stand mixer. Add the water and stir until almost blended, then add the oil and stir well. Using the dough hook (you can also do it by hand, of course), knead until smooth and elastic. With the dough hook, this is only takes a few minutes.
Rub a second bowl with olive oil. Turn dough into bowl. Cover with plastic wrap, set in a warm place and let rise for 30 minutes. Punch down dough. Roll out into a 10x12 inch rectangle. Cut into strips (I cut mine lengthwise for long bread sticks) about 3/4 inch wide. Twist the strips and place on a greased or parchment lined cookie sheet. Let rise for 20-30 minutes. Bake at 375 for 15-20 minutes. Brush with butter or garlic butter.
Notes
Not sure of the yield because I always end up making my breadsticks different sizes, but you should be able to get at least 12.
Related posts: