We don't go to the mall often, but yesterday Fuzz and I spent the entire afternoon there shopping for a piano recital outfit.  After a long and tiring search for just the right dress, we found something suitable and left the mall at rush hour.  It was late and I didn't feel like stopping for dinner ingredients, but I knew we had pasta and sauce at home, plus flour, yeast, water and oil to make soft breadsticks to go with it.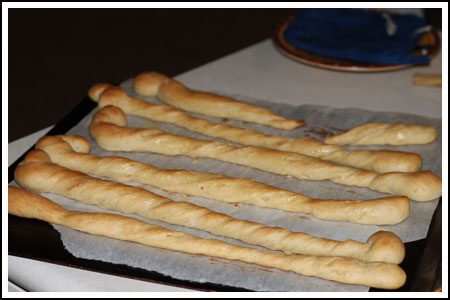 Made with fast rising (instant) yeast, these soft breadsticks can be on the table in less than two hours.  It helps to have a stand mixer, of course.  However, you could easily make these without one.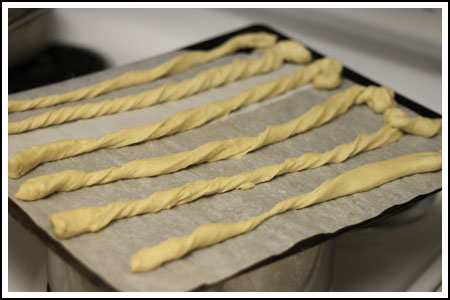 The recipe is adapted from Recipezaar, so make sure to check the original recipe because there are lots of reviews and suggestions. Below is how I made it with fast rising yeast and all-purpose flour. I also gave it two quick 30 minute rise times.  If you make these with regular active dry yeast as opposed to the instant type, you might want to proof the yeast in the warm water and add it to the dough.
Update:  I have made these several times since posting and I use all-purpose OR bread flour — whatever is on hand.  We also like to sprinkle them with Everything But the Bagel seasoning.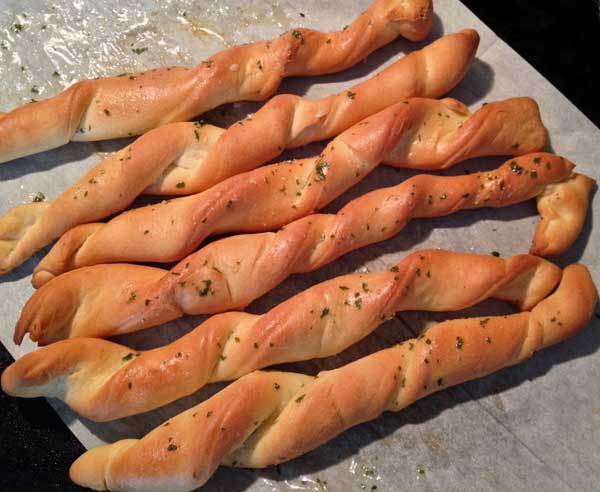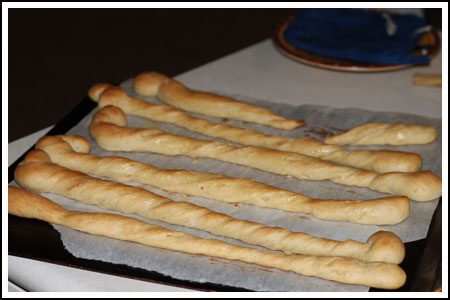 Quick Soft Breadsticks
An easy recipe for breadsticks made with quick rising yeast. If you want, you can halve the recipe. A half packet of yeast is about 1 1/8 teaspoon.
Ingredients 
3

cups

bread flour or all purpose flour

13.8 oz

1

packet fast rising yeast

instant yeast

3

tablespoons

brown sugar

1

teaspoon

salt

1

cup

warm water

1/4

cup

vegetable oil

optional — 2 tablespoons melted butter mixed with a clove of crushed garlic or garlic powder
Instructions 
Mix the flour, yeast, brown sugar and salt together in bowl of a stand mixer. Add the water and stir until almost blended, then add the oil and stir well. Using the dough hook (you can also do it by hand, of course), knead until smooth and elastic. With the dough hook, this is only takes a few minutes.

Rub a second bowl with olive oil. Turn dough into bowl. Cover with plastic wrap, set in a warm place and let rise for 30 minutes. Punch down dough. Roll out into a 10×12 inch rectangle. Cut into strips (I cut mine lengthwise for long bread sticks) about 3/4 inch wide. Twist the strips and place on a greased or parchment lined cookie sheet. Let rise for 20-30 minutes. Bake at 375 for 15-20 minutes. Brush with butter or garlic butter.
Notes
Not sure of the yield because I always end up making my breadsticks different sizes, but you should be able to get at least 12.
I posted this recipe for soft breadsticks many years ago and since then I'd probably count it as one of my all-time favorite recipes.