It's mid-afternoon here and I keep waiting for the kid below me to turn on stereo – the one with extra bass which plays thumpy, dark, ominous music designed as as background for nefarious activities. But hey, no music! We've moved. There's construction noise outside the window, but it's muted and pleasant compared to that kid's stereo. At any rate, I'm setting the scene here to say I'm enjoying coffee and what I guess you'd classify as a coffee cake in what I guess you'd also classify as quiet. I can't take a picture of the quiet, but here's a photo of the cake.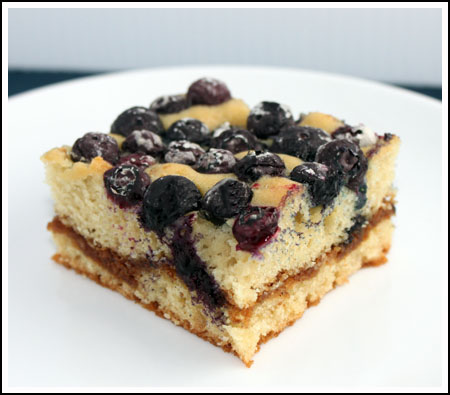 I found this brilliant little recipe from an old Bake-Off book. It was invented by Norma Broderick of Wateford Pennsylvania, and what got my attention was the picture in the old Bake-Off book. It was a cake topped with fresh blueberries and it had this dark filling running through the center. At first I thought it was a blueberry filling (the light was weird in the photo) of some sort, but as I read through the ingredients I discovered it was an interesting combination of graham cracker crumbs, brown sugar and cinnamon. I figured if I made this cake and didn't like it, it would at least be fun to look at with that ribbon of filling, but it also happens to taste great…and the texture really does remind me of a blueberry muffin in cake form.
Norma's original recipe was baked in a 13×9 inch pan, but I cut it in half and baked it in an 8 inch square pan. This recipe was so fun! I think it would work well with other types of fruit as well.
Blueberry Muffin Squares
A blueberry coffee cake with a cinnamon filling running through it.
Ingredients
Filling:
1/4 cup graham cracker crumbs
1/4 cup brown sugar, packed
1/2 teaspoon ground cinnamon
Cake:
4 tablespoons butter, softened (I used unsalted)
1/2 cup granulated sugar
1/4 teaspoon salt
1/2 teaspoon vanilla extract
1/2 cup sour cream, room temperature
1 large egg plus 2 tablespoons lightly beaten egg, room temperature
1 cup unbleached all purpose flour (4.5 oz)**
1/2 teaspoon baking soda
1 cups fresh blueberries plus a teaspoon of flour for tossing them in
A little powdered sugar for dusting
Instructions
Preheat oven to 350 degrees F. Spray an 8 inch metal baking pan with flour-added cooking spray or grease it well with butter. I lined mine with foil before I did this so that I could lift the cake from the pan and cut even squares.
Mix together the crumbs, brown sugar and cinnamon; set aside.
In a large mixing bowl using an electric mixer, cream the butter and sugar for about a minute. Beat in the salt and vanilla. Reduce speed to low and add sour cream and eggs. Scrape sides of bowl well. Stir in the baking soda, then add the flour and stir (be careful not to overbeat) until it's mixed in (As always, I add the flour by hand and use a heavy duty scraper to mix it).
Spread about half the batter over bottom of pan. Sprinkle crumb mixture even over batter. Carefully spread remaining batter over crumbs. This is tricky, but doable – just drop blobs of batter over the crumbs and use a rubber scraper to gently spread the batter across the crumbs.
Toss the blueberries in the flour and sprinkle evenly over the top. If you want to skip the flour-tossing, I think you'd be okay. I noticed flour stuck to the blueberries and was visible after baking and didn't like that.
Bake for about 45 minutes or until edges are very lightly browned. Let cool completely on a wire rack. Lift foil from pan (if you lined it) and cut into 9 large squares. Dust each piece with a little powdered sugar.
**The original recipe says you can make these squares with self rising flour. If you do, omit the salt and baking soda.
Related posts: