I read somewhere that hazelnut season runs from August through late October. Phew, I made these cookies in the nick of time! While I could have just as easily used pecans or walnuts, the hazelnuts added an interesting flavor to these deep, dark, chocolate cookies. Open to seasonal improvisation, these are the perfect cookies to serve on a cold day with hot cocoa and maybe a warm fire. As their name implies, Hazelnut Chocolate Chip Oatmeal Cookies are packed with oats and nuts which add a chewy texture and toasty flavor. If you're thinking about leaving the nuts out, that's fine too, but if you like nuts this is the perfect cookie for them.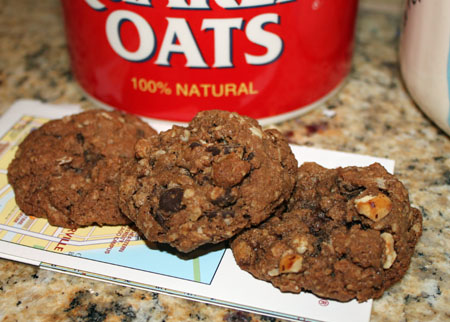 And speaking of hazelnuts, removing the skin can be a drag, but there are some tips I've found over the years that make the job easier. This is the technique I like best. I'm not sure where I got it since I've been doing it for so long, but someone on Chowhound cited Rose Levy Beranbaum so we'll go with that since RLB is pretty much The Oracle on anything involving baking.
For every 1/2 cup of nuts, bring 1 1/2 cups of water to a boil. Add 2 tablespoons of baking soda for every 1 ½ cups water and boil for 3 minutes. Drain the nuts in a mesh colander. To remove skins, grab a paper towel and rub the nuts against the sides of the strainer, then rinse off the nuts, empty them into a rimmed baking dish and toast at 350 for 10 minutes.
Now back to the cookies. These are even better after they've cooled for a few hours. The dough doesn't require chilling, but I do it anyway. I scoop the dough into balls, set the shaped balls on a plate, chill them until firm, then put the dough balls in a zipper bag and keep them refrigerated or frozen until I'm ready to bake. 
The base recipe is from Hershey's Kitchen . My changes are to 1) use roasted hazelnuts 2) add at least 1 cup of dark chocolate chips and 3) use unsalted butter and a total of 1/2 teaspoon of salt.
Related posts: