Super Important Update: Anyone who wants a cupcake hat — please contact Catie at her craft blog. She is an awesome cupcake hat maker!  Inspired by Fuzz's monkey hat made by the lovely ladies on Roatan,  Catie started making her own monkey hats then moved up to baked goods hats. She has an Etsy shop and is just getting started.
——————————————————————————————————–
I don't make New Year's resolutions, but this year I resolve to bake more yeast breads, savory pies and casseroles. To start, here's a recipe from Ryan, an 18 year old baker.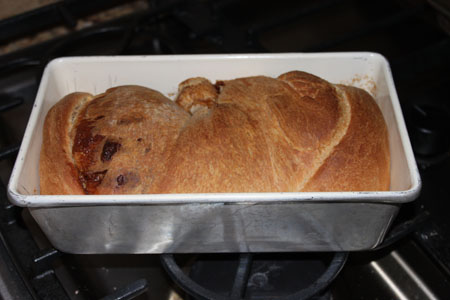 Ryan made two loaves, but since we're such a small family I halved the recipe and made one.
What was great about this recipe was the easy-to-work-with dough. It started off a bit sticky, but after kneading it for 5 minutes with the dough hook of a stand mixer, it had the perfect consistency.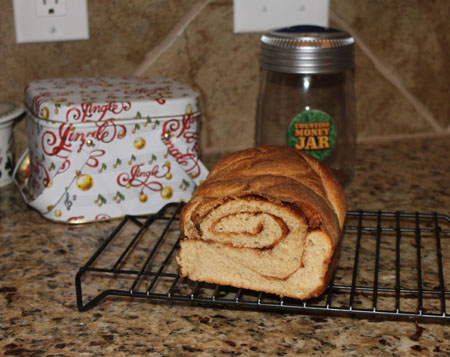 As for sweetness…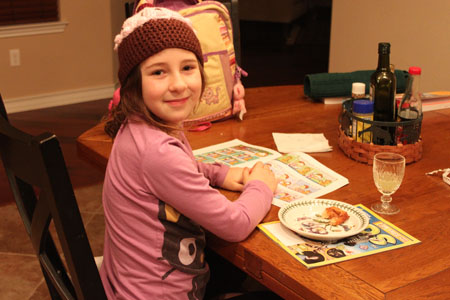 …it's about as sweet as the packaged kind (Pepperidge Farm), and while you could ice it, you really don't have to. It's perfect toasted with a little butter. Picky breakfast eaters in cupcake hats agree.
Cinnamon Swirl Bread
Cinnamon Swirl Bread
Ingredients
2 cups all-purpose flour (9 oz)
2 tablespoon granulated sugar
1/2 teaspoon salt
1 teaspoon cinnamon
½ of a (.25 ounce) envelope active dry yeast (about 1 ½ teaspoons)
2 tablespoons lightly beaten egg
2 tablespoons melted butter
1/2 cup plus 2 tablespoons warm milk (110 degrees F/45 degrees C)
3/4 teaspoon vanilla extract
Filling:
3 tablespoons melted butter for brushing
1 teaspoon ground cinnamon
1/3 cup brown sugar
Instructions
Place flour, sugar, salt, cinnamon, and yeast into the bowl of a stand mixer. In a bowl, whisk together egg, melted butter, warm milk, and vanilla extract; pour into the flour mixture. Using dough hook attachment, mix on low until the flour is moistened and a dough forms, then increase speed to medium, and continue kneading until smooth and elastic, 4 to 5 minutes.
Place dough into a greased bowl, cover, and allow it to rise in a warm place until doubled in bulk, about 1 1/2 hours.
Punch down dough and turn out onto a floured work surface. Roll into a 1/3 inch thick rectangle (mine was about 10-12) and brush with melted butter. Mix together cinnamon and brown sugar, then sprinkle evenly over rectangle.
Roll firmly into a log, pinch the ends closed, and tuck them underneath. Place into a greased loaf pan (I used a metal 9×5 inch). Cover, and allow to rise in a warm place until doubled in bulk, about 45 minutes. Note: In my case, the log was much narrower than the loaf pan, but during the baking process it spread enough to fill it up.
Preheat oven to 350 degrees F (175 degrees C).
Brush the top of the loaf with melted butter, then bake in preheated oven until golden brown, and sound hollow when tapped, about 30 minutes.
Related posts: